---

"I think all period pieces should star Russell Crowe. If you doin' a movie about the past, you best get Russell's ass. I don't care if you making a movie about three weeks ago, you need to get Russell Crowe. He'll do the research about three weeks ago, he'll walk like three weeks ago, he'll talk like three weeks ago, and you'll close your eyes, and you'll go "that sounds like three weeks ago!" " - Chris Rock



---
N E W S - Late 2004 - 2005
10/24/05 - From MaggieMac: "Hi Murph,
HERE is for the "for your consideration" site at Universal Pictures.
Click to enter, then click on the CM picture. Listed are all the categories to "consider" plus several very positive quotes from critics. Also listed are Academy screenings in LA, NYC, Chicago, London, and Bay area starting in early November
Movie City News has a box entitled "Rediscover Cinderella Man". Perhaps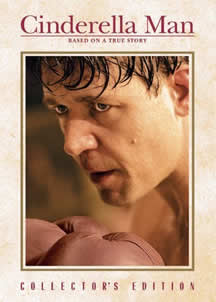 in advance of its reopening? -- and you can preorder CM now from Amazon, one Collectors edition and one regular
A CM Review that had to be put here: "I am 6'4 and weighs over 220Lb, raised in a tough neighborhood just South of Sicily, but I gotta tell ya' I saw the movie "Cinderella Man" last night and through it all, I cried my eyes out. It was touching in every sense of the way. I have a little four year old girl and the scenes during the depression, seeing those kids suffer really made me think. In the fight scenes, people in the audience were cheering as if they were there. The movie is brilliant! Russell Crow, once again pulls an amazing performance and this film is another one for the books. I predict it will go straight to the Oscars. Must See!!! -- JOEY" - Thanks!
Bea's report on the NYC Premiere
Transcript of the Charlie Rose Show - Parts One and Two
Interview with Ron Howard on NPR - Thanks, Ruth
Links to more major reviews on the main news page today (June 3)
CM Reviews: Emily Blunt --- and major publications: The Washington Post --- The Christian Science Monitor -- The Philadelphia Inquirer -- Slate Magazine -- The LA Times
A report on the 5/31 screening from Bea
My report/review of the NYC Premiere
Tamara's adventure on the set of CM 2004 and her report of the Tonight Show 5/25/05
Report of a Q&A and screening 5/30/05 - Thanks to CGee and Cathi
Fan reviews from the May 29 previews
New Press release: NYC Premiere of Cinderella Man to Benefit Children's Defense Fund - Thanks, Allison
CM review at Screen Daily.com - (Some Spoilers) Thanks, Allison
An excellent review for CM at moviemansguide.com
Five new clips at the official site - Go to "The Film" and then "Video" and then "Clips." A couple of them made me cry, and one made me laugh. Thanks, Cindy
Variety's Review thanks to Bea - Another rave
B&N has a review of the soundtrack from All Music Guide (another rave):All Music Guide -- "Director Ron Howard trades the bombastic melodrama of longtime collaborator James Horner for the soft, moody, and always tasteful baton of composer Thomas Newman. Newman's signature piano-based atmospherics and brooding melodic hooks set against vast washes of dissonance serve Cinderella Man's Depression-era tale of boxing legend Jim Braddock (Russell Crowe) well, utilizing the same sepia-tone motifs and spacious orchestration that made the composer's work on Shawshank Redemption and Road to Perdition so quietly mesmerizing. Echoes of Newman's past work can be found among the syncopated faux-marimbas of "Fight Day" (Six Feet Under), and "Change of Fortune"'s serpentine piano lick (American Beauty), but it's his progressive use of traditional Irish folk that stands out the most. Juxtaposed between the tenor sax of Bud Freeman ("Tillie's Downtown Now") and Paul Giamatti whistling "Londonderry Air," Newman allows the bright tones of whistles, uilleann pipes, and fiddles to sound like hope itself, a near miracle in an age bereft of even the hint of smile. James Christopher Monger" - Thanks, MaggieMac
The first major review - The Hollywood Reporter - a rave: "Reuniting with his "A Beautiful Mind" star, Ron Howard and Russell Crowe bring the Braddock story to vivid life in a superbly acted, beautifully shot, highly engaging drama that ranks as one of Howard's best efforts....But the picture's greatest effect is Crowe. With his head cocked to one side almost in anticipation of the blows that will come his way both in and out of the ring, he makes Braddock an introspective everyman who might be down but never is completely out for the count." - Thanks, MaggieMac
The NY Times 5/20 - A Heavyweight Returns at the Right Time - By DAVE ANDERSON (Free registration required, and recommended): "...When Braddock died in his sleep in 1974 at age 69, Red Smith wrote in The New York Times that, "If death came easily, it was the only thing in his life that did." And now, more than three decades later, James J. Braddock, at least in words and pictures, is again the undisputed heavyweight champion." - Thanks, MaggieMac
Stills from CM thanks to blackfilm.com
Production notes for Cinderella Man (more to come)
Under the section called "Story" in the updated CM official site: "The man mostly on the receiving end turned out to be Crowe himself, whose intense commitment to the verisimilitude of the boxing sequences meant that the actor took a number of jarring blows to the head—and suffered repeated concussions and multiple cracked teeth in the process. During the fight where Braddock faces Lasky (as played by Mark Simmons), Crowe was subjected to such a powerful, direct hit that Giamatti's reaction—a look of pure horror—was reality itself. Giamatti offers, "Everyone could hear the glove connect with Russell's head and quite honestly I don't know how he continued with the fight. I fully expected him to go down." [Both of these shots are in the final cut of the film.]" - Thanks, barbiecat
Snaps from the updated offficial site
New review of CM from the homeowner who has posted before about the use of his home in the film
From barbiecat: "The Cinderella Man/Universal website has been updated and it's briming with goodies about the film. There are film clips, all the trailers, new photos, new background information... it's a treasure trove. I particularly recommend accessing The Legend section, where there are at least 8 clips from the film and slide shows. One has to dig a bit, somewhat like we were put through to see all the goodies in Texas. But it's worth it. In the section called destiny, there are two clips of boxing, which are hard to watch for their realism. In the comments, it's mentioned that Russell suffered a number of cracked teeth, and other injuries. That explains the pictures of him visiting the dentist office in Toronto"
Story in the Winnipeg Free Press about Aaron Kim Johnston's (For the Moment) daughter Alicia, who got a role in CM - Thanks, Doug
New positive review at AICN for CM - Harry says in introduction: "...But Russell Crowe isn't some silent blank-eyed horse, he's one of the best actors working today - and the story of Jim Braddock is a very HUMAN story set in the depression. Personally - I love a good boxing movie. This sounds like one!" - Thanks, Maggie Mac
From a review at CHUD: "...It doesn't hurt that Crowe is entirely successful in both portraying the man and the athlete, delivering a physical performance that's as confident and satisfying onscreen as his Maximus. He is a believable boxer, carrying both the build of a man who's built for action and not for looking buff and carries himself in the ring like a pro. A pro from the early days of the sport before it became the shameful façade it is today." Thanks, Cindy
A favorable CM review - with spoilers - from a site called "The Fedora Chrionicles." (They like hats!): "...It is a rousing yarn, to be sure and will probably be remembered around Oscar time. Do yourself a favor and treat yourself to being immersed in another time, a time where, though everything seems bleak, the good guys can still come out on top. This is a picture you'll want to see on the big screen, not the little one at home. I'd see it again for the hats alone, but I'm funny that way." - Thanks, MaggieMac, Susi
More positive reviews at the IMDb. Thanks, MaggieMac
Kris Tapley at the Oscar Watch Forum - review of CM. - Few Spoilers : ...but it has the heart and the brains for my money, the cinematic ability to get inside this character, James Braddock, and put its audience in a first person position rather than holding him up as some icon to be observed. Here, the story is iconic. But the character is something more. He is anyone who ever felt stripped down and in need of opportunity. He is us. - Thanks, MaggieMac
Sports Illustrated on CM: "Bottom line: A boxing movie. Megastar power. Guaranteed to tug at your heart. That would be ... Million Dollar Baby. Perhaps filmgoers are ready for two such boxing movies in a six-month span. Or maybe they won't even see Cinderella Man as a boxing movie, but as a feel-good movie. Oh, let's face it -- Crowe will pack 'em in." - Thanks, Cindy
5/11 - ** We have a winner in the Universal CM sound track giveaway. It is Erika, and she found the picture HERE (Scroll to bottom) - Congrats!
You may order the Jeremy Schaap book on Braddock through Amazon
TV Alerts re CM: Russell will be on Leno, Letterman, Ellen, Conan, maybe Oprah and possibly Charlie Rose if Giamatti and Howard can appear with him - Check your listings for times of these appearances - and pass along to me!
The NYC premiere is set for June 1. Not theater or time as yet. it will be a charity function.
CM review at the IMdb message board (Scroll): "...After the movie, everyone stood up and cheered...EVERYONE! It was fabulous, and [I] plan on seeing it again when it comes out Nationwide. Go see this movie!!!!" - Thanks, Kazu
Note: If you are lucky enough to see a preview of Cinderella Man, we would love to post your review (I will put "Spoilers" in a prominent place on the page). Just e-mail me
A further report from an anonymous homeowner in Toronto on the CM filming.
CM review at Blogcritics.org. (No real spoilers) - Thanks, Cindy
The official Jim Braddock site has a new movie guestbook for those who have seen it or want to comment on it. - Thanks, Rita
Keep your eye out at Rotten Tomatoes for more media CM reviews as they come in
From a review of CM at Cinemablend.com: (Warning, some spoilers) - "...The boxing matches in Cinderella Man are hands down the best ever replicated on the big screen. The Braddock fights are for folks who grew up with Rocky but now require realistic boxing and not to mention better acting in their films. The film's stunning cinematography draws you into the ring, and leaves you feeling like you're sitting there in person. I'm not even a boxing fan, but I found myself completely thrilled by the action." - Thanks, MaggieMac - The site is also running a CM contest.
"Also, Nick at CHUD has a few words in a thread at his site, no full review yet. I somehow doubt he is a target audience but who knows. Here is his quote: "Cinderella Man post-release discussion -- Getting it started here. Quick reactions. Solid movie. Entertaining. Howard makes very good, rich movies without any real risk. People will love it, but is very familiar and safe. Russell Crowe doesn't do anything unconvincingly onscreen and is his typical excellent self. Giamatti is terrific and Bierko absolutely and totally rules. I mean, if I didn't already love the Bierko I'd fall in love with him from this. Also good, Bruce McGill. Zellweger's fine in a semi thankless role and Paddy Considine wins the award for best actor given a pointless subplot in a major motion picture for 2005. A good, safe flick." - Thanks, MaggieMac
Fan reviews are coming in - Thanks!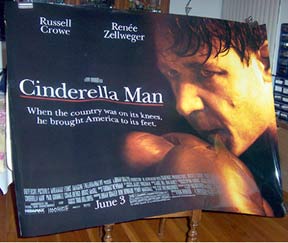 4/29 - From Crowe fan: "Just saw a poster for CM in the subway. He looks so, well, so much like a boxer from the 30's. One knows it's Russell, but somehow the Russell we know has disappeared -- even in a still photo! Remarkable."
Here is shot (to left) of one of the posters available for auction at eBay. Thanks, Steph
New page to come - Reviews 2005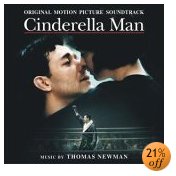 Reminder: You can pre-order the CM soundtrack from Amazon. Thanks, Ivani
4/24 - Newsweek - Movies: The Heavyweight By Devin Gordon-- He's an Oscar-winning director, but gets flak for being a softie. With 'Cinderella Man,' it's time to rethink Ron Howard. - Thanks, Cindy
Interview Magazine transcript May 2005 (Giamatti talks with Russell) - Thanks to Chattles
Thanks to Poly at Crowe's Crossing: American Cinematographer - June 2005 preview -- Cinderella Man (Universal) -- "Salvatore Totino (Any Given Sunday, Changing Lanes) was behind the camera on this Depression-era saga about the life and times of boxer Jim J. Braddock (played by Russell Crowe), who captured the public imagination by defeating heavyweight champ Max Baer in a 15-round donnybrook staged in 1935. To capture realistic action inside the ring, Totino employed a special rig that resembled a punching bag, and also absorbed blows while wearing protective padding. In addition, Maple Leaf Center in Toronto was redressed and relit to represent both Madison Square Garden and Madison Square Bowl, an outdoor boxing ring used for summer-night fights."
From Lisa C: "Per the gentleman at Universal who is in charge of premieres, the CM premiere is May 23 in LA. Probably at the Amphitheatre. ENJOY!"
Beautiful "true to the period" photos from the Cinderella Man set by Bob Gundu. (No Russell) Thanks, annsmac
Indie London on CM: [From Ron] "My dad has been a lifelong boxing fan and the fight which is the climax of our movie was the first boxing match that he ever listened to on the radio," he told Entertainment Weekly. "It was important enough that they literally climbed into their truck in Oklahoma and drove to town and listened to the fight in the pool hall." - Thanks, Rita
Cinema Blend's CM Page: "This story came about in record time. I had just finished watching the upcoming release of Apollo 13 on DVD, which contains the trailer for Russell Crowe's upcoming film Cinderella Man when I logged on to find out the poster was available on line (located to the right and below in a bigger size)." - Thanks, maggiemac
Jeffrey Wells at Hollywood Elsewhere has more nice things to say about the new CM Trailer. Scroll way down to "Settled". Thanks, Maggie Mac
There is a large size of the final CM poster HERE at Latino Review. Thanks, Ivani
Harry at AICN on The new CM Trailer: New CINDERELLA MAN Trailer Beats Ya Like A Flank Steak - Thanks, MaggieMac
Yahoo: There is a new CM poster out - Thanks, Ivani
There is a new trailer for Cinderella Man available on line at Movie Box. This film will grab your heart. (Snaps from the trailer)
March Article on CM from Imagenes Magazine, thanks to virginiamanis
Premiere Theaters: Which Coming Attraction Do You Want to See? - Vote for CM. Thanks, Rita
Thanks to Fee, the newsletter Oscar Talk with extravagant praise for CM and all concerned.
PR on Mike DeLisa's Cinderella Man book: "Please find attached advance information regarding Cinderella Man: The Biography, by Mike DeLisa, due for publication by Milo Books May 1st 2005. The author is Historical Consultant on the forthcoming Russell Crowe movie and this book is the first heavyweight biography of the man who caused the greatest upset in the history of boxing. Copies can be pre-ordered from Amazon.com now."
Saddoboxing site with a CM search. Thanks, Rita
The Times Union: 'Cinderella' threw quite an uppercut - Highly anticipated movie about world champion boxer Braddock stirs memories in his relatives -- "...When Klenk and her husband got engaged and took a train to New York City, Uncle Jimmy picked them up at the station. "I remember he was driving this big, shiny car with a bar in the back and the whole nine yards," Klenk recalls. "He was big and handsome, a real celebrity." - Thanks, Rita
The Daily News Sports - (Older Article): Pugs always score big on silver screen - Thanks, Rita
3/15/05 - Variety - Summer Preview - JUNE 3 - Cinderella Man (Universal/-Miramax): The team behind "A Beautiful Mind" (Ron Howard, Russell Crowe and Brian Grazer) enter the ring for the story of boxer Jim Braddock, a working-class hero during the Depression. Renee Zellweger co-stars....THe first week of June has been a major box office frame the last two years, with the latest "Harry Potter" opening to $94 million in 2004. In 2003, "2 Fast 2 Furious" revved to a $50 million opening while "Finding Nemo" did $47 million in its sophomore session. But while a single new pic dominated the market in previous years, this summer, "Cinderella Man" and "Lords of Dogtown" seem to be set to split the marketplace between old and young. No matter who wins the weekend, Universal is hoping "Cinderella" plays like "Seabiscuit," another Depression-era rags-to-riches sporting tale that raked in more than $120 million after opening to $20.9 million in late July 2003; pic made a run for the roses during awards season at the end of the year. - Thanks, Bea