The Sunday Telegraph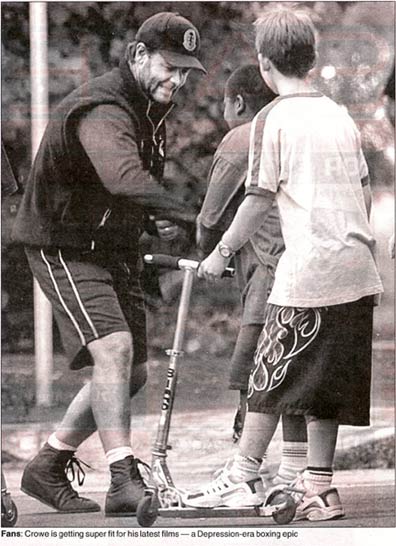 Crowe gets fighting fit - January 25, 2004
MANY Australians have resolved to get fit this year, but few have thrown themselves into it with as much gusto as Russell Crowe.

Training for his new movie about American boxer Jim Braddock, Crowe is pushing himself through 11km runs and 9.5km kayak paddles from Woolloomooloo to the Spit Bridge, as well as improving his boxing at a Surry Hills gym.

Crowe is dreading the start of filming in Canada in March, saying that he's just not made for the chilly northern weather.

"When I arrive in a cold climate my body just goes brrrr," he told The Sunday Telegraph between workouts. "It's the coldest month there – 37C below – so you won't catch me running outside. I'll get all my heavy stuff done here first.

"I'll be training all the way through (filming), but not as much as I'm doing at the moment."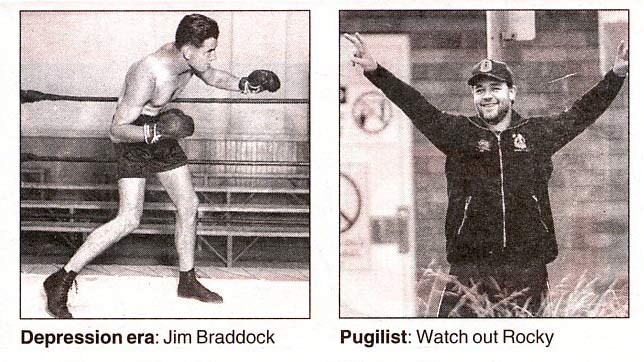 Reports from Hollywood say Crowe's new film will be directed by Ron Howard and is called Cinderella Man.

Set in New York during the Depression, it tells the true story of James Braddock (Crowe), who takes up boxing to make money to feed his family.

From gladiator, to maths genius, to ship's captain, and now a boxer, Crowe said that he enjoys learning new skills with each movie.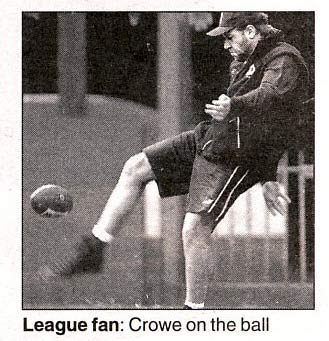 " Get some life experiences, build the character and move on. It's better than most jobs," he said.

Leaving his Woolloomooloo apartment on Friday, Crowe walked through to Surry Hills, passing a football with a mate.

Crowe enjoyed a quick game in a Surry Hills park before heading off to the business end of the day in the gym.

But his thoughts were never far from home. When asked how his new bub, Charles, was doing, Crowe said: "Really, really good".