Hats were elaborate -- richly ornamented and embroidered. Married women wore them on the street and at home, unmarried women didn't. Men wore hats indoors too, and uncovered when the Queen entered or left a room. Early Elizabethan hats were tall steeple hats, or conical "copintakes" and the low-crowned wide-brimmed or unbrimmed hat was also very popular. The brimmed type was, in the next century, adopted by the Cavaliers. Hats were made of velvet, silk, taffeta, beaver and ermine. Coifs, hoods, cauls, and caps were also worn...
Men no less than women went in for elaborate and complicated dress and often wore a fortune on their backs. The whole point of the Ralegh story is that a man's cloak was frequently the most valuable part of his wardrobe, costing hundreds of pounds....
Another gentlemen, Robert Sidney, in a letter to John Harrington describes the dress he wore the day Elizabeth visited him....He was clad, he says, "in a rich band and collar of needlework, a dress of rich stuff and bravest-cut and fashioned with an underbody of silver and loops."
Men, almost as much as women, were given to the use of cosmetics, and were as vain about the cut and colour of a beard as they were about the cut and colour of doublet and hose. Harrison, in the middle of a "dry mock" on fashions in dress, drops in a "bitter taunt" or two about masculine beard- and hair-styles. "I say nothing of our heads" he remarks-with paralipsis worthy of Mark Antony--"which sometimes are polled, sometimes curled or suffered to grow at length like woman's locks, many times cut off, above or under the ears, round as by a wooden dish. Neither", says he, "will I meddle with our variety of beards" and then meddles delightfully. Some were "shaven from the chin like those of Turks"; others were cut short like that of Marquess Otto, or rounded like a "rubbing brush". Some had the "pique de vant", others were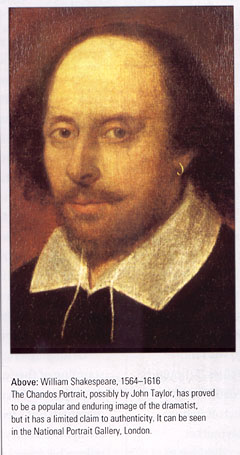 allowed to grow long. Barbers, on the whole, the parson says, were as cunning as tailors when it came to making a beard alter the shape of a face or cover some fancied facial defect. The long, lean, straight face could be made to look broad and large by a Marquess Otto cut. The owner of a 'platter-liken face need not be too unhappy, as a long narrow beard quite altered the flat, plate-like look. For the "weasel-becked", much hair left on the cheeks would make the owner look "big like a bowdled-hen and as grim as a goose.. These seem singularly unattractive alternatives; there can be little to choose between resembling a stoat or a barnyard fowl. Harrison, too, strikes the note that all this -- and all this included the wearing of earrings of gold set with stones and pearls -- is an offence to the Lord since men were attempting to amend the faces God gave them.
---
Shakespeare's Hotspur was impatient of the Elizabethan dandy. "Popinjays" he calls them and describes, for the benefit of Henry IV, how, after the battle of Holmedon when he was himself breathless, faint, dry with rage and toil
"Came there a certain lord, neat, and trimly dress'd,
Fresh as a bridegroom; and his chin, new reap'd
Showed like a stubble-land at harvest home;
He was perfumed like a milliner,
And 'twixt his finger and his thumb he held
A pouncet-box which ever and anon
He gave his nose..."

---

Excerpted from "The Pageant of Elizabethan England" by Elizabeth Burton