January 28
No new news
January 27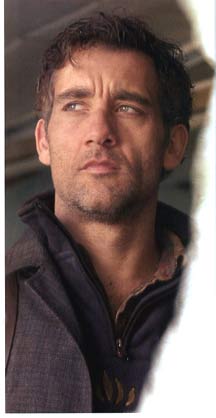 For some lovely scans of Clive in recent magazines by Clemato, click HERE at the Murphsplace Forum. (If you are not a member of the forum, you can apply and then send me an e-mail with your user name so I can admit you)
Empire on line: (Marlowe) "...For those of you not familiar with Marlowe, rest assured that he's cynical but, underneath it all, slightly idealistic sleuth, with a hardboiled honour code, a ruthless streak and a weakness for dames that look like Lauren Bacall. Chandler said, "I think he might seduce a duchess, and I am quite sure he would not spoil a virgin." So that makes it all clear. We'll bring you more on this when it's officially announced."
Related: Minnesota Public Radio: Don't miss Peter Mullan (COM)
January 26
From Lui: here is the 2nd wallpaper calendar sheet of 2007 for all Clivesters around the world - One -- and Two
January 25
Clive is #31 of the 100 Sexiest Men on the planet sponsored by New Woman Magazine
Cinematical: Cinematical Seven: Boneheaded Academy Decisions -- 2007 Edition - 1. The fact that Children of Men was not nominated for Best Picture is complete and absoloute proof positive that the Academy voters are lazy, clueless or both. Here's a film that is very intelligent, entertaining, creative and audacious, packed with amazing cinematography, special effects, sound design and editing tricks, boasting a handful of truly excellent performances and a screenplay that has something fascinating to say ... yet never stoops to preaching or handing out empty platitudes. People will still be talking about Children of Men in 20 years, but apparently it's not good enough to be considered one of the year's five best films. Oh, but Babel is. Puh-leeze. - Thanks, Steph
January 24
Hello Magazine: CLIVE STEPS INTO BOGART'S SHOES FOR SLEUTH ROLE
COM ad in today's NY Times - three Oscar nominations
January 23
The Oscars: COM receives nominations for adapted screen play, cinematography, film editing
AICN: "Clive Owen has convinced Universal Pictures and Strike Entertainment to option the Raymond Chandler series of hard-nosed mystery novels featuring Philip Marlowe. Dick Powell played him first in my favorite film noir of all time, MURDER, MY SWEET (aka Farewell My Lovely) - then two years later Bogie played him in THE BIG SLEEP. Then the next year, Robert Montgomery played him in LADY IN THE LAKE. For 25 years the character slept, till Robert Altman cast Elliot Gould in THE LONG GOODBYE. Then in 75 and 78 - Robert Mitchum played Philip in FAREWELL MY LOVELY and THE BIG SLEEP. According to the Variety story - Universal and Clive seem intent on keeping the character in his original period and setting... with Clive chewing and spitting out the hardboiled narration. I CAN NOT FRIGGIN WAIT! Will they attempt to start at the beginning - or work on the novels that haven't been adapted - or use some of the short stories. We'll see - right now they're looking for directors and writers. This is definitely some damn cool news!" - Thanks, Steph
Variety: Owen tracks down noir with Marlowe - Universal, Strike uncover Chandler series - Thanks, Steph
At Cinema Blend: "...Wikipedia calls him [Marlowe] "a pessimistic and cynical observer of a corrupt society, yet the enduring appeal of Marlowe and other hardboiled detectives lies in their tarnished idealism. Underneath the wisecracking, hard drinking, tough private eye, Marlowe is quietly contemplative and philosophical." (Perfect for Clive?) - Thanks, Doro
January 22 - (The little preview windows that pop up now are courtesy of Snap)
CNN.com: Analysis: And Oscar nominations will go to ... (See COM and Clive in "Deserves but doesn't stand a Chance") - Thanks, Donna and CTigue
The Courier Journal (Kentucky): Hollywood producer has Louisville roots - What movie projects are on the horizon for your production company, Strike Entertainment? - We'll be doing another movie with Clive Owen. It's one of Raymond Chandler's stories. He'll play the detective Philip Marlowe. We haven't announced it yet -- you're the first to know. - Thanks, Steph
January 21
No new news today - Clive is staying off the radar
January 20
Mercury News: BEST OF THE WEEK'S BLOGS - BRAD KAVA - "It was no comedy, by any means, but "Children of Men'' movie director Alfonso Cuaron was having some fun with classic progressive rock music, a genre that always had ties to sci-fi. He used one of the progressive rock tunes that usually separates the lovers from the haters, "The Court of the Crimson King,'' a 1969 opus that usually has non-fans gnashing their teeth. But boy, it sounded great in the soundtrack. And then, a moment that will live on in prog rock history: When Clive Owen's character visits his cousin, who is charged with preserving the great art of the century, the view out his window is the cover of Pink Floyd's 1977 disc, "Animals,'' with its factory, smokestacks and flying pig. Did anyone else but Floyd fanatics get this joke? I loved it and would love to hear Cuaron's explanation."
From Alice: Murph- here is a video review I just found from the station in Boston I usually watch— of course, I missed this when it aired :), but I had already seem COM. Nice to hear someone say on air she thinks its Oscar worthy!
January 19
Hello Magazine: Clive front row in Milan at Armani show (with picture)
The Star Tribune (Minneapolis): Oscar nominations: In sync? - Thanks, Steph
Backstage.com: Clive Owen to Have Two Films Out in 2007 - Another version of the "taking a break" story
Hello Magazine: "Sitting front row was handsome British actor Clive Owen . And the Children Of Men star, who was recently appointed the "face" of Lancome's male grooming range, was suitably dressed for his sartorially-focused outing in a grey stripe Nehru-collar shirt and a high-button velvet jacket. His look echoed the Italian designer's vision for autumn/winter 2006/7, which includes several designs of luxurious velvet jacket in rich purple and green hues." - Thanks, Steph
January 18
Star News: "It's impossible to see Children of Men and not yell, "Give this man an Oscar!" But Clive Owen is beyond Oscar status in this film. He deserves Knighthood, followed by every Oscar every other guy got who didn't deserve it. Clive Owen acts by not acting in this movie. He takes the weight of a "possible" childless future on his shoulders and just soldiers on. That's why this movie is so affecting. He doesn't play the part as a hero. He plays the part as just a regular Joe. And that's why we love him." - Thanks, Steph
Market Wire: The Art Directors Guild: NOMINEES FOR EXCELLENCE IN PRODUCTION DESIGN FOR A FEATURE FILM IN 2006: Fantasy - COM - Thanks, mgill
January 17
Reuters: British actor Clive Owen is taking a break before deciding his next project as two films he is starring in are due out this year, he told Reuters. - Thanks, Alice, Steph
The LA Times via the Chicago Tribune: Unconventional soundscape in 'Children of Men'
Related - Cinema Blend: Rachel Weisz In Sin City 2 (Rumor) - Thanks, Steph
Related -- Deadline Hollywood Daily: Who woulda thought? Denzel Washington was the No. 1 movie star for 2006, (after dropping off the Top 10 list in 2005), according to the annual Harris Poll which I've managed to put my hands on today.
We've passed our one millionth visitor!!! Thanks to all.
January 16
Newsday: No more Mr Nice Guy - Capote made a return last year (in "Infamous"), but more characteristic of the current crop of high-profile cinematic maleness is "Children of Men's" Clive Owen bashing a pursuer's head in with a car battery.
- Thanks, Steph
Rotten Tomatoes: Best reviewed films for 2006 in limited release - COM #3 - Thank, Karen
January 15
Box Office Prophets: The buzz movie of this awards season is unquestionably Children of Men, a complicated science fiction production about a human race no longer capable of reproduction. The universally well-regarded Alfonso Cuarón project is becoming a box office sleeper, earning another $7.4 million over the holiday. This seventh place performance gives the Universal release $22.4 million after ten days of "wide" release. The platformer jumped from 16 exhibitions to 1,209 last weekend and has added another 299 now. With growing awareness from more mainstream consumers, this project should evolve into one of the most memorable outputs from 2006. Already being hailed as the Blade Runner of our era, it should make a killing on the home video market after its currently successful box office run is complete. Of course, a reported budget of $72 million does put a damper on a lot of this optimism. - Thanks, mgill
Variety Internaional: British film business in boom Production hits $1.64B but local spend falls -- Spending on film production in the U.K. jumped 48% in 2006 to £840.1 million ($1.64 billion), thanks to Hollywood-financed movies such as "Harry Potter and the Order of the Phoenix," "The Golden Compass," "Stardust," "Fred Claus," "The Bourne Ultimatum," "The Golden Age" and "Atonement."
January 14
The Boston Globe: The end of the world as we know it - (Nicely written)
January 13
Now Smell This blog: Small picture of Clive for Hypnose Homme ad campaign - Thanks to Jane Gable at the Murphsplace Forum
The Hollywood Reporter: Holiday weekends will drive 2007 box office - October - "Universal is going with the biographical drama "The Golden Age," directed by Shekhar Kapur and starring Geoffrey Rush, Clive Owen and Cate Blanchett."
AlterNet.com: Ten Ways to Make Hollywood Hate Your Cinematic Masterpiece -- "How do you make the best movie of the year -- possibly the decade -- and still get pummeled at the box office by Ben Stiller and a CGI dinosaur? Hollywood's complete obsession with the box office is the answer." - Thanks, Steph
January 12
Real Movie News: Shoot 'em Up info and stills from the film (USA release date - September 7, 2007) - Thanks, Steph
Coming Soon: The Golden Age (USA release, October 5, 2007) - "Reprising the roles they originated in seven-time Academy Award®-nominated "Elizabeth," Cate Blanchett and Geoffrey Rush return for a gripping historical thriller laced with treachery and romance--"The Golden Age." Joining them in the epic is Clive Owen as Sir Walter Raleigh, a dashing seafarer and newfound temptation for Elizabeth." - Thanks, Steph
Hypnose homme web site coming soon - Thanks, Steph
Oscar Watch: CoM wins USC Scripter award for best adapted screenplay - Thanks, mgill
Variety: The BAFTA Nominations - "...That was one of only two nominations (the other being music) in a disappointing showing for "Dreamgirls." Other pics that might have hoped to do better include "Volver" (two nods) and "Children of Men" (three).
January 11
OscarWatch.com: Top twelve acting high notes -- 9) Clive Owen in Children of Men. When Owen and Alfonso Cuaron discussed this film at the Arclight, Cuaron talked about how good of an actor he because he was able to take anything that was thrown at him and still be in present time, meaning – he was able to stay in character even when he didn't know what was going to happen next. Owen somehow always manages to be the best thing in the films he's in. For this film to work, there needed to be someone as talented and charismatic as Owen in the middle of it. Everything we see and feel is through him. - Thanks, mgill
By PR Newswire: CHILDREN OF MEN, ILLUSIONIST, GOOD SHEPHERD, APOCALYPTO and BLACK DAHLIA Earn Outstanding Feature Noms From Cinematography Society - Thanks, mgill
At YouTube: Video - Lancome new men fragrance - Hypnose Homme - (Brief glimpse of our guy on screen) - Thanks, Steph
January 10
Fashion Wire Daily: Clive Owen Named Newest Spokesperson for Lancome - Clive Owen is an incredibly talented, intelligent and appealing man," said Odile Roujol, General Manager of Lancome International. "The way he has built his career so far, privileging the quality of the director rather than the high profile nature of the role, makes us feel very confident in the fact that if he chose to accept this collaboration with Lancome, then it truly means our partnership must be." [...] The Hypnose Homme and Lancome Men anti-aging skincare advertising campaign featuring Clive Owen will debut Spring 2007 - Thanks, to all - also at USA Today with quotes and a great picture: Owen will lend his face — and body — to Lancôme
And at the Washinton Post - with another great picture - Clive Owen Is New Spokesman for Lancome - Thanks, dani
January 9
New York Times: Carpetbagger Blog - The Director's Guild Awards -- "Alfonso Cuarón — Look out for this guy. "Children of Men," which has been treated as an also-ran by Universal, is getting huge reactions from many who see it. A dark horse just outside of view."
January 8
AICN: COM - Moriarty on films he has seen - "Clive Owen was smart to resist the pressure to play James Bond, and I think what we'll eventually see from him over the course of his whole career is that he's more interested in eccentric, individual vision than he is in commercial credibility. The way he plays the hero of this film, there's an awkward lack of physicality to him. Despite his size, he's almost frail. He's not a badass superhero by any means, and that makes his journey in the film more moving. The film's failures occur most obviously when Owen and other actors stop playing characters and start playing types, especially in the film's wrap-up. But at its best, the film has a shaggy charm that makes the sad, hopeless world of the movie seem even more bleak in a way." - Thanks, Steph
YouTube video: Why COM should be nominated for best picture (Spoilers)
If you see COM and would like to review it, you can send it to me. I have made a new page of fan reviews.
Don't forget to visit Clive's forum at the Murphsplace Forum (You must be registered to get into the forums. If you have newly applied, send me an e-mail with your user name to allow me to pass you in. Put "Clive Forum" as the subject of the e-mail)
Visual Effects Society Awards - Several for COM
Women's Wear Daily: INSIDE MAN: According to industry sources, Lancôme, the L'Oréal-owned beauty brand, has signed Clive Owen to be a spokesman. Owen — the actor featured in such films as "Children of Men" and "Sin City" — is expected to be introduced to the press at a Lancôme event tonight in Paris. - Thanks, Steph
January 7
The NY Times: And the nominees should be... Thanks, mgill
Box Office Prophets: Landing in third is an expanding release that had previously received an excellent location average in only a few theaters. Alfonso Cuaron's Children of Men is a better-than-expected third place finisher. Released to only 1,209 venues, the Clive Owen film earned $10.3 million in its first weekend of wide release, good for an outstanding venue average of $8,511. Children of Men is the futuristic story of man trying to save a pregnant mother, and audiences obviously responded to the fantastic word-of-mouth this one got from its limited release last weekend. Reviews for Children of Men were also excellent. At RottenTomatoes, 141 reviewers chimed in, and an amazing 131 of them liked it enough to give it a positive rating. That results in a fresh rating of 93% - one of the better ratings of the year - which means this one may have legs for quite awhile. There's something here for everyone: Science fiction, drama, action and romance. - Thanks, mgill
The National Society of Film Critics: "...Other National Society of Film Critics awards went to Emmanuel Lubezki for best cinematography for "Children of Men," and to "Inland Empire" for best experimental film."
January 6
The NY Times: (In the Oscars section) - Beauty and Beasts of England, in a World on Its Last Legs by Manohla Dargis
If you see COM and would like to review it, you can send it to me and I will make a new page of fan reviews.
Variety: For Your consideration - COM ( a whole page on the film) - Thanks, Doro
The LA Times: Sounds to match to the 'Children of Men' vision -- Rather than start-to-end scoring, director Alfonso Cuarón mixes a variety of music genres and sound effects. - Thanks, Steph
January 5
Oscar Watch: The BAFTA long list of noms - Thanks, Steph
Don't forget to vote for Clive at Hello Magazine's Grand Finale Most Attractive Man for 2006! He needs our help.
EW - COM Review and explanation - Thanks, Steph
There is a double page spread in today's NY Times for COM
From Lui: Here it is, the 1st wallpaper calendar sheet for 2007 - as always in 2 sizes:

http://img.photobucket.com/albums/v493/Anja80/Clive/CO-Calendar07/January-1280.png
http://img.photobucket.com/albums/v493/Anja80/Clive/CO-Calendar07/January-1024.png
January 4
Variety: First round of noms for the UK BAFTAs - "The two most commercially successful British movies of the year, "Casino Royale" and "The Queen," have emerged at the top of the longlists for the British Academy Film Awards, with 14 entries apiece. They are closely followed by a more eclectic bunch of multilingual pics, including "Pan's Labyrinth," "Babel," "Children of Men" and "The Departed," which all have 13 nods." - Thanks, Steph
ChicagoSports.com: (Soccer) - For Jay DeMerit, 2006 saw the Illinois-Chicago product live out a dream when his Watford club was promoted to the English Premier League. In an ongoing report on his experiences, he discusses his hopes for 2007. -- "I spent New Year's Eve by myself in a hotel room watching "Children of Men" with Clive Owen. I looked at the clock at 12:01 [a.m.] and thought, "Oh, no. Well, Happy New Year to myself." My New Year's resolution is to pick up points [in the standings] and to keep improving. I want to look back on 2007 and say I'm better than I was in 2006. Hopefully there will be a call-up to the U.S. national team this year. I also hope to stay in the Premier League and with Watford, if possible. It's been an up-and-down season, but we've held our own."
Film Stew:
Clive Owen's Future is Now
--
Many were aghast when Clive Owen turned down the role of 007. But just a few months after pal Daniel Craig's debut, the actor stands tall as star of the best film of '06.
- Thanks, Steph
January 3
The New Yorker: UNDER THE VOLCANO "Children of Men" and "Pan's Labyrinth." by ANTHONY LANE
Jam Show Biz: Clive Owen avoids cliche action roles - Thanks, Steph
Total Film scan from clemato - Shoot 'Em Up
January 2
The Village Voice: Taking the Long View - Children of Men and the value of an unedited shot - Thanks, Steph
You can vote for Clive for Hello Magazine's most attractive man of the year HERE. - And also for this week's Most Attractive Man -Thanks, kimmi, Ivani
January 1 - Happy New Year!
Variety: Niche films find an audience --"...Universal, meantime, was playing sci-fi pic "Children of Men," starring Clive Owen, in 16 locations, where the pic played to a hefty per-playdate average of $43,525. Pic's cume stands at $1.3 million. It goes wide next frame." - Thanks, Steph
About.com: Clive Owen Discusses "Children of Men" - Thanks, Nina
Seconddimenision.net: COM Review by V -- "Think Escape From New York as seen through the eyes of the great realist Andre Basin and you're some way to getting the gist of Children of Men. Set in a near-future Britain where fertility is myth, this is essentially a road movie with Clive Owen's character escorting the last baby on earth to safety...." Continued