September 29 - 30
Lui's October calendars:
1280x1024
http://i20.tinypic.com/34yy886.jpg

1024x768
http://img.photobucket.com/albums/v493/Anja80/Clive/CO-Calendar07/October-1024.png
September 28
The OC Register: Here's looking at you, kid...for 3 hours -- Adventures in Barrywood (Stars worth looking at for three hours or less (Clive gets the 2 hour rating) - Thanks, Allison
Lots of clips and interviews on The Golden Age at Movieweb - Thanks, Steph - Ah Raleigh! The great romantic hero and explorer - executed by James after Elizabeth's death.
Wikipedia: Though royal favour with Elizabeth had been restored by this time, it did not last. Elizabeth died in 1603, and Raleigh was imprisoned in the Tower of London on 19 July. Later that year, on 17 November, Raleigh was tried in the converted Great Hall of Winchester Castle for treason due to his supposed involvement in the Main Plot against King James. Raleigh conducted his defense with great skill, which may, in part, explain why King James spared his life, despite the guilty verdict. He was left to languish in the Tower of London until 1616. While imprisoned, he wrote many treatises and the first volume of The Historie of the World, about the ancient history of Greece and Rome. In 1616, Sir Walter was released from the Tower of London in order to conduct a second expedition to Venezuela in search of El Dorado. In the course of the expedition, Raleigh's men, under the command of Lawrence Keymis, sacked the Spanish outpost of San Thome on the Orinoco. During the initial attack on the settlement, Raleigh's son Walter was struck by a bullet and killed. On Raleigh's return to England, the outraged Diego Sarmiento de Acuña, the Spanish ambassador, demanded that King James reinstate Raleigh's death sentence. Rome The Spanish ambassador's demand was granted. Raleigh was beheaded with an axe at Whitehall on 29 October 1618. "Let us dispatch," he asked his executioner. "At this hour my ague comes upon me. I would not have my enemies think I quaked from fear." After he was allowed to see the axe that would behead him, he mused: "This is a sharp Medicine, but it is a Physician for all diseases and miseries". According to many biographers — Raleigh Trevelyan in his book Sir Walter Raleigh (2003) for instance — Sir Walter's final words (as he lay ready for the axe to fall) were: "Strike man, strike!" His widow claimed the corpse and had it buried in the local church in Beddington, Surrey, the home of Lady Raleigh. "The Lords," she wrote, "have given me his dead body, though they have denied me his life. God hold me in my wits". After Raleigh's execution, his head was embalmed and presented to his wife. She carried it with her in a velvet bag until she died twenty-nine years later and it was returned to Raleigh's tomb at St Margaret's. Although his popularity had waned considerably since his Elizabethan heyday, his execution was seen by many, both at the time and since, as unnecessary and unjust. It has been suggested that any involvement in the Main Plot appears to have been limited to a meeting with Lord Cobham. One of the judges at his trial later said: "the justice of England has never been so degraded and injured as by the condemnation of Sir Walter Raleigh."
Tube Talk : Clive to be on the Extras Christmas Special (VERY funny video)
Channel 4 News: Clive Owen follows in Cruise's footsteps -- British star Owen is also using the Babelsberg film studios to shoot his new flick The International, which sees him playing a man fighting to get justice. Owen said of his character: "He's a guy who has been working for Interpol and been obsessively trying to bring down this big bank and every time he gets close to doing so or gets any information that leads anywhere he's hitting brick walls." And the Shoot 'Em Up star explained how impressed he was with the storyline: "The first draft that I read, I could have shot that film as it stood. It was such a good script and it's a hugely exciting project and I'm very thrilled to be asked to be in it." - Thanks, Steph
September 27
The Envelope: The Rome Film Festival -- "Also being presented out of competition will be "Elizabeth: The Golden Age," starring Oscar winner Cate Blanchett in the role of Queen Elizabeth I. This follow-up to 1998's "Elizabeth," which earned Blanchett her first nomination, tells the life of the 16th-century English monarch as she juggles romantic temptation, political opposition and the threat of conquest by Spain. Besides Blanchett, other stars who are expected include Clive Owen, Reese Witherspoon, Tim Robbins, Sean Penn, Halle Berry, Robert Redford, Gerard Depardieu, as well as Coppola's daughter, fellow director Sofia Coppola." - Thanks, Steph
September 25
Ed Note: I will be away from this computer until late Thursday, so there will be no more updates until then
GQ publish top 10 style icons - Ask any woman who their favourite male style icons are and names such as Brad Pitt, George Clooney, Clive Owen and even Pete Dohery are apt to make the shortlist. Ask men who they see as their most popular style icons, and you have an entirely different list. Names such as Sean Connery, Johnny Depp and Robert Redford are more likely to appear than those of a Brad Pitt and traditionally 'beautiful' Hollywood actors. Why? Because men tend to find success and confidence more attractive than simply a handsome face. GQ Magazine for their October issue published a top ten list of stylish men, and shortlisted are Hollywood elite Jack Nicholson, Paul Newman and US president John F. Kennedy. Whilst women tend to go for pretty faces, men find an entirely different set of characteristics attractive. GQ (US edition) comes out this week. - Thanks, Steph
September 24
At You Tube: All the BMW short films
Green Cine: Goings on in Babelsberg. Busy days for the studios that once saw the likes of Lang and Dietrich working here. Tom Tykwer has now begun shooting The International with Clive Owen, Naomi Watts and Armin Mueller-Stahl, reports the AP (in German).
Yahoo News Photo: Actors Clive Owen (L) and Armin Mueller-Stahl (R) pose with director Tom Twyker during a photo call to promote the production start of the movie "The International" in Potsdam September 24, 2007. The action thriller will be released on September 11, 2008. REUTERS/Hannibal Hanschke (GERMANY) - Thanks, Steph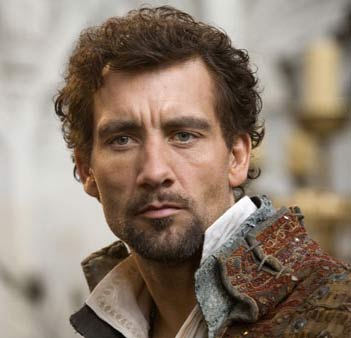 Working Title's page for The Golden Age - lots of photos HERE
September 23
From Peter: The Electric Palace's Autumn programme has been boosted by an exclusive preview of Elizabeth; The Golden Age. Arranged by the film's star and Palace Patron, Clive Owen, demand is bound to be high for this showing a full week before its full cinema release. The screening is at 7.30pm on Friday 26th October. Tickets are available from the Box Office and early booking is advised. Mr Owen said ' I am delighted that people in Harwich will get this early showing of my latest film'.
September 22
Bend Weekly: Film Close-up - Clive Owen
September 21
Business World Weekend: Midwife Crisis
Spike ifilm: September Coming Attractions (Video)
September 19
There is an interview with Clive at Empire on line Australia, but I can't seem to access it. Here is their main site - Thanks Oz Fan
September 18
You Tube has a clip of the introduction of the cast of Golden Age at the Toronto screening. - Thanks, Nancy
The Guardian: We're marking out our patch' -- Future Hollywood star Clive Owen first trod the boards in the Belgrade Youth Theatre. Yet, in recent times, the theatre's star has faded; subsidies were cut, audiences dwindled and the 1950s concourses Tynan approvingly likened to "a good airport" began to look more like a bad motorway service station.Forty-nine years later, the Belgrade has come full circle: ready to reopen after an £11m rebuilding development with a progressive artistic director promising a radical programme of internationally influenced work. Hamish Glen attracted much notice for his work at Dundee Rep, where he established a European-style permanent ensemble which famously took a production of the Winter's Tale to Tehran. He heralded his arrival in Coventry in 2003 by cutting seat prices and filling the place for midweek performances of Molière. Now he has announced a reopening season of staggering ambition. - Thanks, Steph
Canmag.com: Though Yahoo! Movies claims that the five-minute, extended preview for Elizabeth: The Golden Age is a featurette, I know a trailer when I see a trailer. Sure, this preview features the most dialogue ever to be seen in a trailer, hence why I have already called Guinness. Thanks to its length, the new preview also gives audiences quite the timeline of what to expect from the second Elizabeth installment. Can I call it spoilertastic? Nah, as it only sets up the film's premise and provides some buildup to the oncoming battle. Is the sea battle going to be huge? Hard to say, as all of the film's trailers seem to avoid giving any extended sequences from the suggested sea battle. The trailer also serves as a strong marketing tool for Clive Owen, who plays the uber-charming Sir Walter Raleigh. I haven't opened up a history book since college, but something tells me he is more than just eye-candy for the ladies. Check out the extended preview for Elizabeth: The Golden Age - Thanks, Steph
September 17
Related -- Style.com: Queen Cate - Thanks, Steph
September 16
imeem.com: Elizabeth: The Golden Age "Raleigh describes traveling to the new world" plus other scenes - Thanks, Steph
CHUD: War of the gun porns (Shoot em Up and The Brave One) -- "The last two films I saw in the theater are oddly familiar in a few aspects and the response I've noticed to them represent how weird this world of cinema is and how a few tonal decisions can take two different yet similar films and create such an impasse between them. Additionally, the one I like much more is getting lambasted by folks [including this site's own Russ Fischer] while the one I liked much less is getting a pass [including by this site's own Jeremy Smith]. So why the fuck did I dig the Jodie Foster flick and loathe the Clive Owen one?"
September 15
Here's the link to ET's coverage of Golden Age at the Toronto Film Festival on You Tube. From Nancy
September 14
Quint at AICN on the Golden Age -- Elizabeth: The Golden Age -- It's been a good two years for "Queen Elizabeth" movies. Here, Cate Blanchett re-teams with director Shekhar Kapur for an outstanding follow-up to their successful 1998 movie ELIZABETH, this one centered on the period leading up to and during King Phillip II of Spain's attempt to overthrow England. It's definitely going to go down as one of the rare sequels that surpasses the original. A major reason for the improvement: Clive Owen, cast here as Sir Walter Raleigh. He frankly oozes roguish charm in what I would say is his best performance to-date – one that makes me thankful that he turned down the Bond franchise. There's definitely chemistry between Blanchett's virgin queen and this intriguing, adventuresome, ever-loyal subject. You know that the film is on the right track early, when the famous coat-over-puddle incident between them is handled with class. Newcomers Samantha Morton as Mary, Queen of Scotts and Abbie Cornish as Elizabeth's maid (also named Elizabeth) are outstanding, also. And Geoffrey Rush, reprising his role as Sir Francis Walsingham, once again makes excellence look easy. The production values are uniformly first-rate -- the film should definitely garner Oscar nominations in all of the technical categories. Add in a touching ending, and you've got an awards season powerhouse. - Thanks, Donna
Blog Critics.com: (Humorous review) - "The new film Shoot 'Em Up has all the hallmarks we have come to expect from a Merchant Ivory production: exquisite locations, tasteful design, intelligent people having deep conversations in quiet rooms and always, always, a tuxedo-clad servant with sherry at the ready. Clive Owen plays a repressed actuary and Monica Bellucci a blind nun who must deliver an infant to a Venetian boarding school/orphanagerie run by Paul Giamatti, all of whom learn many quiet, profound lessons along the way...."
Variety: Midrange pics flood Europe - Thanks, Steph
Skymovies.com: Interview with Clive re Shoot Em Up
The National Post: "...After a night of partying with Clive Owen (OK, chatting with Catherine Keener in the same room as Clive Owen), the idea of a 9 a.m. screening of a Werner Herzog film ran a close race against sleeping in. But it won, and the hour and 40 minutes I spent watching Encounters at the End of the World was easily the most fun I've had at the festival this year -- after talking to Keener, of course."
MSN's Dave Poland on The Golden Age - I'll keep it simple. The movie has way too much story, way too few places where an audience can link in emotionally, an absolute waste of a parade of excellent Oscar-nominated and winning actors including Clive Owen, Samantha Morton and this time, even Geoffrey Rush, enough music to choke an iPod, and a hyperkinetic parade of cool, but logic-free shots that at some point feels like you are choking on the Scott Brothers' leftovers.
September 13
Moovies: The Golden Age wallpaper 800 x 600 - Thanks, Steph
September 12
Coming Soon on the Golden Age official web site and all the goodies in it
September 11 - We remember....
IESB.net: Eight film clips and some behind the scenes footage from Elizabeth - Thanks, Steph (I highly recommend Death of a Fox by George Garrett)
September 10
Screen Daily on TGA - Thanks, mgill
The National Post (CA): Blanchett says Golden Age worth the wait -- "...Thankfully, one reporter finally stood up and asked something significantly more pressing, about Clive Owen's sex-symbol status and whether Kapur had to "reign him in or just let him go?" After dodging the question and giving a lengthy spiel about the architecture in the film, Kapur decided to ban all wood from the set in favour of stone, for example, the director finally came back to initial question and replied, "I didn't know he was such a ... Well, look, I needed someone who represented essential masculinity, and that was Clive." - Thanks, Steph
BBC News: Toronto launch for Elizabeth film - Thanks, Steph
Variety Review - The Golden Age - "Elizabeth: The Golden Age" is a follow-up less golden than its 1998 predecessor. Without the pleasure of watching Cate Blanchett continue the role that launched her to stardom, there would be little to recommend this latest of many cinematic and television accounts of the celebrated monarch's life, which is melodramatic, narrowly concerned with portraying her human vulnerabilities, and, thanks to a constantly pounding musical score, bombastic. Commercial prospects look OK but less promising than what a first-rate film of this nature would command.
Images of Clive in Toronto at WireImage
September 9
Golden Age Official Site has added some info. Thanks, Steph
The Hollywood Reporter reviews The Golden Age - Rush is wily and self-contained as the spymaster while Owen as Sir Walter channels a toned down yet still quite debonair Errol Flynn. - Thanks, mgill
Picture: Actor Clive Owen speaks during a news conference for 'Elizabeth The Golden Age' during the the Toronto International Film Festival in Toronto, Sunday, Sept. 9, 2007. (AP PHOTO/CP, Aaron Harris) - Thanks Steph
The Daily News: Clive Owen has killer charm in 'Shoot 'Em Up' - Thanks,
Canada.com: Naomi Watts balancing movies and motherhood -- "...Watts says she's going to start shooting a new movie in November -- a Tom Tykwer movie tentatively titled The International that also stars Clive Owen -- and by that time Sasha (Alexander) will be three months old. "It won't be easy because I'm breastfeeding," she says. "But I'm committed to my work. I love it. It keeps me alive. Besides, I feel if I'm feeding myself creatively, I'm also feeding my child in a creative way." - Thanks, Steph
Video You Tube: Lilian Garcia interviews Clive Owen and Paul Giamatti - http://www.lilian-garcia.com
September 8
The Chicago Sun Times: A look at the people and personalities now appearing at cineplexes nationwide - Thanks, Allison
Sun-Sentinel Blog: And then Clive is there. He plops down next to Demi Moore, who by now has made her way to a seat diagonal from me. Ashton better get schooled. I saw the way Demi was tossing her raven-hued hair around while chatting with Clive.
September 7
Roger Ebert - The Chciago Sun Times -- : "I don't need a lot of research to be confident in stating that never before have I seen a movie open with the hero delivering a baby during a gun battle, severing the umbilical cord with a gunshot, and then killing a villain by penetrating his brain with a raw carrot. Yes, a carrot will do that in this movie. It will do a lot of things."
New York Magazine: 'Shoot 'Em Up': Where Did A.O. Scott's Sense of Humor Go? - Thanks, Steph
Note: About.com: A New longer trailer for The Golden Age - Looks great! - Thanks, Steph
Clive at the fashion show - Image at People.com - Thanks, Christi
Pictures at Wireimage of Clive at the Miss Sixty Spring 2008 during Mercedes-Benz Fashion Week at the Tent, Bryant Park on September 5, 2007 in New York City
From Denise: Clive was featured in the 'Real or Rumor" segment of Entertainment Tonight on Thursday evening. The question was if Clive did his own stunts. He answered "real". Michael Davis wanted his face in front. Interview must have taken place on the red carpet for movie premiere.
A slam from the New York Times for Shoot Em Up from AO Scott: "So what do you think of the Second Amendment now?" This is one of many thought-provoking questions asked, between barrages of gunfire, in the course of "Shoot 'Em Up." I won't answer the question here — I get enough angry e-mail, thanks — but I'm happy to affirm my general devotion to the whole Bill of Rights, in particular the First Amendment, which protects Michael Davis's right to make this movie, New Line Cinema's right to market it and, best of all, my right to tell you what a worthless piece of garbage it is. (I interrupt this burst of patriotism to note that "Shoot 'Em Up" was filmed in Toronto.)"
New York Magazine - Fashion (With a picture) - We would give anything to fug Clive Owen -- When Moore and her entourage were seated, we found out why: Yes, she looked fantastic, but she'd also swapped her man-candy husband for the company of none other than devastating British hottie Clive Owen. We still haven't fully regained the power of speech.
The Seattle Times: The Toronto Festival: Nine years after "Elizabeth" brought her first Oscar nomination, Cate Blanchett comes to Toronto with "Elizabeth: The Golden Age," Shekhar Kapur's sequel to his 1998 historical drama. Blanchett will also appear in Todd Haynes' "I'm Not There" as one of many personas of Bob Dylan. (Others are played by Christian Bale, Heath Ledger and Richard Gere. Haynes' Dylan, apparently, is a complex fellow.
The Movie Web: The Tentpole Critic - Shoot Em Up - "Davis' followed up this exuberant piece of pop culture bad assity with the actual, almost finished movie on a DVD. He popped it in and let us watch the first seven minutes or so. "Holy Christ!" I thought to myself, sitting there, mouth ajar. "This is the best movie with guns ever made!" From the opening frame, I knew I was watching something special. This is not an Oscar contender. This is something more than that. Something that will be on constant rotation in your Blu-Ray player for years to come. A fast moving swift kick to the gut that will be shown on bar televisions across the nation until every last peanut dish has run dry. It's a bullet ballet that deserves a spot next to Hard Boiled and Die Hard on that shelf of action classics. In a word: astounding." - Thanks, Steph
Philly.com: 'Shoot 'Em Up': Dirty Harry with etiquette issues - Thanks, Steph
The Chicago Tribune Shoot Em review
September 6
Fantasy Moguls: FINAL WEEKEND TRACKING: '3:10 to Yuma' is Vulnerable, But Seems Headed for $13M-$16M; 'Shoot 'Em Up' and Fast-Fading 'Halloween' to Battle for Second by Steve Mason -- At a glance, it looks like 3:10 to Yuma (Lionsgate) should edge Shoot 'Em Up (New Line) for the weekend box office win, and the Western will probably carry the day. It's less of a sure thing, however, than you might think.
NY Magazine: Missed it! - • Shoot 'Em Up premiere. Regal Union Square Cinemas, 850 Broadway, nr. 13th St., 9/5 - 6 p.m. Stars Clive Owen, Paul Giamatti, and Monica Bellucci will be on hand along with director Michael Davis. For a team of experts' best guess as to what will be happening tonight in the popcorn line, see here.
EW.com: Shoot Em -- "Clive Owen plays Smith as the classic megaplex loner nihilist, a Bogart meets Bruce Willis with a heart of gold, and he does it absolutely straight, which is really the ultimate wink." - Thanks, Steph
The BBC:
Shoot 'Em Up -
- One of the producers of the new Clive Owen film 'Shoot 'Em Up' was drawn to the picture because he said it pokes fun at America's big obsessions: guns, breasts and violence. - Thanks, Jidanun
Cinematical: Making Sex Scene History -- R-Rated 'Shoot 'Em Clip' Hits Net - Thanks, Steph
Here are some videos worthy to give a look at: Meredith Viera interviews Clive during MSNBC Today Show -- Very funny interview at the Comic Con with Michael Davis and Clive
September 5
The Hollywood Reporter: International gets more foreign subsidies - Thanks, Steph
Shoot Em Up review at Rolling Stone
From Denise: Clive was on the Today show this morning talking to Meredith Viera. Looked fresh. relaxed and very cheerful. Started about 8:50 am.
Coming Soon: Interview -- CS: How invested are you in the success of a film after you've finished it and gone off to do another film? Owen: I think every movie you do, there's certainly a responsibility if you're in the movie to go out there and try and encourage people to see it, and you want every film you do for as many people to see it as possible for obvious reasons. But there is a whole world of people who are paid and employed to position, market every film and I'm not one of those actors who opens movies and you put numbers next to my name. I haven't got that kind of career, I don't think. I dive around and I do different things, so it's more important that when I see the film, I think it's good or not, to me, not more important--regardless of what the film's like--what it does in its opening weekend. I'd rather be in good films and then what will be will be. - Thanks, Steph
From Cinematical - RIP Deaths: Robert Garlock (?-2007) - Publicist who represented Uma Thurman, Penelope Cruz, Clive Owen, Hilary Swank, Hugh Grant, Sigourney Weaver, Kate Winslet and the films Bringing Out the Dead, Basquiat, Pulp Fiction, Rushmore, The Royal Tenenbaums and The English Patient. He died September 3. (Hollywood Elsewhere) - Thanks, Steph
Empire Movies: A few minutes with the cast of Shoot Em Up - Thanks, Steph
Shoot Em review at Access Hollywood: "The title pretty much says it all in "Shoot 'Em Up," an over-the-top thrill ride that delivers the explosive goods in a big, loud, fun way. That's not to say that it's for everybody — clearly, it isn't — but if stylish action scenes, hyper-violent shootouts, excessive carnage and an exceptionally high body count are your cup of tea, then "Shoot 'Em Up" fires on all cylinders. Try to imagine John Woo's classic "Hardboiled" on steroids, and you get the idea." - Thanks, Steph
This is Nottingham UK: Clive's target practice -- "There were a lot of days spent down the firing range on this one," admits the star, who is known for films such as Closer, Children Of Men and Inside Man. "It is very weird for an English guy doing a movie like that, because the gun culture is so confined to movies. We don't see it as part of our everyday lives," adds Clive, who says he was "tickled" by the action comedy-drama's riotous plot. - Thanks, Steph

September 4
Script Magazine: Writers on Writing: Shoot 'Em Up by Michael Davis -- This fall Clive Owen and Paul Giamatti star in Davis' action drama. Here, Davis describes what life stories led to the realization of the flick.
September 3
ComingSoon.net: 3:10 to Yuma vs. Shoot 'Em Up - Thanks, Allison
LA Calendar Live: 'Shoot 'Em Up' amps up the action - Thanks, Steph
The Boston Herald: Mr. Smith goes ballistic - Clive Owen tackles action role in 'Shoot 'Em Up' - Thanks, Steph
September 2
The SF Gate: A funny shoot for Owen - "Writer-director Michael Davis knew exactly who should play the role he describes as part Indiana Jones, part James Bond and part Dirty Harry: Clive Owen. The British actor stars as a reluctant hero with surefire aim in Davis' new film, "Shoot 'Em Up." - Thanks, Nancy
NY Times article with images (Thanks, Monica)
The NY Times: A star without a charm offensive - Clive Owen's subtle acting approach, nuanced so the slightest glance registers with the camera, has shaped his finest, deepest work. - Thanks, Steph (USA free registration required)
September 1
CW11 Morning News: 7:40 Clive Owen- We sit down with Clive Owen to talk about his new film "Shoot Em Up"
Canada.com: Trained on timely targets - Thanks, Steph
And Clive has a great interview in tomorow's NY Times. It should be on line later today.