Updated February 6, 2009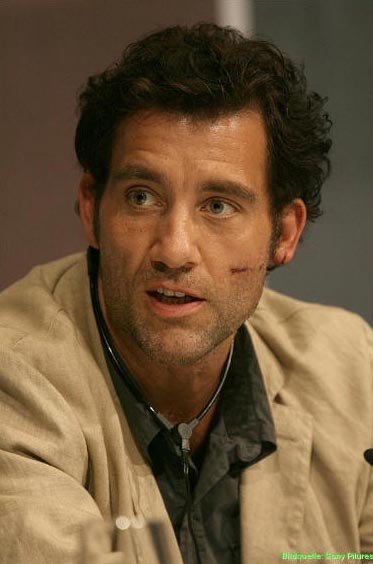 N E W S

2/06/09 - Hello Magazine - Clive and Sarah Jane in Berlin

2/06/09 - ABC au: Watts banking thriller opens film festival

4/11/08 -The International: A new page for the film at ComingSoon.net - Thanks, Steph
3/5/08 - ET On Line Video: New mom NAOMI WATTS gushes about her 7-month-old son ALEXANDER as ET exclusively visits the actress on the set of the upcoming political thriller, 'The International,' in theaters August 15. Naomi's co-star CLIVE OWEN also sits down with ET to talk about the movie in which he plays an Interpol agent, opposite Naomi's district attorney, as they both try to bring down a corrupt bank. - Thanks, Steph
Nemapolis.de: Images from the press conference for The International.
8/17/07 - The Hollywood Reporter: COLOGNE, Germany -- After a brief sojourn outside the X Filme Creative fold with "Perfume: The Story of a Murderer," director Tom Tykwer and the production shingle are teaming once again on new thriller "The International." X Filme has come on board as co-producer of the feature, alongside Sony Pictures Entertainment and Studio Babelsberg, X Filme said Friday. "The International," which stars Clive Owen, Naomi Watts and Armin Mueller-Stahl, begins shooting in September in Babelsberg. The feature will receive €4 million ($5.4 million) in tax-rebate backing from German state run film fund the DFFF. Tykwer remains a partner in Berlin-based X Filme. The company has produced all of the director's films with the exception of last year's "Perfume," which was produced by Constantin Film.
8/13/07 - Coming Soon: In the Future with Owen and Giamatti (What's next for Clive) - Re The International -- "After making an appearance to support the film (Shoot Em Up) at the Toronto Film Festival in September, Owen will get right into shooting The International, the next film from German mastermind Thomas Tykwer, which he told us a little about as well. "It's like a big international, political thriller with a guy trying to expose and bring down a big bank, and every time he gets close, people are backing off, and strange things are happening with people being murdered, and he's obsessively trying to bring them down. It's like a throwback '70s very political thriller with some amazing bursts of action in there as well." -- The film co-stars Naomi Watts.