LUBERON
On Wednesday morning, we checked out of the hotel and took a cab to the train station. This was a bit confusing at first. We were used to someone taking our bags (for a price, of course), but in Europe, you get a cart and are on your own. We made our way to the TGV (very fast) train and boarded. We were in first class seats, the first on the train. We had a section to ourselves, with a table in front of us for eating. The ride was remarkable in that even though you are traveling at 200 km an hour it never feels as though you are hurtling along. It is so smooth and sleek. The suburbs turned to villages (all with a church at their center), cattle resting in manicured fields, and green everywhere.
We arrived at Avignon about 5 PM, and were met by our driver. We did not know at this point where we were going to stay.
He drove us out of the city, through countryside that grew hillier as we went. The roads were winding, but well maintained. Up we went, and he pointed out the various little fortress towns that grew out of the mountains around the valley. One was Bonnieux, our destination.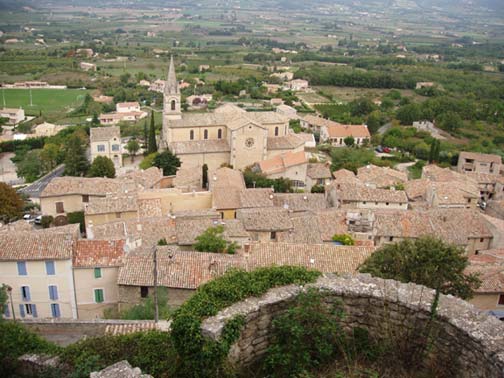 I will always see Bonnieux in my mind's eye. It is so beautiful - Old Roman walls, two churches, one at the bottom called Eglise Neuve (New Church - below) where bells are rung on the hour during the day; one high at the top, Vieille Eglise (Old Church) now unused -- winding streets, some cobblestoned, old wood doors that hid the homes behind them, small shops, and cafes, one more charming than the next.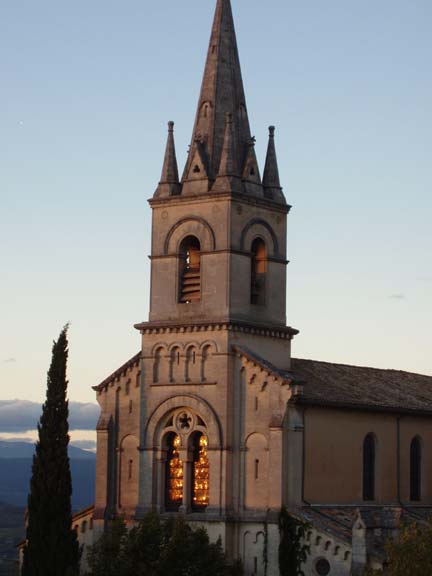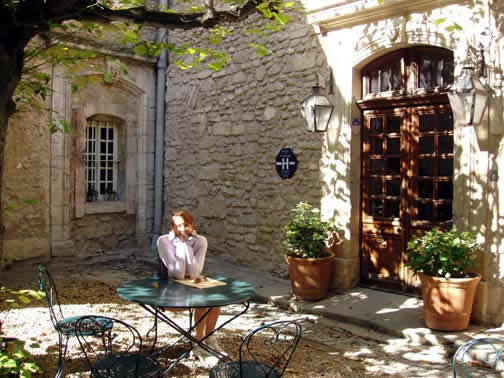 We came to our hotel, Hostellerie Le Prieure, in the center of town, and were met inside by our charming hostess Katarine. The hotel was once a monastery for St Vincent De Paul nuns, and the lounge, the old chapel, still has the murals of St Vincent on the walls. Every room on the main floor has its own charm. The dining room with its massive fireplace, and the reading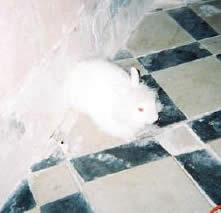 room lead to a walled garden with flowers and vines in large pots, comfortable chairs and quiet. One of the "permanent" guests of the hotel is the chef's pet bunny, Pepo. He is pure white with whiskers around the side of his face. He will allow you to pet him, has the run of the ground floor, and sleeps happily behind the screen in the chapel/lounge (see below) when not in the kitchen with his master.
Our room was on the top floor, up a winding wide main staircase and then stone steps. (Thanks to the security guys from the film for carrying our luggage!) The door looked to be original to the place, with an old key and lock. There were two comfortable beds, and a view of the garden below out our French window with red wood shutters. The air there is clean and clear and brisk in the evening.
We met the location director for the film in one of the lounges, who apologized in advance for waking us early the next morning when they planned an early shoot at the hotel. We assured him it would be a pleasure to see all the activity. We then had a quiet excellent dinner downstairs at the hotel restaurant, Le Jardiin, and climbed into bed.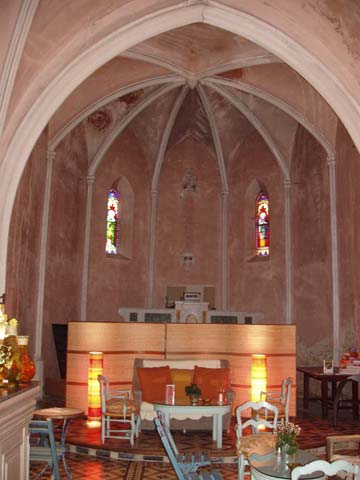 Thursday, September 29:
We could hear trucks from the production arriving on the street outside early in the morning. We went down to breakfast, and Keith came in to give us a hug and a greeting. He told us they were shooting in the hotel right then, and that Russell was just below us in the "caves." doing a scene. The caves, which we didn't get a chance to see, were originally the gates and walls of the city in the times of the Knights Templar. There was a place above the door for a gatekeeper to look and see who wanted entry to the town. For the film, they had made the caves a wine cellar.
We made plans to be taken later that day to the set at the Chateau La Canorgue just outside Bonnieux. Mary Beth took a power walk up to the top of the town where the old unused church perched, and I strolled around to see the shops. I love lavender, so I was in heaven in Luberon.
Our driver came for us after lunch and drove us past security guards to the trailer area where we were met by Keith. There were trailers for all the principals and the crew. We saw "Ridley Scott" on one and "Russell Crowe" on another. We were to watch a scene and then meet briefly with Russell afterwards.
When we arrived, we went with Keith into his impromptu office in the hairdresser's trailer. On the way we were introduced to David Oliver, Russell's stand-in, who kidded and said with Russell there wasn't much to stand in for! He has been with him for many of his pictures, including Proof of Life, Gladiator, CM and others.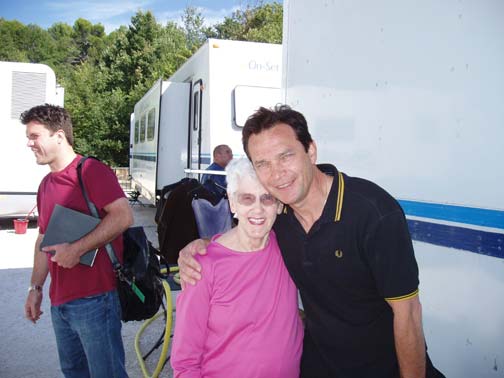 David Oliver and me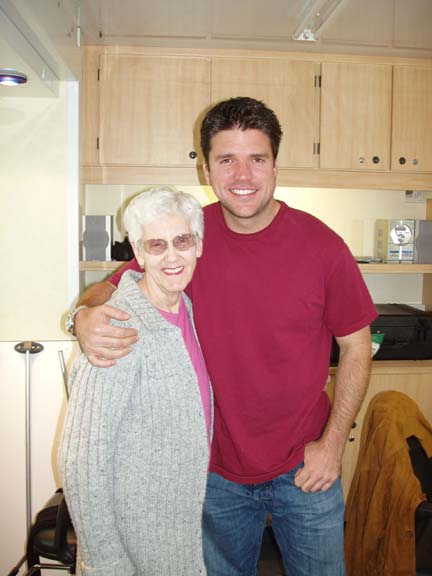 Keith Rodgers, Russell's Right Hand Man, and me
In the trailer, Keith gave us such an interesting background on how the film is done each day. Each change in the script (and there are lots of those) gets a new color paper, and the call sheet for the day lists all the scenes to be shot, the locations and times. He showed us a wall of pictures of Russell - called continuity shots - used to ensure that Russell's appearance remains consistent from shot to shot during the film.
Then it was time to go and watch a scene. We walked through the woods to a spot in back of the chateau. We stood up on a grassy slope to watch Russell in costume (as Max he wears his hair parted in the middle and floppy) and Didier Bourdon (Roussell) doing an outdoor shot together. The remnants of Rita were blowing through, and though it was clear, it was also extremely windy. They had big wind screens set up to block unwanted sound from the mike, which was held pointing toward the actors. We could not see Ridley, but he was on the far side of the slope calling out directions.
After the scene was finished, Russell came to greet us. He took Charlie in his arms (Boonkie came out each day for a visit to his Dad) and asked us to come along to his trailer. He asked Keith to show us through the Chateau on the way. What a treat! We saw the old fashioned kitchen that looked exactly like the one described in the book, and a living room. Both rooms were now film sets. We passed right through because Ridley was in a corner setting up the next scene.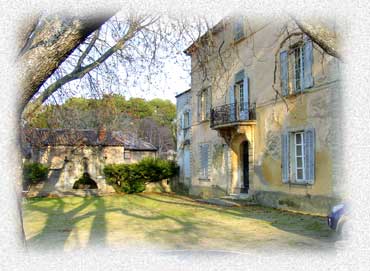 Keith showed us outside the building one of the Roman aqueducts that is still functioning. We also saw the work the crew had done to make the pool platform larger. You would swear it had been there for hundreds of years!
We walked back to the trailer area to wait until Russell finished his scene.
We went into his trailer in a bit to see him enjoying Charlie running around and watching The Shark's Tale on the TV screen. We gave him our gifts – I had gotten some books for RC, Dani and Charlie and Keith – and then chatted a bit. Russell played Testify for us, and then a Nick Cave song Breathless, which is still in production. This was the first time I had heard Testify, and I loved it. It has such a thumping black spiritual feeling to it. Charlie danced to the song, and it was too cute to watch him. When Breathless, a quieter song, came on, he went to his Dad and made a face that said "Hey, I can't dance to this!" ...I got a nice hug from boonkie when we left.
It was a grand visit, but short because he had to go back to work. We made plans to go back again the next day to the Friday night wrap party held every week, and hosted by Mr Crowe. That evening we had dinner in a lovely restaurent in Bonnieux, Le Tinel.
Friday, September 30:
We spent the early part if the day visiting La Coste. It is even hillier than Bonnieux, with steep streets and ancient buildings - More doors to hidden houses and tiny gardens. We had lunch at a café that looked out over the valley to Bonneiux on the other side – it was just breathtaking. This town is topped by the infamous Chateau de Lacoste, once owned by the Marquis de Sade, who lived there in the 1770's. My daugher climbed to the top and took some dramatic pictures of the ruins (to come)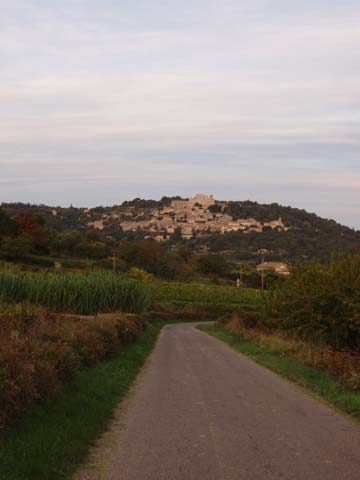 Then back to the hotel for some quiet time in the garden until 5 PM when we returned to the chateau set and the party. They wrapped shooting early so preparations were beginning when we arrived. I was so pleased to meet Jocelyn and Alex Crowe. Jocelyn and I had some lovely quiet time chatting and getting to know one another. Two chefs were busy preparing an amazing feast including couscous, hamburgers and steak sandwiches. The hamburgers where made by Alex Crowe. There were other crew members there. It was an exciting group of people from all over the globe. If you sat and listened, you could hear French, Italian, Australian, Irish, British and American voices all around you!
Russell was there already, and Ridley arrived with Branko Lustig, the film's producer. We got to speak to Ridley briefly - a very funny and warm man. He told us he is local. He's been living on the other side of the mountain for 14 years. Food was eaten, drinks were drunk, and then we moved over to the next area where a court had been set up for this film's game, petanque, the French version of bocci (Boule). You may recall that Russell has a game for the cast and crew of all of his films, In M&C it was rugby, in Cinderella Man, the ugly T Shirt contest. We also got a chance at the court to meet Dani, who had arrived with her Dad, Don Spencer, and her brother. She was so lovely and warm, and thanked us for Charlie's books.
Russell's team, Le Porte Rouge, and Ridley's, The Insiders, were the first to play. Russell's team won a close contest. After he had finished his game, he joined us on the benches set up for spectators. He and I had time for a quiet chat, and that was much enjoyed. He even talked me into trying some red wine, a fine Chateau Neuf du Pape (a 1995 Vieux Telegraph), and showed me how to taste and drink it properly.
Since we had to be ready at 5 AM the next morning to begin our long trek back to the USA, Mary Beth and I left at 10 PM, in the middle of Keith's game. He and his teammates, Mickey and David Oliver, The Three Didilos, make a great entrance in costume, waving and bowing to the crowd. I heard later they lost a close game. The whole contest/game was such fun, for us to see, and for the cast and crew to bond in the competition.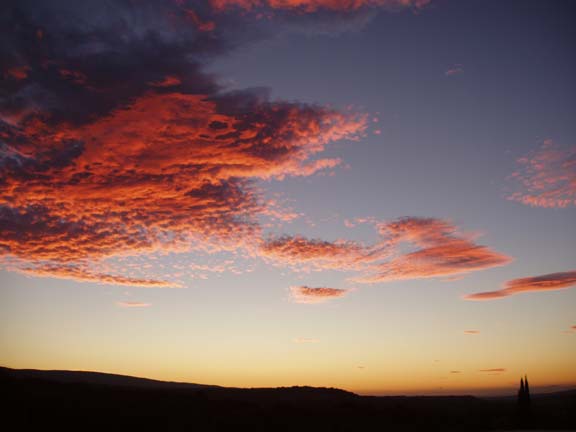 We said goodbye to all, returned to the hotel and left VERY early the next day via Marseilles and Air France to De Gaulle Airport and Delta (wonderful business class again) and the flight back across the Atlantic.
My head is still full of the images of Paris and of the Luberon district. I will never forget this trip of a lifetime, nor will my daughter.
Thank you, Russell!! Thank you all we met in France.