Commenting on Guinness's talent for bringing a character to life from the inside, Kenneth Tynan wrote in his book on Guinness that the people whom Guiness plays best of all are "iceberg characters, nine tenths concealed, who's fascination lies not in how they look, but in how their minds work; people with secrects to hide from their fellow men, people like poets and killers and saints.... Guinness can convey, by his voice and bearing, the existence of little fixed ideas frisking about behind the deferential mask of normality...His territory is the man within."
---
The Filmsites Choices of Guinness Roles for which he will be remembered:

Alec Guinness Col. Nicholson in The Bridge On The River Kwai (1957)
Fagin in Oliver Twist (1948)
8 Characters including The Duke, The Banker, The Parson, The General, and The Admiral in Kind Hearts and Coronets (1949)
Henry Holland in The Lavender Hill Mob (1951)
Gully Jimson in The Horse's Mouth (1953)
Lt. Col. Jock Sinclair in Tunes of Glory (1960)
Prince Feisal in Lawrence of Arabia (1962)
Ben (Obi-Wan) Kenobi in Star Wars (1977) and the Trilogy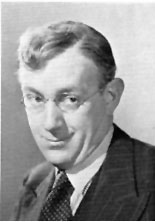 Henry Holland - The Lavender Hill Mob
---
...Wisely, with the years of increased international distribution of films, Guinness has stayed in the British industry. The French and Italians may not quite understand him; he is too capable of looking "normal" to be typed as a clown, but he carries a comic message full of ready cheer to anyone of German or Anglo-Saxon culture. He deploys farce as naturally and spontaneously as a British judge or an Oxford don when each is in the right humor, and his face breaks up into laugh lines at the slightest gleam from his eyes. Though he cannot, I believe, dance too, Guinness has reached an international popularity equaling, and exceeding in serious caliber, that held by Fred Astaire, whom he curiously resembles in features and manner.
Guinness has that gracile talent spanning the distance between actor and audience like electricity; he handles the corny with delicacy, as though it were an expensive article, and audiences at large appreciate nothing more than they do that. Nature, in the case of some comedians, confers a facial elasticity that makes miming look the easiest thing in the world, so easy that it isn't necessary for Guinness to body-train (as, for example. Chaplin did, and Barrault). Hence the multiple roles in Kind Hearts and Coronets came to Guinness like second nature; the same nature converted into his own property the savage, sinister old painter of The Horse's Mouth, whose original hero he parodied. The actor was fairly young when the British studios thought of this starring vehicle for him, quaint and English as it is in making the humanly vulnerable idea of perfection into articles of apparel. But assuming a suit of clothes can be perfect, wouldn't it be invented by another dotty Englishman? England itself need not wish, or assume, that man is perfect. Leave such ideas to the Angry Young Men, who will be chastened by time.
From Classics of the Foreign Film - 1962
---