Week of 4/11/05 to 4/17/05
The Boston Herald: More than a Brit part: London's got a starring role on the big screen
Clive is "Ask Men's Man of the Week"
The Telegraph UK: Goodbye, new man. Welcome back, Mr Rough and Ready - Thanks, kyvan at the forum
The Observer UK: My kingdom for a Bond -- More than 70 contenders and still no new 007. Surely it can't be that difficult to find an actor to tread in Connery and Brosnan's footsteps - can it? - Thanks, Gill
For those who have E!Latino, Clive will be at Extreme Close Up next Sunday 24th.
Thanks, Ivani
Scan of an article on Clive from Woman's Magazine UK - April 2005. Thanks, Alison
Available at eBay: "Official BBC presspack for the Clive Owen drama Split Second from a few years back before he got really famous." - Thanks, Lyn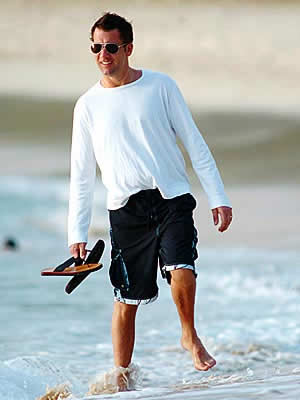 Left: Clive at people.com
Contact Music: Screen hunk ORLANDO BLOOM has topped a poll of Britain's most powerful stars. The survey by influential British movie magazine FILM REVIEW hailed the 28-year-old actor, who shot to stardom in THE LORD OF THE RINGS trilogy, as the most bankable screen star in the UK today. The magazine states, "Already one of the industry's most iconic faces, Bloom has the looks and abilities to become one of the screen's legendary actors." KEIRA KNIGHTLEY, who came second in the list, was praised for her determination and hardworking attitude. CLOSER star CLIVE OWEN was in third place and DANIEL CRAIG came fourth.
Thanks to Alison - Film Review #57 (Orlando Special), page 35. -- Clive Owen Interview as no. 3 in Film Review magazine
Billboard/The Hollywood Reporter: "Xzibit will next be seen in "XXX: State of the Union" with Ice Cube, Samuel L. Jackson and Willem Defoe, and "Derailed" with Clive Owen, Jennifer Aniston and RZA. His past credits include "8 Mile" and "The Chronicles of Riddick." He also hosts the MTV series "Pimp My Ride."
PR Newswire: Looks like Owen is confirmed to be in Inside Man… "Donna Langley was named Executive Vice President, Production for Universal Pictures in October of 2003. Since that time she has been intimately involved in the development and production of numerous Universal feature films including 2004's world-wide smash "Bridget Jones: The Edge of Reason" and the critical and audience favorite "In Good Company." She is currently working on the upcoming "Inside Man," starring Denzel Washington and Clive Owen and directed by Spike Lee, which is set for production later this year; the comedy "You Me and Dupree," starring Owen Wilson; and the romantic comedy, "Prime,"starring Uma Thurman and Meryl Streep. Langley has been actively involved in the update of Jane Austen's "Pride and Prejudice" starring Keira Knightly for Universal's Focus Features due in theatres later this year." - Thanks, Steph, Chris
Clive is up for sexiest star of the year at hollywood.com. Vote HERE - Thanks to those at the forum
The fund raising effort will continue until Friday, April 15. See my note of sincere thanks to all who help make this site possible
The Toronto Sun: Something to frown about -- By VALERIE GIBSON. Thanks, Rita
CSI Files.com: Clive in "CSI London???" Heaven forbid (not a CSI fan) - Thanks, Kyle
Week of 4/04/05 to 4/10/05
Leyla has a bunch of Sin City screen caps at her site.
The Independent UK: Article on Melissa George -- "George's rise to success doesn't stop with Amityville. She will next be seen alongside Clive Owen in the crime thriller Derailed, a book adaptation, which she filmed back-to-back with Amityville. "As soon as I wrapped Amityville I went to London and worked for seven weeks with Clive there. It's a story about a husband and wife, played by Clive and myself, and we have a lot of secrets. One day he catches a train to work, hence the title Derailed, and many turns of events occur after that. "It was the most amazing experience as an actress. Clive's so funny and down-to-earth, and you're working with one of the best actors in cinema today and he has a great time with it and doesn't take it all too seriously." Thanks, Daniela
More at Film Stew on The Inside Man
At the forum Maddie has posted the full Variety article mentioned by EW below - EW was totally off base! Thanks, Kyle
EW: Variety reports - Will Pierce Brosnan return as 007? After all the denials, he may return for two more films (Will the speculation never end?)
Relish Now: Mark Burger talks with 'Sin City' star Clive Owen - Thanks cinecing, Kyle
From People Magazine Website: DECLINED: Producers of the James Bond franchise are refusing comment on a report that Road to Perdition and Layer Cake star Daniel Craig is replacing Pierce Brosnan as 007 in the next three movies, as Britain's Sun newspaper has stated. "We're waiting for our director to finish the film he's currently working on. Then I'm sure we'll be commenting a lot on all sorts of things," says a spokesperson for production company Eon, according to the BBC - Thanks, Stephanie R
Yahoo News UK: A spokeswoman for actor Daniel Craig has denied reports that he is to be the next James Bond.
NEWS!!! Denzel Washington, Spike Lee Team for 'Inside' Job - Wed Apr 6, 2:30 AM ET Movies - Reuters - By Borys Kit LOS ANGELES (Hollywood Reporter) - Oscar winner Denzel Washington is set star in the upcoming hostage drama "Inside Man," which Spike Lee is directing for Universal Pictures and Imagine Entertainment. Clive Owen is in negotiations to join the movie, which Imagine's Brian Grazer is producing. "Inside" takes place during a tense hostage situation in which a tough cop matches wits with a clever bank robber, who sets out to pull off the perfect heist. Russell Gewirtz and Menno Meyjes wrote the screenplay. "Inside" would be the fourth Washington-Lee pairing. The two teamed up on 1990's "Mo' Better Blues," 1992's "Malcolm X" and 1998's "He Got Game." Washington, who won a best actor Oscar for his role as a rogue cop in "Training Day," currently stars on Broadway as Brutus in "Julius Caesar." He also won an Academy Award for his supporting role in the Civil War tale "Glory." Last year, the actor starred in "Man on Fire" and "The Manchurian Candidate." Owen was nominated for a best supporting actor Oscar for his performance in "Closer." He is currently featured in the hyper-noir film "Sin City" and next stars in "Derailed." Lee's recent credits include "25th Hour," "She Hate Me" and the upcoming Showtime limited series "Sucker Free City." - Thanks, Mari
Yahoo News 4/6 - British actor Daniel Craig picked as new James Bond (great choice!)
USA TOday Movies: A look at their future projects - The Weinstein Co. — the interim name for Miramax co-founders Bob and Harvey Weinstein's new studio - Thanks, cinecing
From Harry's introduction of that negative review of Derailed at AICN: "Hey folks, Harry here... Clive Owen is my current fave male badass actor currently occupying the part Russell Crowe occupied (and will re-capture with CINDERELLA MAN)."
The Scotsman: GQ UK - Clive # 4 on the best dressed list: Jude Law is third and is credited with "the style and flair of a modern Cary Grant", while his Closer co-star Clive Owen is fourth thanks to his "old-fashioned matinee idol look". Thanks, Kyle
At People Magazine, vote for the most beautiful men. Clive is #6. Thanks, Stephanie R
Thanks to Leyla, snaps from the Sin City press conference (reg in the forum required to view)
Bad fan review for Derailed at AICN (Spoilers in it if you haven't read the book) - Thanks, moonbeam at the forum
From Amazon - The Making of Sin City - Thanks, Jen at the forum
E! on line: "Sin City" Pulps "Beauty Shop"
Film Stew on Rodriguez casting for Sin City: "In the second tale, drawn from The Big Fat Kill, Dwight, a private investigator trying to put the shadier parts of his life behind him, is drawn back into the underworld of Sin City when a cop is killed in Old Town and he must protect his friends among the ladies of the night. In this case, Rodriguez found the role of Dwight a little tougher to cast. "Frank draws the character of Dwight with so much character in his face, and you couldn't go to a young actor who had that kind of weight and presence [and still] has some vitality to him," he explains. Remembering the short online films that Clive Owen starred in for BMW, Rodriguez showed them to Miller. "I always wanted to work with [Owen] from those," Rodriguez says. "He just had a presence, a very mysterious presence."
Week of 3/28/05 to 4/03/05 - I am conducting a limited time fund raising effort (two weeks) for Murphsplace. See button and info at right. Thanks!
Thanks to Kyle - From the MI6 newsletter (their forum): "OWEN UP FOR BOND ROLE?: Just when you think you've heard the last of it... MI6 can finally confirm that Owen has screen tested for the role of 007 at Pinewood Studios. In a recent interview with a IESB reporter, Clive was asked about Bond. In reply - and with a head nod - Owen said he would be kept busy in the months ahead." -- And Italian media have "named" him Bond (speculation)
The NY Daily News: Hot, hotter, hottest -- The definitive guide to who and what is sexy right now - "Clive Owen: He broods, he glowers, and no matter what the role, you can't take your eyes off his craggy face. Like a downmarket Richard Burton on steroids."
The Hartford Courant: A Tall, Dark, Handsome, Brooding Thug -- Clive Owen Is Poised To Conquer Hollywood, With His Heart Planted Firmly At Home - Thanks, Doro
The cover of the May Famous Magazine thanks to milZ at the Forum
The Guardian: "Detour, by James Siegel (Little, Brown, £17.99) -- Siegel's first novel, Derailed, was a gripping example of an everyman caught in a dangerous web of credible danger, but it fell apart at the end owing to a surfeit of coincidences. The movie will soon be with us (with Clive Owen in the white-collar executive part). His new book confirms his forte for plunging normal, recognisable characters into situations they cannot control and twists the screw with gleeful sadism. A childless American couple visit Colombia to adopt a baby only to find themselves pawns in a revolutionary struggle, and the husband forced to become a drugs mule to save the life of his wife and newly acquired child. The inevitability of things going very badly wrong weighs heavily on the book's atmosphere, what with crooked lawyers, Russian mafia and rightwing dictators pulling invisible strings in the background. A savage thriller that pulls at the heartstrings, like Harlan Coben without the sentimentality."
A Comic Book Style Review Of Sin City By Turbo Critic & Roper
From a fan: "I was just watching Denzel Washington on Letterman and he said his next film will be for Spike Lee, and co-starring Clive Owen and Jodie Foster. Not sure if that's news for you. He is really working with the best and most interesting people--good for him!"
Clive on yesterday'a CBS Early Show. Thanks, Patricia
The NY Times Review of Sin City: (Free Registration required for the whole review) _- "That sisterhood features most heavily in the story hooked to a psychopath named Dwight (Clive Owen). Like the rest of the film's menagerie, Dwight is a conceit rather than a character, and would barely register save for the fact that Mr. Owen is easy on the eyes, whether jumping out of a window or locking lips with his own personal demon (Rosario Dawson)."
Rotten Tomotoes page with links to all the reviews for Sin City
No updates today (3/31) - The flu bug made a visit
TV Reminder -- From Mr Buster Boy: "Clive is supposed to be on Good Morning America on Weds (30th) and the CBS Early Show on Thurs (31st)"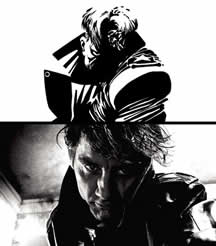 Dwight - A bit of the song "Dwight" from the Sin City sound track. Order it HERE from Amazon through my site
The Boston Herald: Clive in the 'City' just follows the work
IESB.net: "So who is the next James Bond? A few names have been rumored to be attached to Casino Royale, the next installment of the 007 films. We spoke to one of the rumored contenders yesterday." - You can watch the press conference video HERE at IESB
From CHUD: The entire Sin City Press Conference transcript - Thanks, Victoria
The Charlie Rose site has a picture of Clive and a place to order the transcript. Thanks, Patricia P
Thanks to Kyle: An excerpt from the Charlie Rose Show
Exclusive from Marcy: Pictures taken last night at the LA premiere
UGO Cinema Confidential: Interview with Robert Rodriguez -- "Stay tuned tomorrow for the rest of Robert Rodriguez' interview, as well as more chats with Brittany Murphy, Rosario Dawson, Clive Owen, Jessica Alba, and Benecio del Toro all week"
Time Magazine Sin City Review: Miller's Double Crossing -- Robert Rodriguez and a starry cast re-create Frank Miller's Sin City comics frame by noirish frame -- "Dwight (sturdy, haunted Clive Owen), on the lam from the law, protects the city's only honorable citizens: the hookers."
The Salt Lake Tribune: 'Sin City' rises in Austin, not Hollywood - Thanks, Lisa
Week of 3/21/05 to 3/27/05
HAPPY EASTER! Thanks to all who sent me Easter greetings!
Sci Fi Wire: Peeking Behind Sin City - Thanks, Jinete
The Hollywood Reporter - Sin City Review
The Chicago Sun Times: Sin City -- "...Actor Clive Owen reports the on-set discussions got strange. "Only in 'Sin City' would you hear someone ask, 'Why doesn't he take her away and eat her limbs?'" Owen got the call to play private eye Dwight and was given a week to report with an American accent. "I just went for it," he says. "You read it. You know how to speak it."
Newsday.com: 'Sin City' brings a touch of evil to the screen
If you do a power search at i tunes (USA and Canada for sure) for "Great Big Sea," you get a good choice of Alan Doyle songs. I particularly like "The Night Pat Murphy Died!" Also there is a lovely Sting version of "You Were Meant For Me."
The Toronto Star (Free registration required) Clive Owen finds strength in Sin City's indie vision - Thanks, Lyna
The NY Post: 7 DEADLY SINS (The women of Sin City)
Great news - Clive is listed as an upcoming guest on Charlie Rose (he has in depth interviews) Nakamura tells us it is on the 29th.
From Victoria: Didn't see it on your site so wanted to let you know that iFilm has put up a bunch of new video clips on their "Sin City" page, including an interview with Clive Owen and two scenes from "Sin City" featuring Dwight/Gail & Dwight/Shelley.
Correction: Clive will NOT be on The View on 3/30. Here is a new addition – Clive Owen is slated to appear on The Early Show (on CBS) on 3/31… the listing for The Early Show just says, "Actor Clive Owen (``Sin City''); actress Alicia Silverstone (``Beauty Shop'')." Thanks, Kyle
MSNBC Movie Forum Q and A with Rodriquez: "Santa Clara, CA: Hello Robert, I am waiting with great anticipation for this watershed of a movie. One question, very interesting casting choice (and one the I love wholeheartedly BTW) was casting decidedly British actor Clive Owen as Dwight. What was the impetus for such a choice? - Robert Rodriguez: It was hard to find someone that was a good physical and character match for Dwight. I've always wanted to work with Clive, and showed Frank the John Woo-directed BMW short film on the Internet. I said, "This is the guy I think is Dwight." Frank said, "If you think it's him, cast him, you've been right so far ... " It was a leap because I had never met Clive, but there was something in that short that made me believe he was the guy. People say I have a good eye for casting, but I've usually found it to be more of a gut feeling than a visual impression." Thanks, Kyle
The original dialogue from Conan O'Brien that was posted below came from the MI6 web site and forums -- [ed note:A correction: The post below and the one on the MI6 site came from the same person, kyvan. I apologize for the mix-up. Credit to kyvan for taking the trouble to do a transcript, and to the MI6 boards for giving him a chance to show it to fans]
Sin City Review at Slant Magazine
From jira at the forum: Sin City Production Notes in 34 pages PDF file (Dwight on page 8 ). Here is the link.
MTV.com: Benicio Del Toro Tells Broccolis Clive Owen Should Be Bond
Two older articles (2003) in pdf form from Aruana - ISWID and BMW
From Kyle: Conan O' Brien appearance -- I've done a transcript for you of the part where they talk about James Bond... enjoy!

O'Brien - Now, uh, this is something that's been hounding you for a while, but for easily the last year or so, all the tabloids have been saying, "They've chosen the next James Bond. It's Clive Owen. Every producer wants Clive Owen to do it." And what's interesting is most people would dream of playing James Bond. You don't want to do it, do you? Owen - I've never said that. All of that has always been rumors. It's been sort of, you know, media speculations. It's been announced a number of times that I've signed to do it. It's all been, you know, speculation. But there was one time - the sort of silliest it got - is I was doing a movie where I had hair extensions and a big beard, and I came out of a restaurant, I had a baseball cap on, and there was a paparazzi guy there, and they took pictures. Three days later, that picture in a tabloid saying, "Owen Signs for Bond." But the thing is, they said, I was in disguise until the Broccolis were ready to reveal me! (laugh) O'Brien - Really? So until it was gonna be announced, that they thought there was gonna be this wig, and... They're thinking of any reason, but you don't wanna do it, right? You don't... Owen - I, listen, I've been having the most fantastic time doing very varied, interesting work, and, you know, it's continuing, and I'm having a great time, so...O'Brien - Right, right, so you're not worried about that. I just think it's this very cool rumor to have out there about you. I mean, you know what I mean? There's uh... usually when there's a rumor, it's like, "There's something funny about that guy, alright?" or "Conan smells," you know? But you, it's like, "They want him to play Bond," but you know, it's... that's a very neat thing! Owen - (laugh) No, but... ...no... I have no problems being associated with it.
"Clive is supposed to cohost the Mad TV marathon this Sat. on Comedy Central, I believe 3pm EST. He is cohosting with Brittany Murphy and Rosario Dawson. Hope it's useful." Thanks, Amanda
Sin City Reviews are coming in: Box Office Prophets -- a review by James Berardinelli -- more to come
Reminder: "Clive is scheduled for Conan O'Brien on NBC at 12:35 am ET according to USA Today's talk show listings. It says "Sin City" after his name so it must be a new appearance." - thanks, rcfab
Newsweek: Monsters' Ball -- A comic-book avatar and a maverick filmmaker team up for the delightfully depraved 'Sin City.' - Thanks, Lyna
Newsweek: Movie Forum: From 'Spy Kids' to 'Sin City' -- Send questions to director Robert Rodriguez, and NEWSWEEK will post his answers here on Friday, March 25 - Thanks, BaciaDolce at the forum
Super Hero Hype: Owen & Del Toro Talk About Sin City Thanks, Alice
From Sony Pictures Home Entertainment, CLOSER comes to DVD on March 29th. The film features a stellar cast including Julia Roberts, Jude Law, Natalie Portman and Clive Owen. CLOSER won two Golden Globe awards and was nominated for two Academy Awards - Best Supporting Actress, Natalie Portman, and Best Supporting Actor, Clive Owen. The film also won the National Board of Review award for Best Acting by an Ensemble Cast and was one of their Five Best Films of the Year. Here is the link to buy.
CLOSER First 7 Minutes:
http://www.sonypictures.com/cthe/closer/7min_high.asx
http://www.sonypictures.com/cthe/closer/7min_low.asx
http://www.sonypictures.com/cthe/closer/7min_high.ram
http://www.sonypictures.com/cthe/closer/7min_low.ram
Reelcom: Spring Into Movies, A Season of Cinema By Kim Morgan - Scroll for Sin City
Metro News Canada: It's Owen, Clive Owen - Actor shrugs off rumours about being new Bond - Thanks, doro
SciFi Wire: Owen Denies 007 Rumors
Advance screening of Sin City in San Francisco - Thanks, Steph
GQ Magazine celebrates the release of the April 2005 issue featuring Jessica Alba at the Spider Club in Los Angeles, Ca. Thanks, Maddie at the forum (Free registration required to view)
Week of 3/14/05 to 3/20/05
Newsweek: Monsters' Ball - A comic-book avatar and a maverick filmmaker team up for the delightfully depraved 'Sin City.'
The NY Daily News: Unpleasantville - Welcome to 'Sin City' - a film noir on steroids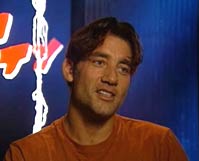 The Yahoo Sin City Page has a behind the scenes video, including Clive. Thanks, Victoria
Thanks to Alexis, Clive on TV:
- Thursday, March 24, TRL, MTV, 5pm
- Thursday, March 24, Conan O'Brien, NBC (according to tvguide.com)
- Sunday, March 27, Making of Sin City, SciFi, 11pm
- Wednesday, March 30, Making of Sin City, FX, 11pm (might be the same as the show on SciFi)
- Wednesday, March 30, The View, ABC
- Friday, March 31, Behind the Scenes (Sin City), E!, 8:30 am (a bunch of other times also)
- On the Set (Sin City), starz, it's on a bunch of times
Reviews of Sin City from AICN: "Dwight is as crazy and violent as Marv, but Clive Owen keeps him the coolest of the three... From there we're introduced to Clive Owen (who OWNS in this flick)... The second is Clive Owen, who I can now safely say is one of my favorite actors, period.... Clive Owen and Rosario Dawson are two of the performances that stand out in my mind.... Not to jump on the CO bandwagon, but i think Clive Owens voiceover and acting seemed the most natural though Rourke and Willis were also pretty good." - Thanks, Leyla
Stax at Film Force: Clive Back in Bond Mix?! - A reported casting brouhaha.
The Hollywood Reporter: Sex sells on big screen ... unless it's serious (Mention of Closer) - Thanks, Allison
Thanks to Lyna: Daily Variety - March 17, 2005, Thursday Jennifer Aniston : Female star of the year --- Thrill ride: As Aniston read the affair-gone-wrong thriller "Derailed," she got goose bumps and flipped faster. "I was riveted," she says, "and the second thought was it scared the crap out of me, and then you go, 'Oh, damn, I guess I have to do it if it gets you all scared.' " Other things appealed to her about director Mikael Hafstrom's project -- everything, in fact. "Of course, (co-star) Clive Owen didn't hurt," she adds, "and he truly is as wonderful a person as he is an actor." New territory: "There's some intense things that go on in the movie, and I hadn't really gone there before as an actor so I thought, 'What the hell, let's see what happens. At this point, all they can do is ask me to leave," she says. Aniston had to work to create a lead character that has an intense feminine presence but doesn't rely too much on humor. What was the trickiest thing to pull off? "This may sound crazy, but accessing that part of my sensuality and sexuality," she says. Comic turn: In the upcoming Rob Reiner comedy "Rumor Has It," Aniston's character discovers that her screwed-up family might have been the inspiration for the 1967 film "The Graduate." Mark Ruffalo, Shirley MacLaine and Kevin Costner co-star.
3/16 - From moisme at the forum: "Rosario Dawson (Sin City) was just on Regis & Kelly and she mentioned Clive, saying he was amazing. She said when they kiss in the moive, which is the clip they showed, she said she had to pull him towards her rather forcefully and Clive would flinch. Guess they had to do more than one take, hehe. She said it was funny. When they showed the clip, she said watch & see if you see him back up a bit or flinch. You could definitely see that he hesitated a moment and then they completed the kiss. Regis said I guess you showed him who was boss. She laughed and said yeah. It sounded like she really enjoyed working with him. I can't wait to see the movie."
Interview at Toro Magazine with Melissa George (Derailed)
3/15 - The Forum seems to be unavailable. I am checking it out with my host.
From Chancer -- Snaps of Dex and the baby - Thanks to Leyla
Week of 3/07/05 to 3/13/05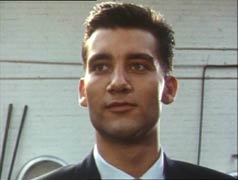 Leyla has some screen caps from Chancer, Series One, at the forum (registration required)
Reminder: "Closer" comes out on DVD March 29 -- Mike Nichols directs this story of four strangers who meet by chance and are attracted to each other but also prove capable of brutal betrayal. With Julia Roberts, Jude Law, Natalie Portman, Clive Owen.
From Rolling Stone: "WU-TANG CLAN's RZA will star alongside Jennifer Aniston, Clive Owen and fellow rapper XZIBIT in the upcoming film Derailed"
From an informed source: Clive starring in The Poseidon Adventure is just a rumor, not fact.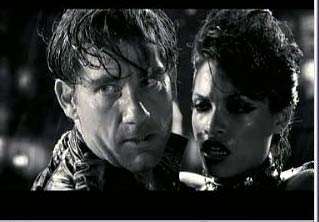 Great new trailer for Sin City - Lots of Clive
Harry at AICN: Clive Owen to release steam in POSEIDON ADVENTURE remake? - UPDATE - "Hey folks, Harry here with an update on this. Word I'm getting is that Clive is absolutely not involved and that Moviehole's info is somewhat bogus. Personally - that would be cool, sadly though it doesn't seem to be true!"
Sin City is Movie City news' film of the week. Lot of info.
This french website has some information on the Sin City soundtrack with a track and some audio samples (Click on tracklist audio) - Thanks, Steph
A bit of Oscar trivia: From US Weekly: 7:40 - Drew Barrymore drops her borrowed cell phone - "I never bring one to these things," she says - and Clive Owen rescues it from the lobby floor. - Thanks, clemato
Inside the Bay Area review for the new ABC series Blind Justice -- "TV fanatics can point out that this conceit isn't new. BBC had a series, "Second Sight," starring Oscar nominee Clive Owen about a detective with failing sight who was trying to hide it and ABC had New Orleans insurance detective Mike Longstreet (James Franciscus) in the 1971-72 series "Longstreet."
Contact Music: OWEN SLAMS BOND RUMOURS
The new trailer for Sin City is now available from Moviefone. Thanks, Steph
Thanks to splat at the forum, a scan from the People Magazine Oscar issue from Derailed.
The Observer: Director Mike Leigh (Vera Drake) on his Oscar Trip: "Clive Owen is on the plane. He's nominated for Best Supporting Actor (for Closer). He hasn't received the DVD. He grins: 'That means you've won!' Nice guy, very funny."
Thal at the Crowe's Perch EZ Board has posted some great pictures that are new to me in the Owen thread. Scroll about half way down the page.
Week of 2/28/05 to 3/06/05
MI6.co: Casino Royale - 05-03-05 - Clive Owen tops IMDB poll for next James Bond - Thanks, Kathy B
Winnipeg Sun: Spring Cleaning - Your post-Oscar, pre-Star Wars movie slate
Poll at Super Hero Hype: How much do you think Sin City will make its first weekend in theaters? - Thanks, leyla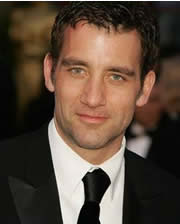 Entertainment Weekly - March 11, 2005 - HEADLINE: The Fashions: . . .and Clive Owen (in Giorgio Armani). "I had the very privileged experience of going to Milan and having the man himself fit me," said Owen. "One of the highlights, actually, of this whole experience." - Thanks, Lyna
3/4 -- IMdb Daily Poll: Who should be the next James Bond in the 21st Bond flick, Casino Royale? - Thanks, Kris C
BBC News: Hollywood Director returns home -- "My friend Andrea Arnold won an Oscar for best short film so that was really great. I was really pleased for her," she said. "A friend from RADA, Sophie Okonedo was up for best supporting actress and then the best man at my wedding was Clive Owen who was also nominated," she added.
UK News: Angel set to light up silver screen -- "...It's too early to tell whether Melissa [George] will star in a spin-off, but she has just finished work on a new movie with Oscar nominee Clive Owen, Jennifer Aniston and Blackpool star David Morrissey."
Information at the forum on Sin City - Cannes? and preview location
The NZ Herald: Closer director master of the mind game - Thanks, Shannon
New info in a new Chancer section
Local report on the Oscars from the Hornsey and Crouch End Journal (UK) - Thanks, Doro
CBS News - On Oscar Fashion: "Giorgio Armani helped Clive Owen put on his suit and it showed. He was both Schwartz's and Evangelista's choice for best-dressed male star. "He could wear margarine on himself and he'd look good. The man's sexy," Evangelista said and pointed out what he liked the most was the tie Owen wore. "The top was satin and the bottom was velvet. That was a different twist," Evangelista said."
Stax at Film Force: Clive Denies Bond Reports
Lynda Obst at Slate: "Best Supporting Actor: No One Would Be Surprised If ... Morgan Freeman won. He's always great. Everyone Would Be Shocked if ... anyone else won. Though, a Lot of Women I Know Would Be Thrilled If ... Clive Owen won. Just to see him go to the podium and make a speech, any speech. But alas, it won't happen."
News on Sharman from The Nick Sharman web site (PDF form): From 1995 - "Clive Owen (Chancer, An Evening with Gary Lineker, Close My Eyes) is private eye Nick Sharman in Canton UK's new film drama, The Turnaround, based on one of the Sharman novels by Mark Timlin and adapted by Tony Hoare.'
Lui has some new e-cards to enjoy.
Clive made the top ten of snappy dressers at the Oscars according to E! on line.
Contact Music: "OWEN THRILLED AT WOLFGANG OFFER -- British actor CLIVE OWEN is celebrating after landing the lead role in WOLFGANG PETERSEN's eagerly awaited remake of THE POSEIDON ADVENTURE. The CLOSER star will play the heroic priest Hollywood actor GENE HACKMAN portrayed in the 1972 disaster movie about a group of holidaymakers who are forced to fight for survival after the cruise ship they're on sinks. A source says, "Clive's thrilled. Even if he leaves LA empty-handed, he'll be able to take great comfort from the fact Wolfgang wants him in the film." The Poseidon Adventure is slated for release in May next year (06)." (Let's see if this confirmed elsewhere)
Here is a fan site for the original Poseidon Adventure -- Info on the remake at Movie Blog
Snaps from last night at the awards by mcleeann
The BBC: British stars denied major Oscars - British hopes of winning major Oscars were dashed as UK stars failed to win acting and directing prizes. - Thanks, Doro
More wireimages from last night - Scroll
From Sphinx: "There seems to exist a confusion about the region code of "Chancer". In fact, Chancer is Region 0 (in words: "zero") what means that you don't need a multiregion player! The only thing required is that the player (not the TV set!) can handle PAL (more lines than NTSC) what should be a standard feature on an average DVD player anyway. If someone's not sure I recommend to check the technical specs in the player handbook."
Week of 2/21/05 to 2/27/05
If not this year, it will come, we are sure of that. Congratulations to Morgan Freeman.
2/27 - Good Luck tonight, Clive! -
Just up - Pictures of Clive at the Miramax pre-party - WireImage
BBC News: Hollywood ready for Oscars Night -- "..The UK's highest hopes remain with Clive Owen, who has scooped both the Golden Globe and the Bafta for his supporting role in Closer." - Thanks, Doro
Contact Music: "British actor CLIVE OWEN refuses to move to Los Angeles for one simple reason - he couldn't part with his favourite London pub." - Thanks, Doro
I'm watching Chancer - The Complete Series 1 [1990] (PAL Format from Amazon UK) and enjoying it very much. Clive has a great part here - cheeky, sexy, cleverer than everyone around him - and so young! No wonder he made a big splash with it in the UK. He is mesmerising to watch. If you have a region free DVD player or live in the UK, pick it up.
The London Times: And the winner is...Oscars are awarded for many reasons: sentimentality, longevity, a classy English accent. Who do the experts think will win this year? Sean Macaulay asked three of the top acting coaches in Hollywood. - Thanks, Molly S
Web Alert! Vanity Fair is having a live web cam of its pre- Oscar party on February 27. You can watch HERE. (Will Clive and Sarah Jane attend?)
Contact Music - And now ANOTHER Bond finalist!
This Is London: What's in the bag on Oscar night? -- "The emphasis on the gifts this year for nominees such as Sophie Okonedo, Hilary Swank and Clive Owen is on comfort rather than out-and-out glamour." Thanks, Doro
Oscar Watch - Possible upsets in the Supporting Categories by Sasha Stone: "...However, it's Clive Owen who is the real threat to Morgan Freeman. How many times have we seen veterans like Freeman passed over for upstarts? Owen couldn't be more hot right now. Both Portman and Owen are magnificent in Closer - they are standout performances, deserving winners - it is far more likely that they both will win the Oscar than Freeman and Blanchett, and yet - people in mass continue to predict Freeman and Blanchett. This is why I'm keeping my prediction of Clive Owen to win the Oscar." - Thanks, MFE at the forum
Sky News: "Bond Shortlist Is Revealed - Clive Owen and Daniel Craig are fighting it out to become the sixth James Bond, insiders say. Executives for the next movie will choose either Owen or Craig to succeed Pierce Brosnan.Brosnan, 51, will not appear in the next film, Casino Royale, after he failed to agree terms." (If true, WOW!) - Thanks, KathyB
Yahoo News - Toy Fair: But the Batman Begins and Sith toys weren't the only Tinseltown-themed playthings making their debut at the trade show. -- Sin City, which is based on the darkly stylish graphic novels of Frank Miller, opens Apr. 1 and features an all-star ensemble that includes Jessica Alba, Bruce Willis, Rosario Dawson, Benicio Del Toro, Clive Owen, Mickey Rourke and Brittany Murphy. Paying homage to director Robert Rodriguez's mostly black-and-white visual style, the tie-in toys include 12-inch black-and-white action figures (except for Yellow Bastard), along with prop replicas, lunchboxes and playing cards.
An early treat - The NY Times Magazine for Sunday, 2/27 - Great Performers of this year
Frank Rich - The NY Times: Hollywood Bets on Chris Rock's 'Indecency' -- "THE total box office for all five best-picture nominees on Sunday's Oscars is so small that their collective niche in the national cultural marketplace falls somewhere between square dancing and non-Grisham fiction. But if this year's Oscars are worthless as a barometer of the broad state of American pop culture, there's much to learn from the hype spun by ABC and the motion picture academy to seduce Americans to watch even if they can't distinguish Clive Owen from Catalina Sandino Moreno. The selling of the Oscar show is the latest indicator of the most telling disconnect in our politics: in the post-Janet Jackson era, "indecency" is gaining in popularity in direct proportion to Washington's campaign to shut indecency down."
For your convenience - Thanks to Oscar Watch - a printable Oscar ballot in pdf form
CBS News: A 'Closer' look at Clive Owen
icCoventry.com: Wait is on for Oscar hope Clive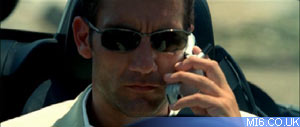 MI6 (the James Bond site) looks at Clive in BMW's The Hire.
Canoe.ca: Owen's meanie deserves Oscar
Just in time for the Oscars -- "Survey participants* were asked to rate which celebrities would have the most "spex appeal" on the Red Carpet if they were to wear eyeglasses. Nicole Kidman was the number once female celebrity selected with more than half of respondents making her their choice (51%). Jennifer Garner, Hilary Swank and Scarlett Johansson followed. As a presenter at the Oscar ceremony last year, Ms. Kidman donned a pair of eyeglasses and received widespread acclaim for stepping out in her specs. As for men, George Clooney took the lead for most "spex appeal" with Leonardo DiCaprio and Jamie Foxx following closely behind and Clive Owen rounding out the top four."
NY Post - Page Six -- EVEN OSCAR COULDN'T DO THIS QUIZ
DVDDungeon -- Sin City:This looks absolutely incredible. We get a knockout ensemble cast and Robert Rodriguez writing and directing with the Sin City comic creator Frank Miller. This garnered some controversy when Robert Rodriguez left the Directors Guild of America so Frank Miller could co-direct with him, and then more controversy when Rodriguez's buddy Quentin Tarantino was paid $1 to direct one scene. But controversy aside, this movie looks like a great, gritty crime drama, set in a highly original little world. I simply can't wait for this one, folks. Sin City opens April 1
The NY Times (free registration): Hollywood Ending for Weinsteins and Disney? -- The Weinsteins have agreed to stay and market several Miramax movies that have already been completed and will be released before they depart on Sept. 30. Among the movies are "Sin City," the comic book thriller from Dimension Films, the highly profitable division of Miramax run by Bob Weinstein; "Hostage," with Bruce Willis; Gwyneth Paltrow's "Proof"; and "The Great Raid," starring Benjamin Bratt, whose release date will be moved to June from December.
Week of 2/14/05 to 2/20/05
Thanks to Tina K - The LA Times 2/20
Clemato has some scans - The latest EW cover
Thanks to Nakamura, a review in the New Republic (1992) of Close My Eyes. -- Related: You can see Saskia Reeves, Clive's co-star in Close My Eyes, in the PBS mini series Island At War. (Cassie Mahy)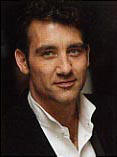 Elle March 2005: "THE MAN-WE'D-WATCH-READ-THE-PHONE-BOOK AWARD goes to...Clive Owen. It takes one hell of a man to outshine Jude Law, but when Clive was on-screen in Closer, no one else seemed to matter." - Thanks, Maddie
Entertainment Weekly: Gold Nuggets - Want more of what the Academy is honoring? Look back at great performances by Clint, Natalie, Imelda, and 2005's other Oscar nominees (Thanks, clemato)
The Borehamwood Times: First acting Bafta for Elstree Studios in 30 years -- Clive Owen won a Bafta on Saturday for his role in the film Closer — the first acting gong at the awards in more than 30 years for a production made at Elstree Studios.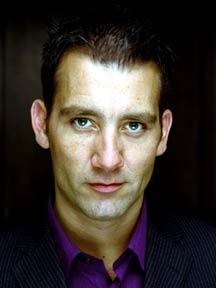 Sin City: Original Motion Picture soundtrack details at Monsters and Critics. Thanks, Steph -
Thanks to Maddie - Clive's Oscar page at AOL.
The slide show is now working for GQ's greatest actors
Mari has sent in the scans for the funny story posted below
From Mari: "There's a cute cartoon and several mentions of Clive in the March Premiere mag, in Libby Gelman-Waxner's column. Sample: Libby's therapist keeps a huge mural of him in her office wearing a beater, and claims that Clive is working with her on a book called "Older Jewish Women With Doctorates Are Way More Multi-Orgasmic Than That Little Natalie Portman." Funny stuff." (Anyone for scanning?)
Box Office Prophets - the 2005 Calvins: "Third place sees a tie between two indie actors whose stock is on the rise these days. Clive Owen may or may not be the next James Bond, but he has recently demonstrated he can hold his own with any actor in the world. In a film frontlined by three other gifted thespians, it's Owen who steals the show. He portrays a dermatologist who finds his life thrown into upheaval by a chance encounter with an unfaithful woman. Once he falls in love with her, the professed "nice guy" performs acts of unconscionable viciousness in order to secure what he feels is his. Along the way, Owen's encounters with characters played by Julia Roberts and Natalie Portman demonstrate that beneath this actor's steely veneer lurks a being fully in touch with his dark side. In Closer, Clive Owen portrays a man willing to make the hard choice and see it through. In doing so, he proves he is ready to stand among the finest actors in the world.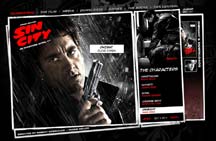 Sin City official site - (Click on image for larger sie)Thanks, Sylvana
The Portland Tribune: "It's the day after Valentine's Day, and I'm riding a heart-shaped bummer. Why? Because just when I think I'm inured to the big Hallmark buildup — i.e., I'm a loser because I'm not being fed caviar by Clive Owen — I invariably feel disappointed on Feb. 15." - Thanks, Alice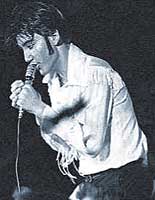 A treat from icCoventry (Clive's home turf) - "...But he was an early teen idol at school in Coventry and this rare picture (on left) shows him strutting his stuff as a fifth form Elvis." - Thanks, Doro
Thanks to Doro - the newsletter from Film Focus on the BAFTAs.
BBC Radio 1: Clive Owen for 007? and Behind the scenes at the BAFTAs

Hello Magazine on the BAFTAs - Thanks, Rita
Hollywood News: BAFTA red carpet Video
Week of 2/07/05 to 2/13/05
A couple of pictures from the BAFTAs at Empire - Thanks, Gill
More images - Wire Image and Empire
The Sunday Observer UK: Clive Owen is our best Oscar bet - Thanks, Doro
Empire on line: "Clive Owen took the Supporting Actor award for his (clearly lead) role in Closer. "I didn't hear my name there. This is really special because I spend most of my career here, the play Closer was started here, the film was shot here, I live here, so thank you very much." - and this OT from Fry about one of my other favs: "A British actor so good looking that his face has been declared a place of outstanding natural beauty, which makes it an ideal place to sit …and enjoy a picnic" – otherwise known as Daniel Craig – presented Cate Blanchett with the award for Best Supporting Actress. - Thanks, Doro
Clive in the Sunday Telegraph - Thanks 6point7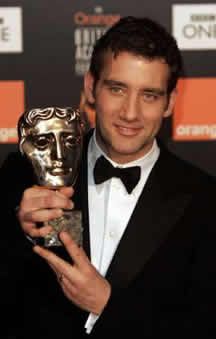 Congratulations on your win at the BAFTAs for best supporting actor!
Image added to the Esquire article thanks to Maddie. More to come
The Closer DVD at DVD Answers: Further Details -- Columbia Tri-Star Home Entertainment has released early details on Closer, which stars Julia Roberts, Jude Law, Natalie Portman and Clive Owen. The disc will be available to own from the 29th March this year at Amazon, (You can pre-order though Murphsplace) .... The film itself will receive a Superbit widescreen presentation along with both English Dolby Digital 5.1 and DTS Surround tracks. The only extra material will be The Blower's Daughter music video performed by Damien Rice and previews for other Columbia releases. English and French subtitles will also be provided.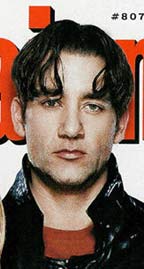 Clive on the cover of this week's EW Magazine as Dwight in Sin City - Thanks, ing
BBC News: Britain's glitziest and most star-studded awards ceremony the BAFTA's takes place this Saturday. -- A-listers including Leonardo DiCaprio, Clive Owen, Cate Blanchett, Martin Scorsese, Richard Gere, and Keanu Reeves will be marching up the red carpet.
For printing and framing (8/2 by 11 paper - use a good paper/card stock and a complimentary frame)
BBC World - Talking Movies - Best Supporting Actor
Clive in GQ Magazine 3/2005 - Thanks to Maddie
Derailed at coming soon.net - Thanks, Mari
From Murph -- I purchased the Esquire Article. You can read it here
Another treat - From Guest at the Forum -- "Don't think this has been mentioned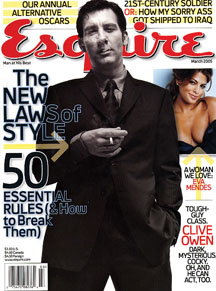 yet, so I'd thought I'd share. Went to B & N this evening and saw Clive on the cover of the March 2005 edition of Esquire magazine. There is also a 2-3 page article with photos inside. On the cover it says "Tough Guy Class. Clive Owen, Dark, Mysterious, Cocky. Oh, And he can act, too. Inside it's titled "Darkhorse. Clive Owen ia a masculine and even elegant British actor. But he's no movie star. Got it?" Found out that his nose was broken when he was whacked in the face with a tree branch, totally smashed flat, when he was 10 years old. And he got his teeth fixed a couple years ago out of necessity not choice--his gums were failing him."
MSNBC.com: Academy Awards - Best Supporting Actor -- Clive Owen -- Strengths: He starred in a film that was meant as an acting showcase and outshined everyone else in the cast. By far. Weaknesses: He just doesn't have that much work in Hollywood films under his belt and he gives the feeling — despite "King Arthur" — that even better performances may be ahead of him. The Academy may not want to give him the award now, as his name will definitely be appearing on the ballot again. And soon. Russell Crowe went through a similar waiting period with some of his early performances until he was finally rewarded with a best actor statuette for "Gladiator." - Thanks, Joan F.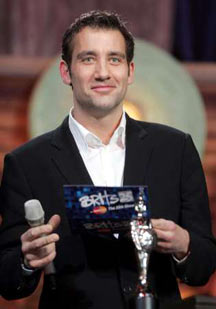 British actor Clive Owen presents the Best British Album award at the Brit Awards in London, February 9, 2005. REUTERS/Toby Melville
If anyone has a subscription to GQ (out in the newsstands on 2/22) I would love a scan of Clive's page, and the cover and Russell Crowe's page. 300 dpi would be perfect. Thanks!
Thanks to Emma at the forum, a scan of Clive and Sarah Jane in Romeo and Juliet - 1988
Remember the BAFTAs this Saturday night on BBC One in the UK and BBC America in the USA -- Actor in a Supporting Role ALAN ALDA - The Aviator; CLIVE OWEN - Closer; JAMIE FOXX - Collateral; PHIL DAVIS - Vera Drake; RODRIGO DE LA SERNA - The Motorcycle Diaries (Diarios de Motocicleta)
NBC4 LA: In Hollywood, Is It Good To Be 40? -- "...Recently a British television channel did a survey to celebrate a new mid-life comedy its ready to debut. It found that there are some sexy fortysomethings that can still light up the silver screen. At the top of the hot fortysomething male ladder was George Clooney, 43. His 41-year-old pal Brad Pitt came in second. Johnny Depp, 41; Mel Gibson, 49; Tom Cruise, 42; Clive Owen, 40; and Nicolas Cage, 41, followed. I'll vote for Chris Rock who turned 40 on Monday."
The Sin City Premiere is March 28 in LA. (Thanks, Lisa)
Re Savage Grace - From IndieWire (August 2004) (Scroll): Info on the director, Tom Kalin -- "The film is about heir Brooks Baekeland (John Malkovich) and his wife, Barbara Daly (Julianne Moore), and their volatile life among the privileged classes. Their son Antony causes even more strife in the family when he grows up to be a homosexual." - And the NY Times page on SG lists Malkovich, not Clive)
Thanks to Genevieve, a scan of the Vanity Fair page. (Interesting that they mention Savage Grace. Anyone read anything recently about him still being in it? They are also in error on Clive in Closer on the London stage. The way I read it, they seem to think he was Larry back then.) - A new scan from clemato is now on the Vanity Fair page
Thanks to Emma at the Forum: The news of Clive's move has made the national press. This article is in today's (2/6) Sunday Express
jiraporntas at the forum has posted some links to older articles on Clive
Week of 1/31/05 to 2/06/05 - Clive's Awards Page
Lui has an e-card section - Lovely cards to send
The SF Chronicle: Make cheating make some sense -- "...But to truly see infidelity in all its grimy glory among the rootless unmarried, one needs to see "Closer." I just did, and I can't say that I enjoyed the experience. I keep wanting to take a shower to rinse the yuckiness off."
Closer is now available for pre-order and will be released in the US on March 29th - Thanks, Doro
The Harwich Evening Gazette: Hollywood actor Clive Owen has bought a house in the Harwich area - Thanks Helen from the forum
Yahoo News UK/Ireland: The 21st James Bond movie will be a remake of Casino Royale. The movie, set for release in 2006, will be directed by Martin Campbell, who first took the helm on Goldeneye in 1995. Casino Royale was author Ian Fleming's first Bond book and was originally made into a spoof spy flick in 1967, starring Peter Sellers, Woody Allen and David Niven. - The LP of the original soundtrack of this film is a collector's dream. - Same story (With a pic of Clive) at EW.
VH1 (UK) - 2005 most anticipated movies (Sin City) - Thanks, Allison
Press Release: Seventeen of the 19 nominees in the acting categories will be among the more than 100 nominees from 24 categories who will gather at noon for the traditional pre-Academy Awards fete when the Academy of Motion Picture Arts and Sciences honors this year's Oscar contenders at its annual Nominees Luncheon on Monday, (February 7), at the Beverly Hilton Hotel. (No Clive or Natalie)
USA Today: Russell Crowe, Johnny Depp, Nicolas Cage and Clive Owen are among the top 10 "greatest actors of our generation," according to GQ. The list, chosen by editors and appearing in the magazine's March issue, also includes Benicio Del Toro, John C. Reilly, Gael Garcia Bernal, Don Cheadle, Leonardo DiCaprio and Jim Carrey. The issue arrives on newsstands Feb. 22. - Thanks, Daniela
A reminder that the BAFTAs will be shown in the USA on BBC America live on Feb 12 at 3:10 pm and repeated at 9:00 pm
Sports illustrated - Mark Bechtel's Blog: "Speaking of movies: Closer is the worst movie I've ever seen -- just god-awful. The dialogue (I know, it's based on a play -- it shows.) is so unrealistic as to make the thing unwatchable. No one talks the way the characters in this movie do, except maybe the characters on Dawson's Creek. (This stuff is far saucier, though, as if Pacey and the gang were afflicted with Tourette's.) No actor shows any depth (screaming is not depth), and somehow Clive Owen has gone from "the next James Bond" to "the English Ray Liotta." What happened? His hair got all curly and he got bloated. Critics love the movie -- witness Natalie Portman's Golden Globe -- but I've never heard more disgruntled sighing in a theater in my life." (Well!!!)
Liz Smith in Newsday: "MIKE NICHOLS, who guided Clive Owen and Natalie Portman to Oscar nods in his film "Closer," presents the Lacoste Career Achievement Award to his friend and collaborator, Anthea Sylbert, at the Costume Designer's Guild fete Feb. 19. This takes place at the Beverly Hills Hotel in L.A. Ted Danson and Mary Steenburgen host. Debbie Reynolds, famous for preserving so many legendary Hollywood costumes, is also being honored."
MI6: Pierce Brosnan Confirms It's Over
Agape Press - Sin City (April 1) -- A dark film whose edgy visual look will grant it nearly instant cult-film status, it is based on comic-book legend Frank Miller's work -- he is the man responsible for the return of Batman. This film will be on every teen and college student's radar before the release date. Just a look at the trailer indicates that this film will be a hard PG-13 at best, if not an R, and that the subject matter will center on the degradation that is Sin City. Look for characters trying different ways to redeem themselves from misspent lives, while others fall in deeper. One of the key topics to discuss for those willing to view this film will be the way our culture has embraced the "coolness" of sin -- evident in the ascendancy of first-person shooter games, stripper chic, and the media attention lavished on thugs -- and that's not just in the fictional Sin City; it is an established feature on the campuses of America. Using the fictional to disarm, while confronting the facts, is a device as old as Nathan and David. - Thanks, Allison
The Sunday Express - James Bond? Thanks, Lyna
EW Magazine - the special entertainer of the year edition - Thanks, splatnext
Interesting article on Clive at "About James Bond," by Jason
Thanks to leyla, a scan of the Daily Express article 1/28/05
From ligeia at the forum: "Apparently the newest issue of Vanity Fair (March '05, I believe) will feature pictures in the Vanities section of the Oscar nominees, including Clive. These are usually very lovely portraits taken by top notch photographers like Annie Liebowitz, so keep your eyes peeled. They're also supposed to show a sneak peak of the pictures on tomorrow's (1/31) Entertainment Tonight."
Week of 1/24/05 to 1/30/05 - Clive's Awards Page
From Emma at the forum: "There was a full 2 page article on Clive in Daily Express (UK) yesterday entitled "Revenge of the Chancer" - picture of Clive and Sarah-Jane at Golden Globes and still from Closer (all black and white unfortunately). Article is good - starts off "Until recently he was written off as another British Actor who had never quite made it. Now he's won a Golden Globe, a nomination for an oscar and is tipped to be the next James Bond. Is there any stopping Clive Owen?" [Can anyone transcribe? Thanks]
Readabet.com: "William Hill have closed the next James Bond betting after a succesession of heavy wagers on Friday. Dougary Scott, an 8/1 outsider at the start of the day, was the subject of a massive gamble and by 3.30pm had been backed down to even money, at which stage Hills pulled the plug on the market. "At 3.26 on Friday we closed the Next James Bond Market after a heavy and unexplained gamble on Dougary Scott. It was the second gamble of the week, the first on Clive Owen was easily explained after his nomination for an Oscar, but try as we might, we were unable to pin down a good reason for a gamble on Dougary Scott. In the circumstances it was decided to close the betting for the forseeable future or until an explanation is found. In the past gambles such as this have often been right," said Hills spokesman Rupert Adams."
Leonard Klady (MCN) on the Oscars - The trouble with Oscar: "...There's a mighty big country that lies between Los Angeles and New York City and most of its residents would be hard pressed to identify Imelda Staunton and don't really know Clive Owen, Virginia Madsen or Don Cheadle by name. But they do know all the blockbusters, and it might be of some interest for them to tune in a show that honors the achievements of films that slavishly court their money."
The video of Clive post-show at the Golden Globes is live now at the GG Site. Thanks, clemato
Thanks to clemato, the EW Magazine article
Access Hollywood has an Oscar Page
Vote for your Oscar winners at Roger Ebert's site - Thanks, clemato
The Mirror UK: Jan 29 2005 - FAMILY RIFT THAT HAUNTS BRIT OSCAR HOPEFUL, By Ros Wynne-Jones - "At the Golden Globes' studio party, he was the only man in the room who mattered," says a Hollywood insider. "Women were buzzing round him and men like Leonardo diCaprio and Mick Jagger wanted to be his new friend." - Thanks, Gill
Two 1/27 articles from Oz newspapers. Thanks, Lyna
1/27 - The International Cinema Society Announces Awards for 2004 - BEST SUPPORTING ACTOR - Clive Owen, Closer -- runner-up: Paul Bettany, Dogville - Thanks, lui
This was posted at my forum. I have no idea how accurate it is. We will wait and see. Personally I hope he hasn't. I feel it will limit him way too much, IMO -- "Within 2-3 weeks it will be officially announced that Clive Owen is the new James Bond. He has signed a three picture deal with Eon productions.Regards, MM"
E! - Ted Casablanca, The Awful Truth: "...Let's see, what did I forget last week from my fave party o' the year--the Golden Globes? Clive Owen told me those naughty but very sexy rumors about him are not true, that he absolutely, positively will not be James Bond. Natalie Portman told me it's none of my damn business whom she's dating, even if I did offer to ask it in Hebrew, which she's studying."
IcCoventry UK: Clive on verge of Oscar glory
From Henry at the forum: "Derailed looks set for a release in August 2005..." (Henry runs the Melissa George web site)
BBC Sports: Hollywood ball for actors -- "Suave English actor Clive Owen, nominated for an Oscar after enjoying Golden Globe success, has confessed to being a devoted Liverpool fan since he was a boy - despite hailing from Coventry." - Thanks, shoppinggirl from the forum
The Hollywood Reporter - Oscar Reactions: "Clive Owen, nominee for best supporting actor for "Closer," had just finished lunch with director Mike Hodges (1998's "Croupier") when he started making reaction calls. "We're talking about doing something together, but nothing official at this stage," Owen said. He said that he'd seen that he had been nominated on television earlier in the day. "No, I didn't jump up and down. But it's a huge honor and thrill. It doesn't come any bigger than the Oscars." Owen said just being asked by "Closer" director Mike Nichols to work on the film was a shock he is still recovering from. "The whole experience of this movie has been absolutely thrilling." His date for the Oscars will be his wife. Owen is currently between assignments but noted that he'll next be seen onscreen in Robert Rodriguez's "Sin City" as well as "Derailed" with Jennifer Aniston." - Thanks to hello-stranger.net and Maddie
MCN: "No, I didn't jump up and down. But it's a huge honor and thrill. It doesn't come any bigger than the Oscars." - Supporting Actor Nominee for Closer, Clive Owen
readabet.com: Hills make Thomas Hayden Church 6/4 joint favourite with Clive Owen for Best Supporting Actor
Ladbrokes via Yahoo Finance News: "British actor Clive Owen is the 7/4 favorite for Best Supporting Actor for his performance in" Closer."
BBC News: "...After their Golden Globe success, Clive Owen and Natalie Portman are both up for their supporting roles in 'Closer'. However, Clive reckons he can't take the full credit for his nomination: "I am extremely honoured and proud to be nominated for my role in 'Closer.' It is a testament to the great direction, writing, and work of the entire cast." - Thanks, Maddie
Alert: Look for pictures -- "Feb 7 AMPAS Academy Awards Nominees luncheon, Beverly Hilton LA"
Please send in any new news or quotes from Clive on his nomination. Thanks.
The BBC: "Winslet, Imelda Staunton and Clive Owen lead the UK hopes, which include three nods for Mike Leigh's film Vera Drake."
Quint at AICN on the noms: "...Other than that, go INCREDIBLES! Go Clive Owen! Yay for a Richard Linklater nom! Who are you folks rooting for?"
Clive receives an Oscar nomination for Closer!!! Congratulations!
Here is the list of all the nominees
E! on line - video clip from the GGs red carpet. "Are those ear real?" - Thanks, clemato
Thanks to Wendy, from the Oz NW Magazine this week
Roger Ebert talks Oscar Noms: "BEST SUPPORTING ACTOR -- Morgan Freeman of "Million Dollar Baby" and Thomas Haden Church of "Sideways" have locks. Freeman is brilliant and has been for a long time, and Church has the kind of story Hollywood likes, where an obscure sitcom star wins the role of a lifetime. Jamie Foxx could get a second nomination, by turning up in this category for "Collateral," and James Garner is the kind of beloved industry figure with so many friends that he may be nominated for "The Notebook." Does Clive Owen have a chance for "Closer"? He was very good, but as a real rotter." -- Reminder -- The noms will be anounced tomorrow.
Tom O'Neil from Gold Derby: "..Portman's "Closer" costar Clive Owen has virtually no chance of repeating his win at the Globes where voters often opt for erudite Brits. Oscar voters have turned their supporting-male category into a Career Achievement Award in recent years honoring such ranking thesps as James Coburn ("Affliction"), Martin Landau ("Ed Wood"), Jack Palance ("City Slickers"), Michael Caine ("The Cider House Rules") and Tim Robbins ("Mystic River"). This year it will probably be Morgan Freeman ("Million Dollar Baby") --unless rival veteran Alan Alda ("The Aviator") gets nommed, too. Then it's a real contest."
Go to archive files below for earlier news.
Week of 1/17/05 to 1/23/05
Contactmusic: CLIVE OWEN'S DAD DESPERATE TO END FEUD - You can see a small picture of Clive's father and listen to him singing by clicking HERE.
The NY Post: Lou Lumineck predicts the Oscar noms: Big error in saying Clive got a SAG nomination -- "Smart money says this field will also mirror the SAG nominees: Globe winner Clive Owen as the vengeful cuckold in "Closer"; Thomas Haden Church as a washed-up TV actor in "Sideways"; Morgan Freeman as Eastwood's wisecracking sidekick in "Million Dollar Baby"; and Freddie Highmore as the inspiration for Peter Pan in "Finding Neverland." "
The ultimate tribute - Worth 1000.com: 6 Degrees of Clive Owen - Clive Owen is everywhere. (67 entries) (Photoshop creations of our guy. I especially like Clive Augustus) - Thanks, Doro
BBC News: Faces of the week
Thanks to sphinx at the Murphsplace Forum, a link to a video of Clive at the press conference after receiving his Golden Globe (Java is required - It works fine in IE)
The Akron Beacon Journal: Slick Clive Owen series 'The Hire' available on Web
Movie Goods has the Dwight/Sin City poster for sale. Thanks, Steph
The Guardian: Brit drama Closer a surprise hit at UK box office
Time on line: Great Performances - The weeks between the Golden Globes and Oscar night are filled with awards. But statues or no, these actors are winners - "...His rugged features, voluptuous mouth and aura of sexual threat suggest a young Sean Connery. So, naturally, he's being talked up as the next James Bond. But Owen wants his career choices to be instinctive. "I've never wanted to get trapped in one type of thing or one type of character. It's much more interesting if you're able to explore." Perhaps in the next Bond film, Owen could play 007--and the supervillain." - Thanks, Trish at the forum
Two ads for Oscar Consideration thanks to Marcy
MSN News: From an interview via phone with Julia Roberts and the other three Closer Stars before she gave birth to her twins: "...QUESTION: Do any of you go see what's written online about you, do you dare to? - CLIVE: Oh, God, no." - Thanks, Shannon
icLiverpool: "GOLDEN GLOBE winner Clive Owen is in a fix over Liverpool. He can't decide which he wants, an Academy Award or a league title for Liverpool. The Coventry-born actor has followed Liverpool all his life, and, like every supporter worshipping at the shrine, aches to see his team top of the heap. But there's the rub. Asked on Radio Five Live if he favoured the Oscar - he's nominated for Best Supporting Actor in Closer and was in Los Angeles on Sunday to pick up a Golden Globe award - or the Premiership for Liverpool, he was stumped. After an awkward silence, he muttered, I think it's about 50-50." - Thanks, Steph
The Daily News: Globes don't mean a thing to Academy - "...The Globes' first two film awards went to Clive Owen and Natalie Portman as Best Supporting Actors for Mike Nichols' "Closer." That film has seriously faded from Oscar contention, and though I expect Owen and Portman to receive nominations, they figure to lose to "Sideways'" Thomas Haden Church and "The Aviator's" Cate Blanchett. If not them, then Morgan Freeman ("Million Dollar Baby") and Laura Linney ("Kinsey")." [ed note: That's HIS opinion!]
Empire on line: It's A Closer Call At the UK Box Office
The Chicago Tribune - Hollywood tones it down as award season heats up: "...Ugh, what a bunch of duds on the red carpet this year. The best thing on it was comic Kathy Griffin, who over on the E! Channel thankfully counteracted the unctuousness of Star Jones Reynolds and even got the stars to laugh at themselves. She told a much-amused Clive Owen that she liked his ears. "Are they yours?" she asked innocently. Love her."

BBC News: Awards put UK stars in limelight - Owen is also nominated for best supporting actor Bafta ... British actors Clive Owen and Kate Winslet are leading the UK contingent finding success with Golden Globe awards and Bafta nominations.
The BBC News: "Clive Owen gets Closer to stardom - Clive Owen won Best Supporting Actor at the Golden Globes for Closer... British actor Clive Owen has been named best supporting actor at the Golden Globe awards for his performance in the drama Closer."
icCoventryco.uk: Golden triumph for city actor Owen - Thanks, Doro
Clive is nominated as "best actor in a supporting role" for the British Academy Awards! - Thanks, lui, doro
Short video and screen caps from the GGs - thanks to Lee Ann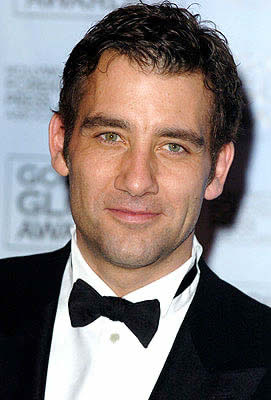 He Won!! Congratulations to Clive for the Golden Globes Best Supporting Actor! - And Natalie for best supporting actress...
Thanks to Emma and Leyla, the OK Magazine article with pictures - And thanks again to Doro for transcribing the text
Week of 1/10/05 to 1/16/05
BBC News - Bafta hopefuls set to be unveiled:The contenders for this year's Bafta film awards are to be announced in London on Monday. -- "...The two homegrown male stars of relationship drama Closer, Jude Law and Clive Owen, may also win nominations for their roles, though none of the four stars - including Julia Roberts and Natalie Portman - received a nomination at the Golden Globes." (ed note: I was wrong! Clive is eligible for a BAFTA)
ITV.com: The Golden Globes -- "British hopes are pinned on Clive Owen for Closer, Liam Neeson for Kinsey, Imelda Staunton for Vera Drake and Kate Winslet for Eternal Sunshine of the Spotless Mind."
The 2005 BAFTA Awards: "The Orange British Academy Film Awards will take place in London on Saturday February 12th 2005, and be broadcast on BBC ONE the same evening in the UK and on BBC America. The nominations announcement will be made at the Academy's London headquarters on the morning of Monday January 17th 2005." (Not sure if Clive would be eligible. Isn't Closer to open in 2005 in the UK?)
Text of the OK article thanks to Doro. Still would love the image scans
From Maddy: "Just to give you the heads up on a major article on Clive in OK! Magazine - 5 pages of lush photos and nice interview. Am only sorry I can't scan it for you, but am sure someone else will very soon!" (ed note: Would love some scans!)
Newsday via Greenwich Time: Just dreamy: Checking out the latest leading Brits
The Gawker: "It's been way too long since we paid attention to our Auntie Joyce Wadler, the quasi-gossip columnist for the Times. You know you can't trust those nurses to take care of her. Anyhow, it's a good think we checked in when we did. It seems Joyce has lost all sense of journalistic sensibility, as she's gone and fallen in love with Clive Owen"
Clive on the Early Show today (1/14) Already on the web, with a video. Thanks, Doro
The NY Times 1/14 (Free registration for whole story. Recommended as awards season moves ahead) - Bold Faced Names: "[The NYFCC dinner]...We like to people watch, too, especially when they look like CLIVE OWEN, the handsome (and good-smelling) British actor who won best supporting actor for "Closer." Mr. Owen wore a pin-striped suit and slightly loosened tie, and during our interview he weaved back and forth like a boxer. Or maybe he just knows he's too good-looking to stay in one place. (Later we did notice him checking his reflection and fluffing his hair in a mirror.) Does it mean something different to get an award from a critics' group than from a peer group, we asked. "It does, yeah, because critics, you know, they see an awful lot of movies," Mr. Owen said. "They're very film savvy." (Ooh! So that's their secret!)"
To watch Clive's whole interview on the NBC Today show. Go to their web site, click on "More Today Show Video," and then in that window, do a search for Clive Owen. (Well done, Clive!) - Thanks, Mari - Some snaps from the show
Scot Review of Closer - The Scotsman: "...Thus we're left to piece together what goes wrong ourselves. It's masterly stuff, with Owen and Portman on revelatory form. Be warned though: the Damien Rice soundtrack adds a layer of pain this film could do without."
Another one - The Edinburgh Evening News: "...Owen, likewise, cements his reputation as Britain's one true movie star. In many respects Larry is the least likeable character, evoking as he does the sleazier aspect of the male sex drive, yet Owen imbues him with a tragic dignity. His cruelties, at least, have clear motivations - shockingly, you come to sympathise with him."
The NY Observer on the NYFCC Dinner: "...Closer playwright Patrick Marber, who was there to present Clive Owen with his award for Best Supporting Actor, quipped: "I haven't actually been this nervous since my bar mitzvah … which was in a room quite like this."
The Guardian: The player (Interview)
Snaps from the Today Show (1/13) at the Forum - Thanks to Jinete
Islington Gazette UK: Let's talk about sex (Closer) - Thanks Doro
Clive's appearance on the CBS Early Show has been moved to Friday 1/14
January 11, 2005 - "The National Board of Review 2004 Awards Gala" - Tavern on the Green
NEW! - Interactive Owen Event Calendar
The Film Experience on the Awards - Supporting Actor Page
Reminder - the CBS Early Show (USA) - Thursday, 01/13: Clive Owen on film, "Closer" | Marg Helgenberger
Just fresh from BBC radio 1: "Jude and Clive's pole-dancing antics: Jude Law's taken up pole-dancing. He took lessons whilst he was filming his new movie 'Closer', which is out on Friday. Jude plays a writer and a nasty piece of work. He's seeing Natalie Portman (who plays a pole-dancing stripper) but ends up having an affair with Julia Roberts. Julia is going out with Clive Owen, who in turn gets together with Natalie. The story is a love "square" as opposed to triangle. But it wasn't just Natalie that tried out the strip-club routines. Jude says he and Clive also had a go: "We both had pole dancing lessons as well. It's the de-rigeur style of exercise now in London. "It's very good for the upper thigh and the deltoid." Thanks, Doro
The Independent UK: My close call with Hollywood - His intimate portrayal of infidelity was a hit on stage, but when a top director wanted to put Closer on screen, Patrick Marber was afraid of commitment. Here he explains his change of heart
Contact Music: British actor CLIVE OWEN wants to take a break from Hollywood to return to his stage roots. - Thanks, doro
Clive (and Closer) shut out of the SAG (Screen Actors Guild) awards - [ed note: Disgraceful to leave out Clive and include James Garner and Highmore in that category. Owen is a hard-working, brilliant actor respected by his profession - and he acted that role to perfection. What were these "fellow actors" thinking?]
Thanks to Jinete at the forum - A Snap of Clive at the Broadcast Critics Awards 1/10
Not on the Today show today (1/11). Lee Ann reports that he will be on "The Early Show" on CBS Thursday morning (1/13)
Roger Friedman - Fox News: "...Also bounding about at the NYFCC dinner, which was held in the mostly unlit and grim ballroom of the Roosevelt Hotel: Liev Schreiber, "Incredibles" director Brad Bird and star Sarah Vowell (who voiced Violet Parr), "Closer" star Clive Owen (Best Supporting Actor) and the voluble Al Franken, who came to present Michael Moore with the Best Non-Fiction Film award for "Fahrenheit 9/11." Moore was in Los Angeles accepting the People's Choice Award."
Wire Images and a Getty picture from last night's NYFCC Awards at the Roosevelt Hotel.