Spoilers!!! From the Gosford Park script thanks to Marg:
"In the fall of 1999,Bob Balaban and I had the idea of making an Agatha Christie style murder mystery told from the point of view of the servants in the house.........with his script for Gosford Park,Julian(Fellowes) furnished the country home for all of us - a great imaginative accommodation that the actors,the designers,and I could move into,ramble around,live in,and make our own.....
Julian's singular knowledge of the period,the wonderful characters he put on the page (which our terrific cast brought so beautifully to life), and the diction of these people........helped create the bedrock for a film that has truely been one of the great experiences of my life."

( an early clue to who-might-have-done-it!)

scene 115 INT.NOVELLO BEDROOM/GALLERY. EVE.

Robert crouches on the floor holding a shoe horn inside the back of a pair of evening pumps as a black-socked foot enters the frame and is guided into the shoe.


IVOR (VO)
He was an odd mixture. Better and worse than people thought him. It's strange but he always seemed to me the luckiest man I ever met.....until now.I wonder what his star sign was?

Robert stands and starts to brush Ivor's tails. He speaks without thinking.

ROBERT
Gemini, sir.

IVOR
How on earth do you know that?

scene 128 INT.ROBERT'S ATTIC ROOM. NIGHT.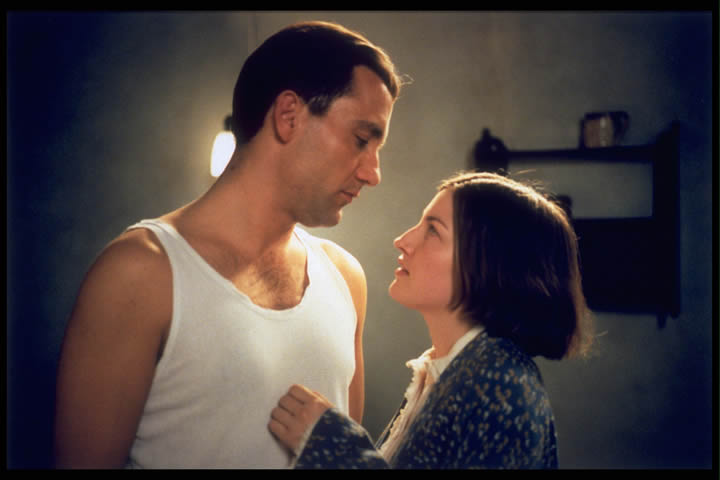 Robert is sitting on his bed. The door opens. It is Mary. He is dumbfounded.

ROBERT
What are you doing here?

But she is silent,trembling in her sad little, candlewick dressing gown.

ROBERT (CONT)
You'd better get back to your room. They mustn't see you up here.

For a moment,she cannot decide if she wants to put the next question.

MARY.
You didn't really dislike him, did you.? Not really...At least...not enough to kill him.

But he says nothing. Her eyes fill.

MARY.
You can't have! You didn't know him! You'd have to hate him and why would you?

She is so desperate that he should not be guilty. Robert's eyes meet hers.

ROBERT.
Can't a man hate his own father?

Mary could scarcely be more shocked if he's hit her. She stares at him.

ROBERT(CONT)
Sir William McCordle was my father. He didn't know it But he was.

MARY.
But...you said you were an orphan..

ROBERT.
I said I grew up in an orphanage.

Now he decides to tell a little bit of the truth.


ROBERT(CONT)
Not long before I left,a group of us got into the wardens office one night.We picked the lock and took out our files. It was a prank, really. I didn't expect any shocking discoveries. Just a birth certificate with my mother's name and 'father unknown'. This picture was with it.

She takes the picture and studies it.

MARY.
But how did Sir William come into it?

ROBERT.
They had my admission form. I was two days old. Guess who brought me to the door?

MARY.
BUT that doesn't mean-

ROBERT.
Yes it does. After that, I found out.She was a factory worker.She wasn't the only one...either the authorities didn't know or they didn't want to know.They took babies and they took his donations.

MARY.
What happened to her?

ROBERT.
I asked them once. She died.When I was little...I always say she died of a broken heart but it was proberbly cyrrosis of the liver..."Broken heart" sounds a bit nicer don't you think?

MARY.
Is that why you took the job with Lord Stockbridge? To get to Sir William? To poison him?

ROBERT.
I didn't poison him.

MARY.
What?

ROBERT
I didn't poison him.

This is wonderful news.

MARY.
But then you didn't kill him...Tell me you didn't stab him either.

At this he is silent.

MARY.
I know you didn't. I'm sure you didn't . Even if you did, that didn't kill him.And whoever did it knew that. No one could stab a corpse and nor know it.

ROBERT.
Is that right? When did you last stab a corpse?

MARY.
But who really murdered him?

ROBERT.
I don't know. And I don't care.

With those words,she knows her theory is correct. The mood has altered between them. He come to her. When he takes her in his arms,she does not resist his kiss.

ROBERT.
Iv'e been wanting to do that since I first set eyes on you.