Clive Owen Biography
OCCUPATION: actor
BORN: October 3, 1964 at Keresley Hospital (near Coventry)
EDUCATION: Attended Royal Academy of Dramatic Art in London, England. Majored in acting (1984-86). Graduated.
OTHER-JOBS: housecleaner
MILESTONES:
Raised in Coventry, England
Began studying acting as a teenager
Made professional stage debut as member of the Young Vic company; played Claudio in "Measure for Measure" and Romeo in "Romeo and Juliet"
1988: Feature film debut "Vroom"
1989: US TV debut in "Precious Bane", a two-part segment of the PBS series "Mystery!"
1990-1991: Played lead in Central Television series "Chancer"
1991: Won praise for his performance as an incestuous brother in Steven Poliakoff's "Close My Eyes"
1993: Directed by Poliakoff in "Century"
1993: Made American TV-movie debut, "Class of '61" (ABC)
1996: First US feature film "The Rich Man's Wife"
1996: Starred in the ITV series "Sharman"
1997: Cast in leading role in film adaptation of Martin Sherman's "Bent"
1999: Played title role in Mike Hodges' "Croupier"; film became a popular art-house hit upon its 2000 release in USA
1999: Introduced character of Detective Inspector Ross Tanner, a policeman suffering a virus that affects his ability to see, in the BBC series "Second Sight"; aired on PBS in the USA
2000: Co-starred as a prisoner with a flair for gardening in "Greenfingers"; screened at the Toronto Film Festival; first screen appearance opposite Helen Mirren
2001: Reprised role of Tanner in a second series of "Second Sight" (BBC-1); aired on PBS in the USA
2001: Had lead role in a series of five short film advertisements for BMW shown over the Internet at bmwfilms.com
2001: Played the valet to a visiting guest at "Gosford Park", the Robert Altman-directed period mystery; second screen teaming with Helen Mirren
2002: Co-starred in a villainous turn in "The Bourne Identity"
2002: Starred opposite Angelina Jolie in the love story "Beyond Borders" (lensed 2002)
BIOGRAPHY:
A rising British leading man, the darkly handsome Clive Owen was on the dole for two years after completing high school before he won acceptance to the Royal Academy of Dramatic Art in 1984. After graduation, he went acted with the Young Vic, playing Romeo in "Romeo and Juliet" and "Claudio in "Measure for Measure". Owen's innate sexual charisma was effectively employed by Beeban Kidron in the feature "Vroom" (1988), which teamed the actor with David Thewlis and Diana Quick in a road trip tale. That same year, he displayed his darker side as a psychopath in the BBC's adaptation of "Precious Bane" (aired in the USA on PBS' "Mystery!") and then turned roguishly heroic for the British TV series "Chancer" (1990-91). The tall, lanky actor delivered a strong portrayal of an ambitious businessman who is seduced by his older sister (Saskia Reeves) and then becomes obsessed in Stephen Poliakoff's excellent drama "Close My Eyes" (1991). Poliakoff tapped Owen to play a Jewish doctor who clashes with the head of a medical center (Charles Dance) in the period piece "Century" (1993). He crossed the Atlantic to appear in the ABC drama "Class of '61" (1993), as an Irish graduate of West Point who goes off to fight in the Civil War. Owen received strong notices for his seductive hedonist in "The Return of the Native" (CBS, 1994) and as Halle Berry's lover in "The Rich Man's Wife" (1996). After starring as a British private investigator in the series "Sharman" (1996), Owen essayed his most challenging role to date, playing a concentration camp inmate in Sean Matthias' film version of "Bent" (1997). As Max, the actor a powerful performance, skillfully negotiating the characters evolution from selfish and debonair decadent to caring individual. Owen and co-star Lothaire Bluteau wonderfully worked off one another in their scenes and both delivered star-making performances. After co-starring on the London stage in "Closer" (1997), the actor appeared opposite Alex Kingston in the drama "The Croupier" (1999). Owen next starred opposite Angelina Jolie, in "Beyond Borders," the story of a disaster-relief worker who falls in love with a socially conscious wealthy woman.
AWARDS:
Received Online Film Critics Society Award for Best Ensemble for "Gosford Park" (2001).
Received Florida Film Critics Circle Award for Best Ensemble for "Gosford Park" (2001).
Received Broadcast Film Critics Association Award for Best Acting Ensemble for "Gosford Park" (2001).
Received The Actor for Outstanding Performance by the Cast of a Theatrical Motion Picture for "Gosford Park" (2001).
FAMILY-MEMBERS:
Father: Country-western singer. Divorced from Owen's mother c. 1968; did not see son again until c. 1984.
Mother: Divorced from Owen's father; remarried.
Daughter: Hannah Owen. Born in 1997.
Daughter: Eve Owen. Born in September 1999.
COMPANIONS:
Wife: Sarah-Jane Fenton. Actor. Met when they appeared together as "Romeo and Juliet"; married c. 1994.
NOTES:
On his role in "The Rich Man's Wife", Owen was quoted: "It was an amazing experience. I was there for three months and was given the complete Hollywood treatment. It was a real treat to go to the States and work in L.A., but Hollywood's a crazy place. I wouldn't like to live there but equally I wouldn't have missed the opportunity for anything."
Thanks, Chris, for the bio
***************************************************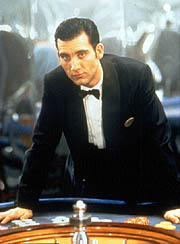 Q: Do you remember when you first heard about Privateer 2: The Darkening? A: "I got a call from my agent. He said, 'Clive, you've been offered a role in a computer game.' My initial reaction was, 'What are you talking about?' I was very skeptical. As I learned more, I decided it was very exciting. I liked the script and was interested in becoming involved." Q: Do you have any experience with computer games? A: "I'm computer illiterate, but I've seen a bit of Wing Commander. I feel like I don't need to know a lot about the computer side of it because it's just like shooting any other movie."
Clive Owen previously collaborated with Sean Mathias in his stylish revival of Noel Coward's DESIGN FOR LIVING at London's Donmar Warehouse, starring alongside Paul Rhys and Rachel Weisz. The production gamered excellent reviews and played to capacity audiences. His performance in A DAY IN THE LIFE OF JOE EGG also excited the critics. Owen has recently completed his first American film THE RICH MAN'S WIFE, directed by Amy Jones, but first came to notice in the UK TV series CHANGER. In 1996 he starred on UK TV in four 90 minute episodes of SHARMAN, a Cariton TV drama about a south London ex-policeman private eye. On film, Owen has twice been directed by Steven Poliakoff, in the historical drama CENTURY, starring alongside Miranda Richardson and Charles Dance, and in CLOSE MY EYES, the claustrophobic examination of an incestuous relationship, with co-stars Alan Rickman and Saskia Reeves. Most recently, Owen completed filming on Mike Hodges' CROUPIER, a thriller set in London's gambling world.
Clive can be contacted by writing:

Creative Artists Agency
9830 Wilshire Boulevard
Beverly Hills, California, 90212-1815
Phone: 310 288 4545
Fax: 310 288 4800

Image of Clive as Clive above thanks to Chris L.