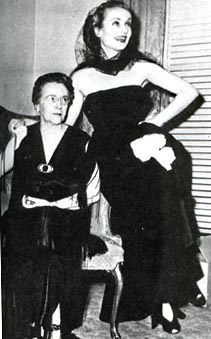 Carole Lombard's flight left Indianapolis at four A.M., Friday, January 6 [1942]. Flying time to Los Angeles was seventeen hours; with time changes the expected arrival at the Burbank airport was six P.M. on Friday. Most of the passengers were members of the Army Ferrying Command. When they made a scheduled Stop in Albuquerque, they found nine officers waiting with military orders enabling them to bump any civilian or Ferrying Command pilots off the plane. But Lombard argued that having just sold two million dollars' worth of war bonds, she must have some "rank." She could be very charming and amusing in this kind of situation, as anyone knows who has seen her on the screen. The Army officials gave in, permitting Lombard, her mother, and Winkler to continue on the flight. Winkler wired MGM that they would be an hour late arriving at Burbank, and the studio made arrangements to have Larry Barbier, an MGM public relations man, meet the plane.
The plane made an unscheduled stop in Las Vegas and at 6:50 P.M. proceeded west. The pilot, Wayne Williams, seemed unconcerned when he reported at 7:07 P.M. that he was slightly off course, about thirty-five miles west of Las Vegas. Eyewitnesses later reported that it was just about that time that the plane burst into flames. Some thought it happened just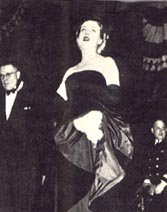 before the plane hit Olcott Mountain (also called Table Rock and Double U Peak); there was speculation that the absence of beacons -- blacked out for fear of Japanese air raids--was responsible for Williams's losing course. (Later investigations revealed that the pilot, who had been reprimanded several times for not following flight instructions, was taking a shortcut through a restricted area to make up for lost time.)
Barbier, waiting at Burbank, was the first to hear that there had been a plane crash. He immediately called Howard Strickling, another MGM publicity man and close friend of Gable's. Strickling told Barbier to charter a plane; then he called Gable, who immediately left for the airport with MGM executive Ralph Wheelright. Jill Winkler, Lombard's brothers Stuart and Fred Peters, and Fred's wife left for Las Vegas by car. MGM executive Eddie Mannix took a scheduled flight.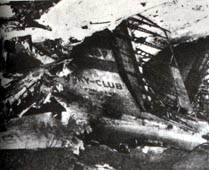 On the chartered flight to Vegas, Strickling would recall, Gable was tense "because he sensed what had happened... You knew you shouldn't talk to him. You knew not to say, "It's going to be all right," or "I'm sorry." When Gable and his group finally reached the base of the mountain, he wanted to go with the second search group, which included stretcher-bearers and medical supplies, but was persuaded to stay behind. Mannix and Wheelright went, however; years later, Mannix said Lombard was burned and headless and that Gable had been told.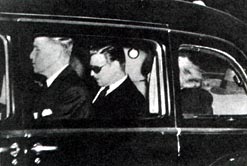 Gable rode on the train that carried the bodies back to Los Angeles and then purchased three crypts at Forest Lawn cemetery, one for Carole, one for her mother, and one for himself: The Army offered to give Carole a military funeral, and the Hollywood Victory Committee wanted to build a monument honoring the first star to give her life for her country. But Gable refused both suggestions, explicitly carrying out his wife's funeral instruction:
I request that no person other than my immediate family and the persons who shall prepare my remains for interment be permitted to view my remains after death has been pronounced. I further request a private funeral and that I be clothed in white and placed in a modestly priced crypt in Forest Lawn Memorial Park, Glendale, California.
The death of Carole Lombard was Hollywood's first wartime tragedy. Those who were close to her, like Spencer Tracy, went into deep depression; Lucille Ball said she never really lost touch with her friend, that Carole visited her in her dreams for years, often advising her on important decisions....