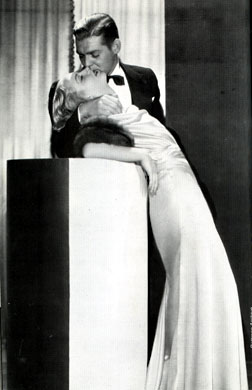 Lombard had known Clark Gable since 1932, but their romantic attachment began in 1936, when John Hay Whitney gave an elaborate costume party in Hollywood. The invitations requested the guests appear in something white. With her unfailing sense of humor, Carole arrived at the party in a white ambulance and was carried into the Whitney mansion on a stretcher. She and Gable renewed their friendship at "The White Ball," becoming constant companions until their marriage in 1939.
In the summer of 1939, they settled on a 20 acre estate in the Encino section of the San Fernando Valley. They loved the outdoor life and shared times hunting and riding together. Lombard was the ideal mate for Gable, a woman who could be glamorous and lovely, but who also could be as companionable as a pal.
Following the entrance of the United States into World War II in 1941, Gable was made chairman of the Hollywood Victory Committee. In January 1942, he arranged for Lombard to embark on a bond selling tour that would climax in Indianapolis on January 15. At that rally, she spoke publicly for the last time. "Before I say good-bye to you all -- come on -- join me in a big cheer -- V for Victory!"
It is said [When The Stars Went To War] that he blamed himself for her death. "Gable was inconsolable. "The boyishness he had...was gone," said Strickling [his friend at MGM]. What replaced the boy was a guilt-ridden, unapproachable middle-aged man."