2/16 - boxingtalk.net: One on one with ESPN's Jeremy Schaap -- Scroll for mention of his new book on Braddock and Baer. Thanks, Rita
2/2 - Thanks to Feeyara from MR: (CM) OSCAR TALK - ISSUE #30 -- The Race thickens...again
Agape Press: Cinderella Man (June 3) -- The Academy Award-winning trinity of director Ron Howard and actors Russell Crowe and Renee Zellweger join to tell the story of depression-era boxer Jim Braddock. Stung by a string of defeats, Braddock stages the ultimate comeback, giving himself to the people as an object of hope during a turbulent time. Sports have historically been fertile ground ripe with spiritual metaphor -- and boxing is specifically mentioned in Scripture as an analogy for the discipline of the faith. Expect to find material that portrays the importance of family, and the need for a father. Also, how a good man seeking to do what is right finds his reward. - Thanks, Allison
1/30 - Traditional Irish musician Kathleen Keane: "...Just recently, Kathleen's whistle and fiddle skills were recorded on the movie soundtrack for Universal's new film,"CINDERELLA MAN", featuring Russell Crowe." - Thanks, Rita (You can listen to her songs HERE)
1/29 - Story on Dundee and CM in the new Sports Illustrated - Thanks, Bobbie
1/27 - From songaweek.com: Cinderella Man, by Tom Flannery - You can read the lyrics and listen.
1/26/05 - Reuters Sports News: Famed Jack Johnson Letter Offered in Boxing Auction - "The letter, displayed at a New York restaurant, is one of more than 1,000 items of boxing memorabilia to be auctioned in the spring by Memorabilia Road Show at a site not yet named. Other items on the auction block include memorabilia from John L. Sullivan, James Braddock, Jack Dempsey, Joe Louis, Ray Robinson, Rocky Marciano, Muhammad Ali and Mike Tyson." - Thanks, Anne S
Amazon UK: You can pre-order - Braddock: The Rise of the Cinderella Man (Don't think it is an official tie-in book) - Thanks, Ivani
More release dates for CM at the IMdb. Thanks, Ivani
Mention of CM at Ringside Report.com. Thanks, Allison
Two articles from Time Magazine's archives
Braddock related: The Amazing World of John Scarne (a card sharp/magician - "Do you remember the movie The Sting with Robert Redford? There is a fancy card-dealing sequence in the movie, for just a few seconds. It's John Scarne doing the dealing.") And another page from the site with a Braddock story, "Taken for a Sucker" - Thanks, Rita
Thanks to Bobbie - The image from EW Magazine mentioned yesterday -"They asked him, "How come you had that slump and now you're winning again?" And he answered, "Now I know what I'm fighting for: milk."
The James Braddock official site has updated to include the trailer and some set images. Thanks, Rita
More release dates for CM at the IMdb. Thanks, Rita
Rare picture of Braddock and family from a friend
Official Site for CM at Universal Studios
CM's Page at Comingsoon. (Includes trailer links) - Thanks, Allison
Excellent review for the trailer of CM at Movie PoopShoot. (Scroll) Thanks, MaggieMac
New image from the film - January Premiere Magazine - Thanks to Cindy
Reuters TV has the CM trailer. - Long version
Thanks to Isis at Crowe's Crossing, a list of upcoming books on Braddock and the film
At saddoboxing.com: An article on Braddock with mention of the film. Thanks, Cindy and Penny, Ivani and MaggieMac
December 2004:
A behind the scenes story on a location shoot by an anonymous home owner in Toronto.
CM trailer now on line! From Coming Soon - Thanks, Ivani, Mary
Universal's official site has CM as "coming soon." The pop up box says the trailer is coming soon.. Thanks, Cindy
CM review from a long time contributor to the site - Thanks.
Thanks to Trick, Rita and Sami, the CM Poster at Empire Movies (plus two new stills) - Empire Movies page on CM HERE.
Chattles has done a lovely montage of CM.
To pre-order at Amazon: Cinderella Man: The Shooting Script (Newmarket Shooting Script) - by Akiva Goldsman (says it will be available in early June.)
You can watch the CM ET Trailer at Movie Box. Good quality. (You can right click and save to your computer by clicking on the link) Thanks, Rita and Lizzy at Crowetopia
The Brampton Guardian: A boxer who worked on CM. Thanks, littleboot at the MR Board
Snaps from ET's First Look at CM Thanks to Chattles
11/18/04 - Great review at JoBlo for the CM Screening (Some Spoilers): "...The artistry of the picture is impeccable of course. Crowe gives another great performance. It's subtle and kind (is this the same Russell Crowe you ask? Yeah, it's Maximus alright). Jim Braddock is an honorable man, he's loyal and faithful to his wife and his family. He'll do anything to keep them together including one powerful scene in which he begs his former colleagues for money to earn back his kids." Thanks, Penny
New addition at the Extra's Page
11/15/04 - Times On Line UK: Cinderella Man who went to the ball and conquered (Wrong opening date, but very interesting story on remembering Braddock) - Thanks, Chattles
Two reviews of the 11/12/04 CM screening with spoilers at AICN. Thanks, MaggieMac
11/12/04 - NEW - Reviews by fans who have seen screenings
11/10/04 - Updates at Greg's Movie Previews
10/17 - At Coming Soon's forum, another mention of a screening of Cinderella Man. The guy's review is to come. Thanks, MaggieMac
10/16/04 - An image taken on the CM set (Please do not copy or download. Thanks.)
10/16/04 - Russell Crowe Heaven has news from the CM Yahoo Message board from someone who has seen an early version of CM. (Scroll a few down) - Thanks, Ivani
10/6/04 -- Thanks to Poly at the Glad BB: Renee Zellweger at Time Out (UK), 6-13 Oct 2004 issue. She is talking about how she chooses a project, she has to believe in it: (...) The film she 's recently completed - the reason for her dyed-black hair - typifies this distinction. She describes "The Cinderella Man", in which she plays the wife of Depression era boxer Jim Braddock, in evangelical terms. "It's a quiet film, it's very subtle... It's the kind of thing you don't see often - there's nothing splashy about it. It's the kind of film people don't take the time to make any more, because it's about such simple things. It's about family and love and human spirit. They resonate, those kind of films. thee can make such an impact - they can be life-changing." (and thanks, Cindy)
8/20 - The IMdb message board: "Lauder Ave. to Morningside PK. - WRAP! by - charliew80 1 day ago (Thu Aug 19 05:35:13)" Thanks, fandom
Vintage cover for sale of the Philadelphia Daily News June 23rd 1937 - "Dark Destroyer ends reign of Cinderella Man." Thanks, Rita
Downsview Park Film Studios August 16 – August 27, 2004 (CM filming) Thanks, Rita
Thanks to Bob, photographs from the CM set (no actors).
The Hamilton Spectator: Queen Street East merchants long for 'Peace' again; Two-month movie shoot lures gawkers but not buyers. Thanks, Crowe Fan
More images from the set thanks to baski
The London Free Press: "Crowe film shoots winter in August -- A city street in Toronto was transformed into a snow-covered laneway from the Depression era yesterday as Russell Crowe's Cinderella Man continued shooting. Director Ron Howard could be seen guiding his star as producer Brian Grazer stood watch on Victoria Street, just a block away from bustling Yonge Street. Vintage cars lined the street, and actors and extras dressed in 1930s-style clothing strolled along the sidewalks. Cinderella Man is expected to hit theatres next spring." - Thanks, lyden52, Ivani
Another view of CM shooting and welcoming from J.D.
From Myer: " Hi Murph, Thanks for lending me your ear, have lots to say, firstly the MLG is not the Madison Square Gardens, it is the BOWL in New Jersey [sic - Long Island City, NY], my buddy Sid has worked on the movie 38 days and I for 29 days, I've said before all the stars, crew and AD's were great, Ed Knee, Newman, Patrick and the rest. Met a heck of a lot of nice people on the shoot, this kind of work for BG's [backgrounders] comes once every four years or so, the last one was HAVEN. It was exhausting working 12-16 hours a day, now that my buddy & I have finished our part on Aug 4th, we can now rest and enjoy the money, thank you Ron, you did a great job, one last thing, I know Russel had a lot of autographs to sign, I didn't get mine before I left so I hope he will mail it, I did enclose my card. Same go's for Craig Bierko, we pass them to the AD's and then, ????? thanks again Murph, hope my buddy at the library will see this piece."
From an IMdb CM Message Board: "Hi. I'm doing background work in Cinderella Man. Russell Crowe's influence and political stance showed last week when all backgrounders got copies of the Australian national anthem. By the way, we do not use the term 'extras' for our work. We're called backgrounders. We all participated in a semi-historical event at the end of the part of the film that takes place in Maple Leaf Gardens in Toronto. It's supposed to be Madison Square Gardens in New York City. All of us got together under the leadership of one fine lady who is one of the understudies for Renee Zellweger's part in the film. She has a great voice, although her name escapes me now. She asked all 1,000 of us to sing the Canadian national anthem, 'Oh,Canada', We did so and I consider it to be one of the best choral versions of the anthem that I've ever heard. The MLG is to be converted into a supermarket, condos and stores. So we were the last people to sing the anthem there. I feel that I was a minor part of a small segment of Canadian history. Maple Leaf Gardens was the home of the Toronto Maple Leaf hockey team in the National Hockey League since the early 1920's. The team moved its headquarters and playing surface to the new Air Canada Centre in Toronto a few years ago. Oddly enough, I'm not a hockey fan.We hope to wrap shooting by late August of this year-- not at the Gardens, but at two other locations in Toronto. Incidentally Russell Crowe is a great guy as well as being a great actor." Thanks, fandom
Story in the Vancouver Sun on one of the actors who plays a Braddock son. Thanks, Crowe Fan
Churchlady at the Perch on the apparent end of CM filming at the "Garden."
More CM images. Thanks, Anne S
Henley at the Perch has some further reports on the CM filming. Nicely said.
Thanks to Ron, some pictures of the old cars
7/29 - Took a walk around to check out the set beside the horse palace. Crew tells me its a shot being setup showing the rear exit of MSG. They have constructed A huge old looking wood door frame. There is an old ambulance sitting outside of it. Im told that someone dies in a fight. Something along the lines of Tuffy kills 2 during fights?? ( i havnt really studied the history of this films origin) What looks like a huge base camp is set up on the south-west corner of the horse palace. Im told this one door shot was to be done tonite only but i would have to say that unit 2 looks like they are here for a while. Will keep you posted. - Security Guy
New Idea Magazine - Russell in the ring. Thanks, Rita
7/29 - Good report on last night's shooting from Henley at the Perch
7/29 -- "Hello everyone ! Just thought i would add this to the site seeing as that i have been following your progress for some time now. CM will be filming on the exibition grounds between the national trade center and the horse palace. From what i hear they will be doing inside and outside shots around the horse palace building. Seeing as that the building is old , it fits right in. Move in date was for the 27th. Last week i spoke with someone from locations who informed me they have a limited time frame (now and c.n.e aug.20th). I love the old maple leaf gardens and had a chance to work there 2 years ago with 2 tours rehursing, Cher and Rolling Stones. It's a shame that CM will be the last to see the old lady in her last days, when they move out, the wrecking ball moves in. for info on this you can check this site www.friendsofmapleleafgardens.ca I will post again as i find out mor e info. Security Guy"
Picture and story about the Braddock/Tuffy Griffiths fight. Thanks, Steph
From bski: "While I was in Toronto, I heard that the final fight sequence is being filmed now, and we know that Russell was at the ML Gardens on Monday. By Tues am, all the trailers and the muscle truck were gone from ML Gardens. We chased around town for a while to see if we could find any outdoor shoots. We saw the location on Front St. E being worked on, but no actual filming was being done when we were there. On Richmond, at The Bay location (MSQG marquee and period storefronts), preparation work continued from Monday into Tuesday. The Toronto policeman on guard was very helpful and told us that the shooting was scheduled for 7 pm Tuesday night and would go thru until morning."
7/28 - From Churchlady: "Walking past The Bay store on Richmond Street and they are definitely gearing up for filming again at the "Madison Square Gardens" set. The sign has been changed to the fight between Tuffy Griffiths and Braddock on Nov 30 (1928?). The street decoration has been extended to the end of Richmond at Bay including removing the traffic signs so they have police to direct traffic. The windows of the store have now been filled with lovely period dresses and hats."
Thanks to Poly at the GladBB: The Hudson Reporter - "Russell Crowe will star as NB native"
7/25/04 - Hi Murphy, -- "My buddy and I have worked as background extras on this movie and can tell you that Russell, Craig, Paul, Angelo have been great guys, even though we are extras, we feel close to them as they don''t treat us like bums, the crew are great only one problem for extras, the food, could have been much better when you compare it to the the ACTRA meals, its terrible, going to be a great movie and they were all great." Thanks, Myer
IMdb release dates: The current list is:
USA 18 March 2005
Finland 25 March 2005
France 13 April 2005
Netherlands 21 April 2005
Argentina 12 May 2005
Germany 2 June 2005 (Thanks, Ivani)
7/17 - The Toronto Sun: An old-time T.O. summer (Filming CM) Thanks, barbiecat
James Braddock Fight Toys - Thanks, Rita
Newspaper shot of Russell in ring. Thanks, Rita
Winnepeg Sun: "LOCAL ACTRESS LANDS PART IN CROWE'S CINDERELLA MAN PIC - Local actress Alicia Johnston has a Cinderella story to tell this week. Johnston snagged a small role in new Russell Crowe movie The Cinderella Man, now shooting in Toronto. Johnston's father, filmmaker Aaron Kim Johnston, directed Crowe in his first North American movie, 1993's For the Moment, and the two have remained friends. In Cinderella Man, Crowe plays a Depression-era New York boxer. The movie is from A Beautiful Mind's Oscar-winning team, with Ron Howard directing." Thanks, Ivani
Lots of information and clippings on Braddock at this site. (The DVRBS Pages) Thanks, Janice
The Downsview Park Film Studios offers a wealth of opportunities to accommodate the most creative filmmakers. This year our film studios will host the cast and crew of Ron Howard's Cinderella Man as well as ER's Juliana Margulies and Dylan McDermott (from The Practice) in a new movie called The Grid. Thanks, Shannon at the MR Board
Thistle Hill Weavers - Textiles for the Film Industry. Did some for M&C and now for CM (Scroll). Thanks, Rita
Related -- Possible Craig Bierko injury - at a Bierko EZBoard. Thanks, Amy
Empire Movies.com has pictures from the set on its CM page. Thanks, Ivani
At the IMdb CM message board, from a "driver" extra in the film. Thanks, Ivani
Helga's fan report added (and her pictures are HERE)
A new fan report from John (Scroll a bit)
The Toronto Star: And in this corner ... the Bay -- Movie shoot transforms store into famous New York arena. Thanks, lyden52, Ivani, Penny
More images from the set - the 1930's Added - thanks to churchlady
A poster for the Lasky-Braddock fight - from the set, and more! - Thanks to churchlady - Here is the round by round of the Lasky Braddock fight from Cyber Boxing Zone Wail! Page (Adobe pdf file)
6/29 - Zongoo!.com - Interview with Angelo Dundee: "...I'll tell you, this is a great story - a love story. Russell Crowe is a great actor. He loves boxing and is really putting himself into the role. He is in great physical shape, so it's easy to get him into fistic shape." Thanks, Ivani, lyden52
From Rita: A book about The Amazing Story of James J. Braddock is for sale at the price of $255.00 at James Braddock site. -- Also at Counting down.com (which is no longer active) we are 264 days away till 18th March!
From churchlady: Making the Simpson's Department store into the old Madison Square Garden
Braddock drawing and autograph for sale at HistoryFor Sale. Thanks, Rita
At the CM IMdb board - a new extra report on the Braddock/Baer fight. Thanks, lindylulu at the Perch
The LA Times -- On this day (6/13) in 1935, boxer James J. Braddock, who will be featured in an upcoming film starring Russell Crowe, won the heavyweight title by defeating Max Baer. ...
The Toronto Star today- Russell and Renee in costume - thanks to Helga
The Hamilton Spectator (reg required) - In a story on Anjelica Huston --- "Meanwhile, Hamilton film liaison officer Jacqueline McNeilly confirmed that the Ron Howard-directed Cinderella Man with Russell Crowe and Renée Zelwegger is still scheduled to film in the city in August." Thanks, Crowe Fan
The National Post - The Reel Binkowski. Thanks, Crowe Fan
Thanks to ozwizz, a picture of Connor Price, who will play Braddock's son Jay in CM
Jim Braddock photos at www.antekprizering.com. Thanks to fandom at MR
New update at the IMdb on full cast and crew. Thanks, BarbieCat
Russell's answers to my questions on CM are now HERE
IMdb - Release dates for CM. Thanks, Ivani
Craig Bierko fan listing and message board HERE. Thanks, MissElleTow
Connor Price, according to IMDB.com, is going to play the part of Jay Braddock, Braddock's son. - Thanks, ozwizz
5/12/04 -- CM is filming at the Distillery District today and tomorrow in the following areas between 7:00 a.m. and 11:00 p.m. -- Exteriors of Tank House Lane between Trinity & Cherry Streets -- Exteriors & interiors of The Cooperage Building (in Distillery Lane) -- Interiors of the Stone Distillery Building (in Distillery Lane) -- On Thursday into Friday, they will also be filming betwen 4:00 p.m. and 6:00 a.m.
Tamara at the Glad BB has a great report on the shoot at the Distillery yesterday. Scroll down to her 5/11 8:32 PM post.
Rare Braddock biography for sale HERE. Thanks, Ozwizz
Set report from a background extra on CM at AICN - Thanks, churchlady
Related: The Toronto Star: "Okay, all you neglected Craig Bierko fans out there. Your boy was spotted walking on Church St. Friday evening in his boxing regalia.." Thanks fandom
5/7/04 - The Canadian Press: It's been a busy year for [Fulvio] Cecere. He continues work on two feature films: Assault on Precinct 13 and Cinderella Man. To prepare for the latter, the story of heavyweight boxer James Braddock, Cecere has been taking boxing lessons for scenes where he finds himself as the referee with Russell Crowe and Craig Bierko in the ring. "It's kind of like Rocky for the Depression,'' Cecere said. And with Ron Howard in the director's chair, the film can't fail, he added. "Remember Opie? That's him. He's so unassuming and friendly,'' he said. The Montreal-born actor had another champion teaching him the ropes for his role as the ref. Cecere worked with Angelo Dundee, Muhammad Ali's trainer.
5/5/04 - lindylulu at The Perch on filming locations via the IMdb message board
Two new brief reports from extras on the CM set
The Scotsman: 4/27/04 - "...Crowe, 40, and director RON HOWARD were furious when an extra snapped photos of the new lean, mean actor on set in Toronto, Canada, last weekend. The man was fired before Crowe's wife and baby arrive for a visit later this week." [ed note - from a trusted source: Extras are warned not to take pictures on the set of CM] Thanks, Ivani
Sneak Peek: Howard Takes An Intern for "Cinderella Man" (Scroll) - Here is the press release from British Columbia Films
The UK Sun - Pictures from the set (?) - boxing ring. "...After a gruelling session in the ring, he said: "I've lost 5½lbs in three days. This is how you do it. Get a boxing ring, hot lights and a friend to beat the s**t out of you." - Thanks, LLC
ESPN.com - Boxing: 4/22/04 - "...Somebody's going to come along. It always happens," Dundee said from Toronto, where he's working with actor Russell Crowe on "Cinderella Man," a motion picture on the life of former world champ James J. Braddock. "We have our highs and lows. It comes in cycles. We had the Bum of the Month Club with Joe Louis. This exists. But you can't help but see the glass as half-full. I don't want to be depressed. You gotta see the good in anything." Perhaps another Braddock will come along to wow us again. Braddock, as you may recall, was an arthritic, pedestrian pug who stunned the world by upsetting champion Max Baer in 1935."
Taylor Jordon is in the cast of CM. Here is her news page
IMdb thread on the casting of kids as Braddock's children. Thanks, lindylulu at The Perch
Good WW2 story from the NY Times archives on Captain Jim Braddock of Pier Six in Brooklyn (Large file)
Cinescape - News from the CM set. Thanks, WritersAct
A bit of history - Variety 12/2/1999: "...MIRAMAX GRABS BRAWLER: Miramax is well along in talks to take the Depression-era fisticuff film "Cinderella Man" from Universal in a turnaround deal, and Dish hears that Miramax staples Ben Affleck and director Billy Bob Thornton are possibles for the fight card. The film, scripted by Charlie Mitchell, is the true story about a regular guy who enters the ring out of desperation to feed his family. He becomes a hero of the commonfolk as he battles his way up the ranks. Miramax sources said that there are no talent attachments, but Dish hears that Thornton is interested in directing, Affleck in starring. Thornton's participation is the key. He completed directing Matt Damon in "All the Pretty Horses," and his plan to follow with "The Shipping News" has been pushed back. He's got a couple acting offers, but might direct "Cinderella Man." Both he and Affleck have strong ties to Miramax, where Affleck's starring with Gwyneth Paltrow in "Bounce." Thanks, Bea
The NJ Star-Ledger: Dorfman: Movie will portray Braddock saga Thanks, Ivani
More at Sneak Peek on the filming of CM. Thanks, Chats
USAToday, in an article on the release of Penny Marshall's DVD of "A League of Their Own:" "...She says she needs to send Ron Howard a "starting gift" for The Cinderella Man, the boxing film starring Russell Crowe that Howard is directing and is a co-producer with Marshall. What's the present? "A (boxing) belt signed by Muhammad Ali." Thanks, fandom
4/20 -From Sneak Peek: "Today was Day 1 for the first group of background perfomers reporting to Maple Leaf Gardens for "Cinderella Man". There were 2 call-times for BG : 7:30 AM and 8 AM. Months ago, when fitted and booked, background were told NOT to cut their hair, in order to give the set hairdressers more leeway styling distinctive 1930's looks. Apparently today was the day that some went under the scissors. More details as they become available."
4/19 - Creative wishes to Russell and Ron and all the rest of the CM crew as filming begins....
4/17 - The NY Daily News - Thanks to Poly at the Glad BB - "Pugs always score big on silver screen"
Music From the Movies: "Thomas Newman scores 'Cinderella Man' (Listen to Music from the 1930s)
From Black Press USA Archives - The Louis/Braddock fight
A possibility for Bruce McGill's role in CM - Boxing Promoter Mike Jacobs - From Hickok Sports -- "In 1935, black heavyweight contender Joe Louis signed a contract giving Jacobs the right to promote all of his fights. Two years later, Jacobs persuaded champion Jim Braddock to break a contract with Madison Square Garden in order to fight Louis in Chicago. Louis won the title on an 8th-round knockout."
Comingsoon has updated their CM page. Thanks, barbiecat -- and they also have an update on casting Bruce McGill joins the cast- Thanks fandom
Greg's Yahoo Movies has updated the CM page. Thanks, Ivani
Poly at the Glad BB has posted via Variety, Universal's reply to the CM filming controversy (Scroll). Also - The Ron Howard produced "3000 Degrees" has been scrapped - Lack of support from firemen's union in Massachusetts and Toronto the reason.
From the AFP: Toronto on ropes with US Congress over new Russell Crowe fight movie
4/8 - There is a picture in today's Toronto star of Russell with dark hair. Caption: "Russell Crowe unveils new dark 'do' yesterday and celebrates his 40th birthday with a gift from crew members (in the blue bag he's holding) as the actor arrives at the set of Cinderella Man, being shot in Toronto." Thanks, Vera and churchlady
News on CM at the cyber boxing zone forum. Thanks, Bea
4/6 - The Globe & Mail: Boxing film production in Toronto takes a punch. Thanks to a Crowe Fan
4/5/04 - Coming Soon: Toronto Film Production Update - (Norman Mailer at rehearsals!!!)
4/4/04 - The Cyber Boxing Zone: An Exclusive Interview with Art Binkowski (Corn Griffin in CM). Thanks, Mike
The Mercury News (CA) - AP Wire: Federal lawmakers urge Universal to film 'Cinderella Man' in U.S. - Thanks, Anne S, Ivani
Interview with Angelo Dundee, translated from an Italian newspaper article. Thanks to Daniela
Thanks to churchlady, images and a history of the Old Maple Leaf Gardens
From The Toronto Star -- Beau Starr has role in CM. "On Sunday last, Joyce Campion, celebrating her 30th year at Stratford, did Bistro 990 with Dan Lett. Among the crowd at Bistro on Thursday night: Shirley Douglas; Beau Starr, who has a gig in Cinderella Man"
[My opinion: I am getting e-mail from fans asking me the best place to see Russell in Toronto. I have no inside info at all on this, and if I did, I would not share it. This film is a different matter altogether from ABM, where the sets were in public view. Traveling to Toronto is someone's personal decision, of course, but I feel strongly that Russell right now needs to become Braddock - to "honor him," and the more space he is given, and the less distractions he has to face, the better for him and for us. Extras' reports are more than welcome, but I am not taking fan encounters at this time. Perhaps when the film winds up...]
Film Force quotes Russell on Braddock and on being in Toronto. Thanks, Cindy
The Star article and more pics are on line at the Star site ( on right of page) - Thanks, fandom
Oz articles on Cinderella Man news
3/24 - The Toronto Star - Rita Zekas: "The man from Gladiator has finally landed. Film star Russell Crowe took an unprecedented two-hour stroll through the city yesterday, from Avenue Rd. and Bloor, down University Ave. past Queen's Park and then right on Queen St. W. - all the while making pit stops to light cigarettes. He had lunch at a Queen St. W. cafe and dropped by a cycle shop to rent workout bikes for himself and his accompanying trainers/bodyguards. Pedestrians did double takes but in typical Toronto fashion left the actor alone. Crowe, in town to film Cinderella Man, was supposed to get here last month but dislocated his shoulder training in Sydney for the role of American boxer Jim Braddock. Co-star Renee Zellweger is due here today." Thanks to a Crowe Fan
Scan of the above article here, thanks to Sarah
3/21 - The Sun-Herald: Crowe heads to Canada. Thanks, Oz fan
The City of Toronto Official Site -- Entertainment - Toronto
New Page - Miscellaneous Press Articles
4/16/04 - From Coming Soon, originally in the LA News - Ron Howard film update: "...Howard points out that boxing legend Jim Braddock is a role Crowe has "always wanted to play. It's a shame he had the injury, but the guy he's playing got injured all the time. He says that dealing with this injury is helping him understand the heart and the spirit of the guy he's playing." He adds, "That's a good way to rationalize it, isn't it?" Thanks, Penny
4/16/04 - Boxing insider: EXCLUSIVE: Interview w/ Legendary Angelo Dundee - "You know what's ironic? You know who else hurt his shoulder? Russell Crowe. He did. He missed the punch working out with Wayne Gordon. Wayne slipped (Crowe's punch)...I said, Next time, stop slipping! He had arthroscopic surgery. Gonna be okay. He's gonna come to Toronto on the 21st. And I'll be there on the 21st." - Thanks, to a fan from Oz
4/12/04 - The Hollywood Reporter: Crowe's 'Cinderella' Delayed to 2005 - Filming to start April 19 - More from Variety Thanks to all who sent this in
Paintings and photographs - NYC, the 1930's
The Toronto Film Office (pdf file) lists CM as filming from April 19 to August 3, 2004. Thanks, Cindy
3/5/04 - From churchlady: "A big new poster went up yesterday on Church Street in Toronto overlooking Maple Leaf Gardens. Coincidence? You decide! Adidas has decided to put a magnificent picture of Mohammed Ali in his boxing prime in such a place that Ron Howard and Russell can't miss seeing it. Maple Leaf Gardens is the yellow brick building on the right hand side of the wider shot and the back door is on the corner of the building. The other shot is a close up of the poster.
3/1/04 - From Film Jerk -- Previews for 2004: Cinderella Man: The last time director Ron Howard, producer Brian Grazer and screenwriter Akiva Goldsman worked together, the three of them won Oscars for "A Beautiful Mind." This time around, the trio will team with Oscar winners Russell Crowe and Renée Zellweger for this biography of Jim Braddock, the Depression-era heavyweight boxer whose fairy-tale rise from poor New York boxer to the Heavyweight Champion of the World earned him the nickname "Cinderella Man." Universal Pictures at the moment plans to go head-to-head against "The Aviator" on December 17. Additional potential nominations: Director (Howard), Actor (Crowe), Supporting Actor (Paul Giamatti), Actress or Supporting Actress (Zellweger), Original Screenplay (Goldsman, Cliff Hollingsworth and Charlie Mitchell), Score (James Horner), Editing (Daniel P. Hanley and Mike Hill), Cinematography (Salvatore Totino), Costume Design.
"In The Joe Louis Story: (1953), It shows real clips of the Braddock vs Louis Championship fight. Braddock gets decked." Thanks, carol
4/5 is the new start date for Cinderella man from Variety: "CINDERELLA MAN Russell Crowe (news), Renee Zellweger (news), Paddy Considine, Paul Giamatti (news), Craig Bierko (news) PROD, Brian Grazer; DIR, Ron Howard (news); SCR, Cliff Hollingsworth, Charlie Mitchell, Akiva Goldsman; UPM, Steve Wakefield; CAST, Janet Hirshenson, Jane Jenkins; DISTRIB, U; FOREIGN, Miramax. Imagine Entertainment. 4/5, Toronto." Thanks, fandom
Russell on Braddock at fightnews.com: "Braddock was the underdog but Americans took him to their hearts because they saw what he was doing as their struggle," the Australian Crowe told the Adelaide Advertiser. "It was one of those great moments in history where the whole of the working class had a hero who fulfilled what they asked him to do." Thanks, Michaela
USA Today: Howard, Crowe and 'Cinderella Man' are down but not out for the count. Thanks, Ivani
USA Today on sports movies up coming... "while Russell Crowe ends the season by portraying boxer Jim Braddock in December in Cinderella Man. Thanks, barbiecat
A treat - Cyberboxingzone.com has a new page on The Cinderella Man - comic book, and an mp3 audio of Jim Braddock narrating a Gangbusters episode from 1938. (right click on the link and download to listen).
Article and bio on Braddock in the NZ Listener. Thanks, barbiecat
From Coming Soon: A Cinderella Man Production Update - Thanks, MaggieMac
Gotham Center.org: "Suzanne Wasserman has a Ph.D. in American History from New York University. She is the Associate Director of the Gotham Center for New York City at the City University of New York, Graduate Center. She is also an historical consultant on Ron Howard's forthcoming film, Cinderella Man, starring Russell Crowe" More here at Guyanafilm.org: "Recently, Suzanne has added film consultant to her list of achievements when Imagine Entertainment hired her to help accurately portray 1930's, depression-era New York City in their new film, "Cinderella Man" starring Russell Crowe. She has been working directly with Oscar winners Ron Howard and the screenwriter Akiva Goldsman" - Thanks, Monica
Costumes for Cinderella Man at The Cat's Pajamas and the film is listed at Farrell's Costumes Ltd. Thanks, Monica
2/6 - Boxing News: "Unbeaten heavyweight prospect Art Binkowski and his manager Brian Nix have disclosed to Fightnews that Binkowski has been signed to perform in a fight scene with Hollywood star Russell Crowe in the upcoming major motion picture named 'Cinderella Man'. Binkowski will portray fighter John "Corn" Griffin in the Ron Howard directed movie to be based on the career of James J. Braddock."
2/5 - Thanks to a fan, John Keirnan of the Times on Jersey James. Written just before the Baer fight.
Text version of the 1935 Round by Round description (easier reading) All NY Times material thanks to a fan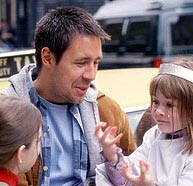 2/5/04 - The Hollywood Reporter: Considine on fight card for 'Cinderella' (Will play Hank, Jim's best friend) Thanks, fandom
The round by round account of the Braddock/Baer Fight from the NY Times 1935
Two 1935 NY Times articles on Braddock and his boxing. More articles here - John Kiernan in 1935 on "Lucky Jim." Finally, Keirnan just before the Baer fight - Jersey James
Ann's brief report on the open casting call - 1/19/04
1/18/04 - Thanks to fandom, an interesting message on yesterday in Toronto at the Braddock offical site message board. [ed note - If anyone went to the open casting call in Toronto yesterday, will you give us an account? Would love to read it]
The BBC late 2003: "Howard Crowes -- Ron "Happy Days" Howard has been blabbing to us about boxing drama Cinderella Man, starring Russell Crowe. " We're scheduled to start shooting in March. Rehearsals begin in February. Boxing choreography begins in earnest in December," he says. "Russell's been training for a couple of months already. He and I are emailing each other every other day. The script is in the early stages of re-writes but coming along very strong. Renée Zellweger has signed on to play boxer Jim Braddock's wife May." Of the pairing, Howard gushed, 'You have two consummate actors who are beautifully cast. They're both very, very entertaining but they're honest. Every choice they make is driven by honesty and that's what I love as a director and I love to see that on screen. So their relationship will be interesting to watch.' " Thanks, fandom
Comingsoon.net has a good summary of Cinderella Man Thanks, barbiecat
1/16 - Movie Poop Shoot interview with Paul Giamatti: "JH: Besides the holidays, anything on tap for you? Is the whole family going to watch PAYCHECK together on Christmas day? - PG: (LAUGHS) That'd be funny. That could be my present to them. "We're going to see PAYCHECK." My God. Wouldn't that be horrible? There are probably actors that do that. There's this Ron Howard boxing movie, CINDERELLA MAN, that I may be doing with Russell Crowe. - JH: He's supposed to be a sweetheart. - PG: (LAUGHS) Yeah. That's what I hear. - JH: Are you the goofy sidekick or do you get to box or what? - PG: It's kind of the goofy sidekick! It's an upscale goofy sidekick part. I would be playing his trainer, the Burgess Meredith goofy sidekick. - JH: That's good company to be in. - PG: Right? To be this generation's Burgess Meredith...c'mon! He was great." Thanks, fandom
Thanks to a fan, The NY Times obit for Braddock (11/74)
1/04 - Paul Giamatti article in the Guardian Thanks, Diane B
Courtsey of cyberboxingzone, a scanned article in the NY Times 1963 about what Braddock was doing in 1963. (Adobe pdf file). Visit the discussion thread on Braddock and the film at the cyberboxingzone forum. (Thanks, Joy M)
[ed note: Re the notice below. If anyone does go to the open casting call - and it does look like they are mostly interested in men - we would love to read a "diary" of the day's experience. Please send in anything you can put together.]
***From a fan: "Open casting call for a Ron Howard movie filming in Toronto beginning March 1, 2004. The movie, which takes place in the 1930s is about a world heavy weight championship boxer named Jim Braddock, otherwise known as the Cinderella Man. Since several of the scenes involve boxing matches, Kleiman Casting Ltd. is searching for thousands of background performers to fill the crowds. Due to the nature of the film, we are primarily looking for males (age 18-85) but also will be hiring some women. We will be holding an open casting call during which time we will be taking digital photos of people interested in performing as an extra in the film. There is no fee involved and no experience required. Everyone is welcome to apply, although as mentioned above we are mostly looking for males. Applicants will be contacted at a later date if chosen to perform in the movie. Successful applicants will be paid $8.50 per hour. Additional information will be provided to all interested applicants at the casting call. The open casting call will take place at the YMCA at 15 Breadalbane St. in Toronto on Saturday, January 17th from 10am-6pm. The YMCA is a five minute walk south of the Wellesley subway station and there is public parking on Wellesley St. just east of Yonge."
Thanks to ozgypsy at the Perch - AAP Images of Russell heading off to training sessions in Sydney
Louis charmed a city and nation - Fighter began reign with 1937 knockout - By Michael Katz / The Detroit News (July 2002) - Thanks to a fan
1/12/04 - "The IMdb has now listed Salvatore Totino as cinematographer for Cinderella Man. He also shot The Missing for Ron. His only two other credits are Changing Lanes and On any Sunday." Thanks, barbiecat
Thanks to ozgypsy at the Perch, the Braddock/Baer fight from Boxing Monthly UK: "I knew as early as the third round I was going to win. That's when Baer hit me on the chin with his Sunday punch and I took it. I'm the happiest guy in the world. Nobody knew what that fight meant to me. Money, security, education for my children, financial aid for my parents. If ever a guy went into the ring with something to fight for, I was the guy."
1/10/04 - The Sun-Herald: Mundine meets idol Angelo Dundee but fails to see Crowe - "To be honest with you, I went up to Mr Dundee and shook his hand and got back in the ring," said Mundine. "I didn't even notice that Russell Crowe was there with him. After I finished fighting I saw him there and I just felt like such an egg." Thanks, Ozgysy at the Perch
There is a thread and discussion on Braddock and the CM film at the Cyber Boxing Zone EZboard. Thanks, smisteyes at the Perch.
1/9 - Images From the Depression, Full of Hardship and Hope - at the NY Public Library. Scan of a photograph in the collection (from the NY Times) by Dorothea Lange HERE [If any older Crowe fans have their own memories or family memories of the Depression era, please send them in for inclusion on a page of their own in the Cinderella Man section]
1/7/04 - Movie Poop Shoot -- CINDERELLA MAN COMPOSER: James Horner / DIRECTOR: Ron Howard / RELEASE: December 17 The eighth collaboration for these guys sounds like someone's trying for a new RAGING BULL. Whether that's true or not, it looks to steer Horner away from anything already familiarly fantastical in his canon of Howard work, and toward a better dramatic possibility. Horner has a good year in 2003, with scores for RADIO, BEYOND BORDERS, THE MISSING and HOUSE OF SAND AND FOG all managing to please film music fans in one way or another. Or put another way, not incite quite so inflamed riots about self-plagiarism as usual. He has nothing else announced for 2004 so far. Expect another major assignment or 3 in the next few months though…
1/7/04 - Coming Soon.com From Production Weekly: Paul Giamatti Aboard Cinderella Man (as Joe Gould) Thanks, chattles.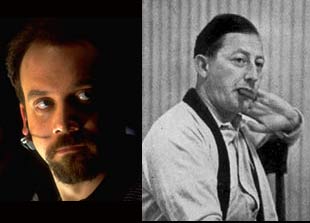 1/4/04 - Thanks to fandom at the Perch, Variety film schedule 2004: CINDERELLA MAN - Russell Crowe (news), Renee Zellweger (news), Craig Bierko (news) PROD, Brian Grazer; DIR, Ron Howard (news); SCR, Cliff Hollingsworth, Charlie Mitchell, Akiva Goldsman; DISTRIB, U; FOREIGN, Miramax. Imagine Entertainment. 3/1.
12/21/03 - The Scots Sunday Herald: Crowe gets boxed into shape by Ali coach Thanks, Anne
The West Australian: Captain Outrageous. (Cinderella Man stuff in the interview) Thanks, Poly and fandom
The London Times 12/13 - "...Russell said: 'Here, you might need this,' and produced the mask he wore in Gladiator," Campese said. "I fell about laughing. So, too, did Angelo Dundee, Muhammad Ali's former trainer, who was with us. He gave it to me and it's here taking pride of place in my shop. I think I might have to wear it in case the Poms want to throw rotten tomatoes at me. I haven't made up my mind yet whether to bring it."
12/10 - The Daily Telegraph au: Russ's fitness frenzy. Thanks, Chattles
The Halifax Herald, in a story on Ron Howard: "...True to form, the script pretty much landed on Howard's lap, courtesy of Crowe. "I'm not a huge boxing fan," says Howard. "But I thought it was a great story, set against the backdrop of that abject poverty and fear and despair." Thanks, fandom
* Braddock excerpt from "In This Corner" by Peter Heller. In his own words
From Abebooks.com: Harte, James Lambert - The Amazing Story Of James J. Braddock - Emmaus, PA: Rodale Press, 1938 First Edition: Hardcover VG/No dustjacket - The rags-to-riches story of Jim Braddock, "The Cinderalla Man," written only a year after he lost the heavyweight title to Joe Louis; 183 pages; book in terrific condition for age; straight and tightly bound in purple cloth, with title in gilt on the spine; no title on front panel; pages slightly yellowed, and the year "1905" written in ink in the margin of page 1, opposite where the text states that Baddock was born in 1906; two black and white photos. - Price -- $200!
From "The Experts Speak: The Definitive Compendium of Authoritative Misinformation" -- Famous last words - Max Baer: "I insist on having an ambulance at ringside. Jim is a nice fellow and I wouldn't want to see him die on my hands. He won't last a round." (Braddock, a 10-1 underdog lasted through all 15 rounds, winning the fight and the World Heavyweight Championship)
From Coming Soon: Craig Bierko Joining Crowe's Cinderella Man (as Max Baer). Thanks, Ivani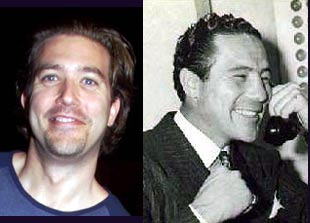 Another story on the Craig Bierko casting from Yahoo news/THR. Thanks, Kris C
At Z Review: Casting Call yesterday (12/3) for Cinderella Man. Thanks, Elena
ACTRA Toronto - Cinderella Man shooting March 1 to June 30. Thanks, Elana
And this from the star seach casting forum. (not sure about those dates) Again, thanks, Elena
A source has said re CM that: "some of the film will be made at the Maple Leaf Gardens in Toronto. It is the old and now unused Maple Leafs hockey rink built in the early '30s. It is perfect for the boxing scenes and has a great exterior. The old rink area is huge and presumably perfect for doing various set ups for different boxing scenes."
12/3/ - From LeahRose at the MR Board: "Darrin & I attended a screening at The Academy last night (12/1) for ABM followed by a Q&A with Ron Howard, Brain Grazer and Akiva Goldsman. I got a few seconds with Akiva after and asked about Cinderella Man. He said things were going great and he was really looking forward to working with everyone again and that rehearsals start Feb. 24."
Jim Braddock's cousin is trying for a role in the film
11/28/03 - Cinderella Man info - From an interview from "Imagenes de actualidad", thanks to virginiamanis at The Perch
11/28/03 - ICWales: "Meet the Master" - "...Braddock defeated heavyweight champ Max Bauer in a 15-round slugfest in 1935 and insiders claim the film will favour comparison with Raging Bull." Thanks, fandom at the Perch
Georgetown U - Joe Louis and the Construction of the black American Hero
Was Joe Louis the Greatest? By Gene Tunney, Collier's Magazine January 14, 1950 "...But Baer went down gravely after this peak, and lost his championship only a year less a day later to Jim Braddock, the Cinderella Man. Baer was the victim of his own adolescent desires--too much nightclubbing and clowning, and not enough serious training. As for Braddock, his inclusion among the heavyweight titleholders was the sheerest bit of luck, and only proves how terribly run-down Max Baer actually was. For Braddock had already wound up his career, and was an old man--a very old man, of thirty--when he left his Hoboken waterfront job and went in against Baer. I don't think the promoter or anyone else connected with that dismal fight, including Braddock himself, had any idea that he could beat Baer. But he did, and wore the heavyweight crown shakily for two years without defending it, until Joe Louis knocked it off his head once and for all. Braddock had a brief moment of exhilaration when he caught Joe Louis off guard and knocked him off his feet in the first round. But Louis wore his ancient adversary down until the eighth round, in which Braddock came out wide open, his arms and legs gone. Louis packed the power of a mustang behind a right to the jaw, and Braddock nose-dived to the rosin.
11/9/03 - Russell from the Ebert Interview, on Cinderella Man: "I just got a new draft from Akiva Goldsman, who wrote 'A Beautiful Mind,' and Brian Grazer is producing and Ron is directing and I'm starring, all from that picture, so as far as I'm concerned, the Beatles are back together. I just received the draft. I was supposed to do something with the wife, but I can't help it. I've gotta read it. I love the smell of the new pages."
10/31/03 - Thanks to budsvelvet: USA Today Life Section: In this corner: Russell Crowe as '30's boxer Jim Braddock
Russell Crowe was dead-set on playing beleaguered Depression-era boxer Jim Braddock in Cinderella Man, which starts shooting next March. And it wasn't just because the movie reunites him with ABM director Ron Howard.

"Russell has wanted to do this movie for years because of the family element," Howard says. "Braddock was completely driven, and there finally came a point where every move he made was going to impact the survival of his family."

Braddock, Howard explains, was a moderately successful contender who, thanks to a lethal combination of bad luck and serial injuries, "went from financially stable to literally catching day work as a longshoreman. But in a weird turn of events, he began fighting again, and in a year went from the bread lines to fighting in the heavyweight championship of the world."

Of course, it takes more than a shared passion for family ties to get the Oscar-winning Crowe into the ring. Crowe, now learning boxing choreography, will soon start a grueling physical training regimen to get in sparring shape for the Toronto shoot. -Donna Freydkin
10/21/03 - The Sun-Herald on prepping for the role
10/19/03 - The Toronto Star: (Scroll) "...Now buzz is Ron Howard will shoot his boxing-themed Cinderella Man here in T.O. in March with Russell Crowe attached. Crowe supposedly delayed start of production of the film to spend time with his expected baby. Renée Zellweger is rumoured to be his co-star, provided she has wrapped Bridget Jones 2 and shed her Baby Ruth fat." Thanks, Ivani
From Dark Horizons: Release Date News: "Cinderella Man" has been scheduled for a late December 2004 release. Thanks, White Cottontail
8/20/03 - From Variety, 19 Aug 2003. "Dad-to-be delays 'Man' -- Crowe's family life will postpone prod'n of Howard pic -By GABRIEL SNYDER: Russell Crowe's impending fatherhood will delay production on "Cinderella Man." The Ron Howard-helmed boxing drama, which also stars Renee Zellweger, was skedded for a January start but will now get under way on March 1. Crowe's wife, Danielle Spencer, is expecting the couple's first child early next year, and the thesp daddy-to-be doesn't want to be working when she gives birth. Universal and Imagine Entertainment, where Brian Grazer is producing, still plan to have "Cinderella" in theaters by the end of 2004." Thanks, Poly
The USA Library of Congress has many first person accounts of life in the depression from The American Writers' Project, a program of the WPA. Here is the link to the reports from all kinds of people from New York City.
4/21/03 - An insider's news on Cinderella Man: "As for Cinderella Man, here's all I know at this point: Miramax and Buena Vista hold foreign distribution rights to the film while Universal will be the domestic distributor. A tentative shoot date is 1/12/04-4/23/04 with no release date as of yet. But it looks like it may be winter of 04 or early 05."
10/31/02 - Cinderella Man, from my trusted source: "According to our latest report (dated 10/25/02), it's set to prep 9/29/03-12/19/03 and shoot 1/5/04-4/21/04."
9/17/02 - From Variety: "Howard has several Imagine-developed possibilities, along with "The Burial," for which he's courted Denzel Washington, and the Universal/Imagine picture "Cinderella Man," which would have Russell Crowe playing Depression era boxer and folk hero Jim Braddock. The latter could get a momentum boost because it looks like Crowe will be unexpectedly available. He is committed to star in the Ridley Scott-directed Fox epic "Tripoli," but that picture's early 2003 start date has been pushed until 2004." Thanks, Bea, Kris C, Linda, Poly, LLC